Profit in picture as ZTE and its peers tune in to video demand in the nation
Updated: 2016-06-30 08:19
By Li tao in Shanghai(HK Edition)
| | | | | | | | | |
| --- | --- | --- | --- | --- | --- | --- | --- | --- |
|   | | Print | | Mail | | Large Medium  Small | 分享按钮 | 0 |
The explosive demand for high-quality video on the Chinese mainland has brought about unprecedented income opportunities for telecom operators and content providers.
But requirements for even more advanced technology and networks to tackle the huge rise in video traffic is also a lucrative business, as Chinese equipment providers have vowed to take advantage of telecom providers' generous investment in technical solutions.
Bigger-sized video will stimulate huge amount of traffic for the operators, translating into revenues on the one hand, but on the other, the rapid traffic growth also poses great challenges to current infrastructure and requires the support of better networks and solutions.
That scenario means great business opportunities for ZTE Corp, according to You Yan, a vice-president of the Hong Kong-listed equipment provider.
High-definition videos played on mobile terminals have now become a norm, thanks to broadband and mobile internet development over the years.
But with the emergence of ultimate ultra-high definition videos, such as 4K, 8K and virtual reality (VR), and with their becoming a trend thanks to their ability to present the ultimate in clear, bright and smooth pictures to consumers, current networks - especially mobile ones - seem powerless to keep pace.
With operators facing challenges in converting to the data service, especially those relating to internet video, ZTE has launched end-to-end video solutions with the aim of bringing 4K video to the home and 2K video to mobile, You said at a media briefing in Shanghai on Wednesday.
The company in early 2016 was the first to propose the "Big Video" concept, which vows to solve the challenges operators are facing by helping them better develop their video services and capture business opportunities in the "Big Video" era.
Video content accounted for roughly two-thirds of global internet traffic in 2014, and their internet consumption is expected to further expand to 80 percent as of 2019, fueled by the growth of over-the-top (OTT) streaming with 4K high-resolution video becoming the new standard for consumers, according to a Cisco study.
OTT refers to the delivery of audio, video and other media over the internet without the involvement of a multiple-system operator in the control or distribution of the content.
Revenues generated from higher resolution content have become even more crucial to these Chinese telecom operators these days as their once-lucrative voice call and text messaging incomes have been greatly eroded by mobile instant apps like WeChat.
Delivering a keynote speech at the World Mobile Congress 2016 in Shanghai on Wednesday, Yang Jie, chairman and CEO of China Telecom, said income generated from fixed lines and voice services only accounted for 9.4 percent of the group revenue these days, a far cry from the 80 percent registered back in 2004.
"Demand for data traffic will continue to grow (in the coming years)", President and CEO of China Mobile, Li Yue, said at the same event in Shanghai on Wednesday, forecasting that the total information consumption volume in China will reach 5.5 trillion yuan ($827.45 billion) by the year 2020.
A number of Chinese telecom operators have been teaming up with equipment providers to lay the foundation for 4K high-resolution content, which requires faster internet speeds to support the services.
China Unicom said it will extend its fiber-optic networks to 200 million households countrywide by the end of this year to promote the development of 4K high-resolution videos.
Meanwhile, ZTE has also inked strategic cooperation agreements with Shanghai Telecom, Beijing Telecom and Chongqing Unicom to develop big video businesses. The company has also set up a big-video innovation lab with Jiangsu Telecom to provide 4K content services.
The fast-growing video services sector is being powered by the development of broadband and mobile internet in the country. Between 2005 and 2015, the three major Chinese telecom operators, China Mobile, China Unicom and China Telecom, were deeply involved in promoting 3G and 4G development and fiber broadband network construction to provide higher speed and more intelligent network services.
According to the Ministry of Industry and Information Technology (MIIT), average broadband speed for fixed lines in China is planned to increase from 20.5 megabits per second (Mbps) last year to 30 Mbps in 2016, after a series of measures to improve Web access speeds, such as further boost fiber-to-home broadband in cities and accelerate installation of fiber optic networks in rural areas.
MIIT data showed that total mobile internet subscribers on the Chinese mainland reached 785 million by the end of 2015, among whom 289 million were newly subscribed 4G users, taking the total 4G population to 386 million by 2015.
litao@chinadailyhk.com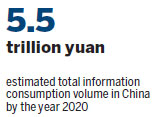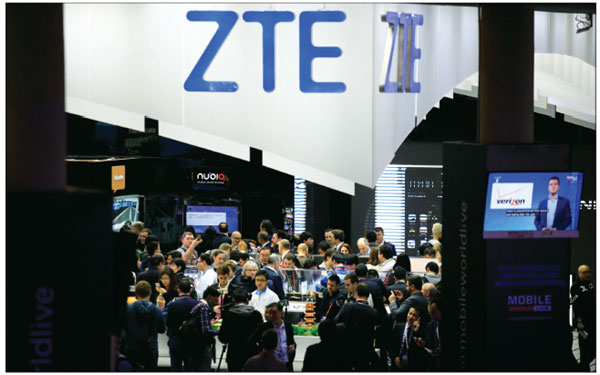 A view of ZTE's promotion booth at the Mobile World Congress in Barcelona, Spain, on Feb 22, 2016. Revenues generated from higher resolution content have become even more crucial to Chinese telecom operators these days as their once-lucrative voice call and text messaging incomes have been greatly eroded by mobile instant apps like WeChat. Pau Barrena / Bloomberg
(HK Edition 06/30/2016 page10)