High valuation 'an obstacle' for Shenzhen-HK Stock Connect
Updated: 2016-05-06 06:44
By Luo Weiteng in Hong Kong(HK Edition)
| | | | | | | | | |
| --- | --- | --- | --- | --- | --- | --- | --- | --- |
|   | | Print | | Mail | | Large Medium  Small | 分享按钮 | 0 |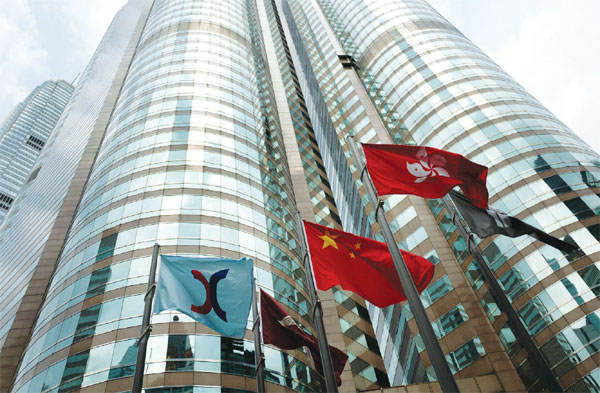 A view of Exchange Square in Central. Analysts believe that the second stocks trading link is more of another milestone in the opening-up of the A-share markets, but cannot help much in boosting the mainland equity markets. Edmond Tang / China Daily
Market reaction to the much-anticipated second stocks trading link between Hong Kong and the Chinese mainland may be muted in the short term, and the high valuation of stocks could be a major setback, analysts have warned.
The upcoming Shenzhen-Hong Kong Stock Connect, widely tipped to be officially launched in the second quarter of this year, is seen as a stepping stone for the opening-up of the Chinese mainland's stock markets and the inclusion of A shares in MSCI (Morgan Stanley Capital International) benchmark indexes.
Up to 505 Shenzhen-listed and 218 Hong Kong-listed stocks are estimated to be included in the new "through train", with 70 percent of the market capitalization in the A-share equity market and 84 percent on the Hong Kong Stock Exchange to be open to investors from across the border.
Gao Ting, chief China strategist at UBS, said that despite the encouraging data and tone, high stock valuation will remain a major issue holding back investors.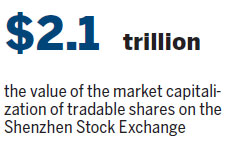 Shares listed on the Shenzhen Stock Exchange are currently traded at a price-to-earnings ratio of nearly 40 - almost triple that of its Shanghai counterpart and nearly 4 times that of the Hong Kong stock market.
"The lingering concern over high valuation and corporate governance will dampen the enthusiasm of Hong Kong and overseas investors to trade in the Shenzhen stock market," said Hannah Li Wai-han, a strategist at UOB Kay Hian (Hong Kong).
Although privately-owned enterprises may offer greater opportunities for growth and returns, they are vulnerable to accountancy malpractices and corporate governance problems, which have long worried foreign investors and deterred them from dipping their toes into the markets, she said.
In her view, the Shenzhen-Hong Kong stocks link could hardly be a major catalyst for the mainland and Hong Kong equity markets, at least in the short run.
The link is more of another milestone in the opening-up of the A-share markets, but cannot help much in boosting the mainland equity markets, which are still stuck in fragile sentiment and a regulatory logjam in the wake of last summer's stock-market rout, Li told China Daily.
Gao noted that the red-hot Shenzhen Stock Exchange, mostly made up of young, privately-owned enterprises, has what it takes to distinguish itself from its Shanghai counterpart, which is dominated by major State-owned companies.
Currently, the market capitalization of tradable shares on the Shenzhen bourse stands at 14 trillion yuan ($2.1 trillion), compared with 22 trillion yuan on the Shanghai Stock Exchange, according to official statistics.
Foreign investors have high hopes that the new "through train" will offer greater and easier access to mainland private firms, which make up nearly 75 percent of those on the Shenzhen bourse and are basically believed to have higher growth and earning potential than State-owned enterprises, which account for about 60 percent of companies on the Shanghai bourse, Gao said.
Fast-growing sectors and concept stocks like information technology, smart consumer products, health care and Chinese spirits will be the highlights, something that investors may not often see on the Hong Kong and Shanghai bourses, Gao observed.
According to UBS, the Shenzhen bourse has maintained double-digit earnings growth in the past three years, while its Shanghai counterpart has seen its profitability continuing to slip.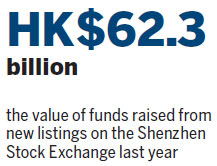 For the first three quarters of 2015, the Shenzhen Stock Exchange posted a 15-percent growth rate, dwarfing its Shanghai peer, whose earnings grew by less than 1 percent.
Gao believes "growth opportunity" is the key that sets the burgeoning Shenzhen equity market apart from its counterparts, something that is also reflected in a cluster of mid- and small-cap stocks traded on the city's stock market, many of which enjoy greater liquidity, and are the so-called growth stocks mainland investors crave.
According to a recent report from Deloitte, the Shanghai Stock Exchange came in third in terms of funds raised last year, raising approximately HK$135.6 billion from 89 IPOs (initial public offerings), only behind its Hong Kong and New York counterparts. In terms of the number of new listings, the Shenzhen Stock Exchange outnumbered Hong Kong, Shanghai, London and New York, with some 131 companies raising HK$62.3 billion.
The Shanghai-Hong Kong Stock Connect completed its first year in 2015. The average daily turnover under the program was 6.4 billion yuan out of the daily quota of 13 billion yuan in northbound trade and HK$3.4 billion out of 10.5 billion yuan in southbound trade, indicating the program somehow had got off to a slow start, data from Hong Kong Exchanges and Clearing showed.
Li believes that the Shenzhen-Hong Kong stocks link may not generate a high trading volume in the short term. But it will pave the way for more evenly distributed sectors and industries to be opened up to global investors, and make A shares technically ready to be included in the MSCI benchmark indexes.
MSCI is slated to announce its decision to include 5 percent of A shares in its indexes next month. Last year, the probability was very much evenly distributed. But this time, the chance is "well above 50 percent" as many key issues MSCI had raised last year can be thrashed out, at least technically, said Gao.
However, the inclusion of 5 percent of A shares in MSCI will only represent nearly 4 percent of its entire indexes and 1 percent of its influential Emerging Markets Index, translating into $2.2 billion investment into the A-share markets, which is somehow not a big deal compared with its more than 30 trillion yuan tradable market capitalization and 600 billion yuan daily turnover, according to UBS.
When A shares are 100-percent included in the MSCI, some 46 percent of the entire indexes and 40 percent of its influential Emerging Markets Index will be represented, Gao added.
sophia@chinadailyhk.com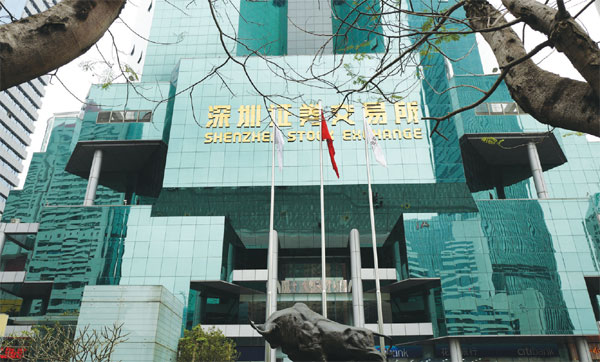 A view of Shenzhen Stock Exchange building. Experts warn that despite the encouraging data and tone, the high valuation of Shenzhen-traded stocks will remain a major issue holding back investors. Edmond Tang / China Daily
(HK Edition 05/06/2016 page9)