Policy Address does not disappoint
Updated: 2016-01-14 08:05
By Ho Lok-Sang(HK Edition)
| | | | | | | | | |
| --- | --- | --- | --- | --- | --- | --- | --- | --- |
|   | | Print | | Mail | | Large Medium  Small | 分享按钮 | 0 |
Ho Lok-sang has a generally positive reaction to the latest Policy Address by the CE - praising it for its efforts to promote innovation and to help alleviate poverty
Leung Chun-ying has only 18 months to go before handing over the administration of the SAR to the next chief executive, whoever that may be. Understandably, it will be unfair to the next administration to introduce controversial policies at this point - which will have a long-term impact on Hong Kong. Still, the latest Policy Address did not disappoint.
The slogans used in the Policy Address: "Innovate for the Economy; Improve Livelihood; Foster Harmony; Share Prosperity" are all very timely - and all badly needed. If the Hong Kong public will focus on these themes as the HKSAR Government does, Hong Kong will have a new era of peace and prosperity.
Against all odds, Leung has succeeded in launching the Innovation and Technology Bureau whose main task is to drive innovation for the Hong Kong economy. It is widely agreed today that innovation is the key to driving economic growth, and particularly quality economic growth.
Hong Kong is not short of good news in regard to innovation, thanks to the efforts of the "tripartite coalition" - government, business and academia. As noted in the Policy Address, the world-renowned Karolinska Institutet of Sweden has decided to open its first overseas research facility at the rapidly expanding Hong Kong Science Park. The Massachusetts Institute of Technology has also announced the establishment of its first overseas Innovation Node in Hong Kong. A new Academy of Sciences of Hong Kong was inaugurated on Dec 5 last year, bringing the brightest minds in science from across the globe to join hands with top Hong Kong scientists to drive research and development. Armed with funds from angel investors and venture capitalists, as well as from the government, and with bright ideas from many young minds, innovation and technology startups are mushrooming in Hong Kong. The promise of reindustrialization is now ready to take off.
This innovation is not just about making money. The new HK$500 million Innovation and Technology Fund for Better Living is designated to finance projects that improve our daily life and help make Hong Kong into a smart city. A smart city is safe, healthy, convenient, sustainable and attractive for all ages, which will provide the basis for building a harmonious society. I am particularly pleased to see the government announce a Charter on External Lighting. This is to encourage switching off (at a preset time) lights for decorative, promotional or advertising purposes which affect the outdoor environment.
In regard to improving people's livelihoods, a central focus of the Policy Address was housing. The government's efforts in increasing housing supply should be recognized and applauded. Another focus was direct poverty alleviation. Again, the government's efforts in introducing the Low-income Working Family Allowance and increasing the Old Age Allowance deserve praise.
Those who oppose Leung saying that he "does nothing but cause divisiveness" must be blind or have ulterior motives, for these are clearly all solid achievements. I am saying this even though I do disagree with him regarding the Special Stamp Duty (SSD) and have criticized this policy many times. I argue for removing the SSD not in order to prop up housing prices; I agree with Leung that housing prices can go down and it does not make sense to artificially prop up housing prices. The SSD is counterproductive and has bad unintended consequences, such as leading to higher low-end home prices. With a housing market correction now in place, low-end home prices are going to fall more. Sadly, many low-income families who have struggled to buy at high prices will be the first to become negative-equity owners.
I am also disappointed about low-income earners' Mandatory Provident Fund (MPF) contributions. Currently, those whose monthly income is less than HK$7100 do not have to contribute to their MPF accounts at all. Only their employers have to pay. However, these workers will grow old and will need to retire one day. The only justification for not requiring them to contribute is so that they can have a take-home pay that can allow them to survive! But this is not "sharing prosperity". I would argue that the government should pay these contributions on their behalf. I have long argued that subsidizing workers' contributions for their retirement needs is far better than applying a means test so only the poor old can get a pension. The latter may engender a moral hazard problem, as people simply draw down their savings or do not save in order to qualify for the stipend.
It is a very difficult environment for Leung and his team. The housing and land shortage are behind many people's grievances. But fair-minded critics will never say that Leung simply sides with business. His style is blunt, abrupt and uncompromising. No one would have thought that he would completely halt the admission of expecting mothers into Hong Kong intending to give birth in Hong Kong's private hospitals. But if Leung does something good for Hong Kong, then it should be acknowledged.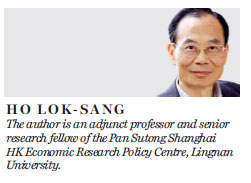 (HK Edition 01/14/2016 page5)