Robotic magic - Alpha shows the way
Updated: 2015-06-11 09:13
By Zhou Mo in Shenzhen(HK Edition)
| | | | | | | | | |
| --- | --- | --- | --- | --- | --- | --- | --- | --- |
|   | | Print | | Mail | | Large Medium  Small | 分享按钮 | 0 |

Alpha is versatile. He can sing, do kung fu, tell stories, book airline tickets and even educate children. But, he has no emotions.
For Alpha is not human. He is an intelligent humanoid robot, developed by Union Brother Technology, a Shenzhen-based high-tech firm. He made his debut last August after more than five years of research and development (R&D) by Zhou Jian and his team.
"The R&D stage was really hard both technically and financially," recalled Zhou, president and chief executive officer of Union Brother.
At the initial stage, Zhou invested 20 million yuan ($3.2 million), gathered from his first entrepreneurial drive of producing scanning devices. But the money quickly evaporated when he found himself caught in a technical bottleneck of developing the servo-controller for the robot's joints, which play a vital role in deciding his flexibility.
"I had no idea then whether I could work it out, but I didn't give up," Zhou said. He sold his three apartments in Shenzhen to pour an additional 20 million yuan into the project.
"You need to have good psychological quality and emotional quotient and be able to control the situation in a crisis. Perspective is also important," Zhou observed. "But first, it's essential to move in the right direction."
In 2008, when Zhou stepped into the field, the service robot industry on the mainland was highly underdeveloped. Few people understood what he was trying to do or even knew what a robot really was.
But Zhou foresaw the prospects of the industry and spotted a potential opportunity after visiting Japan and observing robots made in that country. "The cost of Japanese-made robots is very high. Moreover, users are not able to program the device by themselves," said the 39-year-old entrepreneur.
"It will make a big difference if these two issues are resolved."
Alpha is currently sold at roughly 6,000 yuan on the mainland. Union Brother has also expanded its business to overseas markets, including Japan, the US and the Middle East, and is still exploring new ones. Last month, Alpha landed in Hong Kong.
"Market will be one of our focuses this year," Zhou said.
His company recently secured $20 million through a fundraising drive, pushing its valuation to $200 million.
"Last year, our turnover was 4 million yuan. This year, we expect a volume of 100 million yuan," said Zhou, adding that Union Brother has already received 5,000 orders since the beginning of the year.
Service robots can be classified into two types by application - those for professional use and those for personal and domestic use. Alpha falls into the latter category.
The service robots industry has undergone remarkable growth in recent years.
From 2008 to 2013, some 100,000 service robots for professional use were sold globally, according to World Robotics 2014, a study conducted by the International Federation of Robotics (IFR).
That is more than the total of 63,500 units sold over the previous 12 years or more. Sales of professional service robots around the world reached 21,000 in 2013 alone, their total value at $3.57 billion, the study says.
Growth was even more robust for service robots for personal and domestic use. In 2013, roughly 4 million robots of the kind were sold, surging 28 percent from 2012 and totaling $1.7 billion in sales value, the study shows.
IFR estimates that sales of service robots for professional use could reach about 134,500 units between 2014 and 2017, their value touching $18.9 billion, while sales of robots for personal and domestic use could rise to 31 million units.
Despite explosive development on the global scale, market insiders believe that the service robot industry has much room for growth on the mainland.
"Compared with industrial robots, the output value of service robots may be bigger in China. But the industry is still in the embryonic stage, while that for industrial robotics is forming," said Song Xiaogang, executive director of the China Robot Industry Alliance.
According to the IFR report, the Chinese mainland became the largest industrial robot market in 2013. About 36,560 units of industrial robots were sold in the country, accounting for 20 percent of the total global sales of 178,132.
The gap offers a big space for Zhou and other service robot producers to grow, and he's going to launch a new-generation Alpha later this year.
The updated Alpha will feature more functions. Users will be able to download different apps and let Alpha perform various tasks, such as checking weather forecasts, booking air tickets or helping their kids practice English.
But what worries Zhou most is the lack of recognition of robotics among youths. "Knowledge about robots is still very limited among young people on the mainland, compared with those from Western countries. They are not clear about its history of development and the future direction of the industry," Zhou said.
He is committed to changing the current situation by making humanoid robots a commercialized product that even ordinary families can afford and utilize.
"We are striving to make sure every family can enjoy the benefits brought by robots," Zhou signed off.
sally@chinadailyhk.com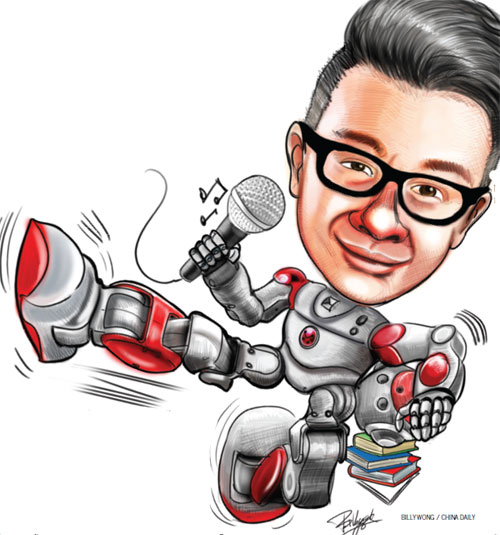 (HK Edition 06/11/2015 page9)