Startup hiccups in Hong Kong - a city of no angels
Updated: 2015-05-14 09:20
By Selena Li in Hong Kong(HK Edition)
| | | | | | | | | |
| --- | --- | --- | --- | --- | --- | --- | --- | --- |
|   | | Print | | Mail | | Large Medium  Small | 分享按钮 | 0 |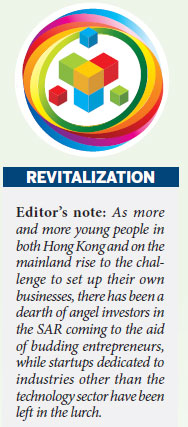 In an office of the University of Hong Kong's (HKU) business and economics faculty's Town Centre at Admiralty, Spanish-born designer Alexis Bautista told a group of venture capitalists the story of his own startup, Kokonuzz Ltd.
Bautista said he felt a bit nervous speaking in front of such a large group of potential investors in his business - an entertainment content developer and licensor. He was given 15 minutes to make his pitch and he spent most of that time laying out his company's objectives of bringing color, fun and happiness to the highly stressed business crowd. The event, an investment matching gathering held by Hong Kong Business Angel Network (HKBAN), was designed primarily to help startup entrepreneurs who have been complaining about the lack of opportunities to meet potential investors, or angel funds, in town.
Industry insiders say angel funds are crucial to a startup in its early stage of development when it is usually long on ideas and short on capital. Investing in startups without a track record to show holds little appeal to Hong Kong investors steeped in the traditional risk-adverse investing culture.
"To a many high-net-worth individuals in Hong Kong, return of investment in startups usually cannot match that of real estate speculation," says angel investor William Ho, a corporate lawyer at one of the international firms in Hong Kong.
Allen Yeung Tak-bun, chairman and founding member of HKBAN, agreed that angel investing isn't for everyone.
"There are investors who would prefer to have a diversified portfolio, focusing on securities and properties. But for those interested in a more aggressive investment strategy, the Network is a good platform for them to join," Yeung says.
Founded in 2010, the Network was jointly put forward by Hong Kong Science and Technology Parks Corp, Hong Kong Venture Capital and Private Equity Association and four Hong Kong universities, including HKU and the Chinese University of Hong Kong.
Membership in the Network has grown to more than 100 from about 20 at the beginning, while the number of startups in which members have invested has increased from an average of five per year to 20.
Ho said his syndicate of 10 investors had invested $500,000 in Paktor in 2013, and Paktor's product has now begun marketing testing in Hong Kong. Due to the lack of financial support, many young Hong Kong entrepreneurs have moved to Singapore to establish their startup companies, Ho and others said.
But Ho said he believed that, ultimately, many more angel investors will want to contribute and share their experience with startup founders. Seeing a company grow from an idea into a successful enterprise is probably much more satisfying than the return on investment, he said.
"Hong Kong has become an easier place for startups, but it's still far from being the easiest," Bautista wrote in his blog post.
He added that investments tend to follow the trend, and the fact that money flows into certain industries, such as technology, has made the environment even worse for startups dedicated to other industries.
However, two things are obvious, Bautista said. The Hong Kong government has spent much money in nurturing startups, but not all of that money was being effectively deployed.
Hong Kong legislator Charles Mok Nai-kwong, who represents the information technology constituency in the Legislative Council, said startup support is "still not enough".
In the latest budget, the government has earmarked $50 million to set up a corporate venture fund for co-investment, on a matching basis, with private funds in startups located in the Science Park or have participated in its incubation programs.
The Network has also forged cooperative arrangements with numerous investor clubs over the years.
"We are not an exclusive circle and we don't charge them anything to join us. It will get down to how much we want to enlarge the deal flow and pool of investment fund," Yeung said.
Regionally, Hong Kong is stepping up to learn from its neighbors. Asian Business Angel Forum, Asia's largest premier angel investor conference for emerging and growing businesses, especially in the innovation and technology industry, was organized by HKBAN in April 2014.
"We may not have 3W Coffee in Hong Kong, that is specifically designed for entrepreneurs and angels to meet up," Yeung said, referring to the mainland's first crowdfunded startup cafe visited by Premier Li Keqiang last week.
"But we are embracing that culture and I am confident that one day we will have such a place for the two sides to really connect," he said.
selena@chinadailyhk.com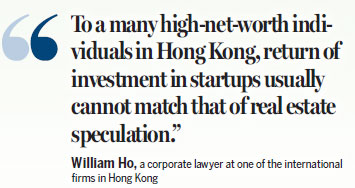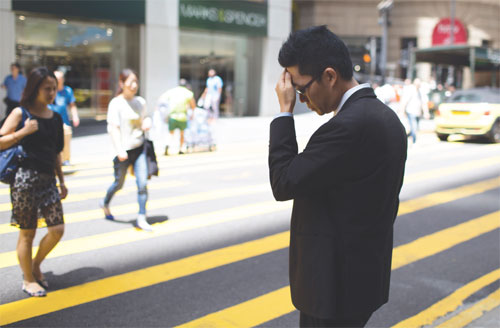 Investing in startups without a track record to show holds little appeal to Hong Kong investors steeped in the traditional risk-adverse investing culture. Due to the lack of financial support, many young Hong Kong entrepreneurs have moved to Singapore to establish their startup companies, experts say. Brent Lewin / Bloomberg
(HK Edition 05/14/2015 page1)