Loan defaulters must no longer be treated leniently
Updated: 2015-04-14 08:41
By Fung Keung(HK Edition)
| | | | | | | | | |
| --- | --- | --- | --- | --- | --- | --- | --- | --- |
|   | | Print | | Mail | | Large Medium  Small | 分享按钮 | 0 |
About 13,000 people who borrowed money from the Hong Kong government in the past three years to study full- or part-time university courses have defaulted on their loans. The amounts involved amount to HK$200 million. These irresponsible people should be shamed. This would deter other borrowers of taxpayers' money from shirking their legal and civic responsibilities.
The Ombudsman said these defaulters have money to repay their loans, but choose to neglect their legal obligations. The government's threat of legal action does not appear to be working. The Education Bureau, which is responsible for overseeing the loan scheme, would be well-advised to refer the defaulters' bad credit information to the city's credit-reference agencies. This would serve as a deterrent to existing and potential future non-payers.
Effective strategies must be adopted. Policies must be implemented to encourage defaulters to take responsibility for their actions.
Many defaulters simply regard the government's threats of legal action as "a final notice" to pay up. However, if information about their unpaid loans were to be passed to credit-reference agencies, they might have second thoughts about neglecting to settle their debts. If their credit standing were undermined as a result of their defaults on government loans, they might not be able to get cheap loans from other institutions, such as credit card companies and banks.
Threats to "expose" them to credit-reference agencies might work because loan defaulters would simply have too much at stake.
Who are these shameless people who try to get away with taxpayers' hard-earned money? About 30 percent of them are university graduates who financed their educations with government loans. The remaining 70 percent are citizens who exploited a non-means-tested plan, known as the "extended scheme", to borrow government money to enroll in part-time vocational or academic programs. Each citizen is entitled to borrow up to HK$325,700 at below market rates.
The Ombudsman in late March said the defaulters "have the ability to repay their loans, but choose not to. One of the reasons is that there is negligible deterrent effect". Let's not hesitate any more. Let's fight the defaulters with a strong, effective deterrent. This might finally help the government win the "loan-defaulting war".
In the battle against potential loan defaulters, applicants for government loans should be more carefully vetted. In 2012, the Education Bureau agency responsible for approving loans interviewed (as part of a vetting process) less than 1 percent of the applicants under the "extended scheme". Interviewing less than 1 percent of total applications? Come on! Civil servants can do better than that.
The government should also be tougher with university graduates who fail to repay loans used to finance their tertiary education. It is understandable that "money in my pocket is always better than in yours". But borrowers should not be allowed to entertain such thoughts. The government's threats of legal action are not working because many graduates simply regard its legal notices as "the final notice" to pay up.
A deterrent is the only way to force these people to repay their loans. If they were threatened with the possibility that their negative credit information would be handed to the credit-reference agencies, they might wake up to reality.
Many fresh graduates do not need to apply for credit cards, home loans and other credit facilities. Many defaulters would pay up - out of fear that financial uncertainties stemming from negative credit information could damage their chances of getting loans elsewhere.
Clearly, the best strategy to get our taxpayers' money back is to "shame" loan defaulters.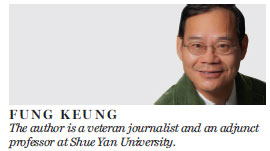 (HK Edition 04/14/2015 page11)