A compassionate vision
Updated: 2015-03-24 10:24
By Chitralekha Basu(HK Edition)
| | | | | | | | | |
| --- | --- | --- | --- | --- | --- | --- | --- | --- |
|   | | Print | | Mail | | Large Medium  Small | 分享按钮 | 0 |
A range of experimental artworks by neuroscientist Dr Dominic Lam Man-kit will be auctioned this week at Christie's HK. The proceeds will go to support affordable eye-care for the underprivileged. A report by Chitralekha Basu.
The surrealist images of Dr Dominic Lam Man-kit, in their otherworldly shades of scarlet, amber and cerulean blue, will go under the hammer on March 26, in the hope some poor child in rural China, barely able to perceive images at all, may be given a new perspective.
Proceeds from the sales of the artworks - will be donated to the Hong Kong-based World Eye Organization (WEO), which operates nine eye-care centers across the Chinese mainland, carrying out a mission to bring affordable eye-care to the under-privileged.
"Hundreds of millions in China suffer from myopia," says Dr Lam. The artist is also a neuroscientist specializing in correcting eyesight. "I am trying to use my knowledge of visual science and the value of visual art to help the visually impaired, especially among the poor. You might as well call this visual philanthropy," he adds with a twinkle in his eye.
Besides funding eye-care centers, the money raised will also go to supporting training programs and fellowships given to medics to supervise post-operative care. "Doctors are hesitant to go to rural areas," says Lam. "It's important for us to train health professionals to work in areas where they have their roots. It's the only way we can make such programs sustainable." And then, a part of the earnings from the auction will also be used to "support research into preventive methods and treatment procedures for diseases prevalent in China," says Lam.
In recognition of this noble endeavor, Christie's has waived all commissions from buyers and sellers.
It's rare to find such perfect alignment of vision and mission. The human eye is both the end of Lam's philanthropic undertakings as well as the main theme of his artistic pursuits. Using a technique he calls chromoskedasic (color by light scattering, rather than using pigment or dye), Lam paints the human eye in all its vibrant, hypnotically-alluring, other-worldly manifestations. Sometimes he uses the same technique to paint the eye on a plate of gold - exposing different sections of the metal to different quantities of light for varying durations, to create a multi-hued disc, without needing to apply paint.
The eye appears again in each square of his artwork titled Nine-court Diagram. In it the Chinese characters - heaven, earth and Man - appear in three extremities of the grid, forming a triangle with invisible arms. In the center are the characters he, meaning harmonious. "It's my way of summarizing ancient Chinese philosophy," says Lam, trying to describe the idea informing his artwork in a nutshell. "We are an agrarian society. It's important to get along with neighbors, know the seasons and the behavior of the astral bodies, the character of the soil. It's important to understand the earth and also care for it by not polluting it." In other words, it's all about keeping a watch, being vigilant to be able to pre-empt eventualities such as global warming and human conflicts. The significance of the eye - both in physical and metaphorical terms - cannot be under-estimated.
Poetry, painting, calligraphy
Since age 4, Lam has dabbled in traditional Chinese painting styles and calligraphy. Being a prodigiously bright student with an aptitude for science and logic, Lam followed the usual course that smart young people do. He immigrated to Canada from Hong Kong at 16, where he began by studying math, then switched to medicine when he enrolled at the University of Toronto. He earned his PhD in medical biophysics at 22. By 24 Lam was on the faculty of Harvard Medical School. And by 40 he had invented a drug to resist secondary cataracts, and floated his own company which went public within a year. Financially secure, now he had the time to get back to his first love - art, which has a lot to do with applied science in his case.
Eight lithographs by Lam based on Salvador Dali's illustration of poems by Mao Zedong figure in the Christie's show. "In 1965 former French president Charles de Gaulle visited China. Chairman Mao gave him a book of his poems, translated into French. De Gaulle had the foresight to ask Salvador Dali to create art based on a few chosen poems. It was diplomacy by art."
Was embellishing Dali's artworks with his own calligraphy a way of giving Mao's poems an even more extended life?
"In China, poetry, calligraphy and painting have co-existed traditionally. These artworks were created to remind people of that great heritage as well as mark the 50th anniversary of de Gaulle's visit," says Lam. He looks back on that occasion as a good example of using art to foster harmony between different nations which ties up rather well with the theme of his own show.
The other poet to have inspired Lam's art is the Tang dynasty legend Li Bai (701-762). Lam had created a massive canvas - a quadriptych based on Li's poem Galaxy on Earth, "a waterfall from the heavens" in shades of black, white and everything in between which now hangs at Diaoyutai State Guesthouse in Beijing. For the Christie's auction Lam created a smaller canvas on the same theme, in which the contours of the mountains are slightly clearer, but only just.
His art is mostly abstract. At the same time the soft, diffused color palette and the themes - huge landscapes, exploring the co-connectivity between the elements of the universe - sometimes bring to mind the French impressionists' works. Although Lam started his training in the Chinese tradition, it is quite natural, for he lived the greater part of his youth in the US. His sensibilities are informed by Western ideas. "I was trained in Western thinking, both in science and art," he concedes.
In some of his photo paintings, Lam will generate loud, vivid, un-earthly colors that seem to explode all over the canvas, creating a vibrancy and motion. It's almost like a visual translation of the idea of the music of the spheres.
It's a bit like magic as there is in fact no color applied here. "In those artworks I'm producing color just like nature does it, by light scattering," says Lam, happy with being able to create such striking canvases by manipulating the course of light.
The works on display at Christie's Alexandra House gallery at 18 Chater Road from March 24 to 27 will be auctioned on the evening of March 26, at Christie's Hong Kong.
Contact the writer at basu@chinadailyhk.com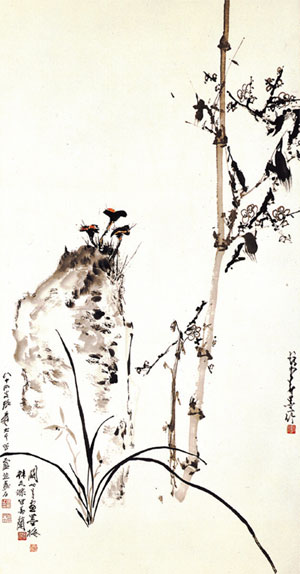 Lam collaborated with noted Chinese artists Zhang Daqian, Zhao Shao'ang and Guan Shanyue to create this traditional Chinese ink painting. Provided to China Daily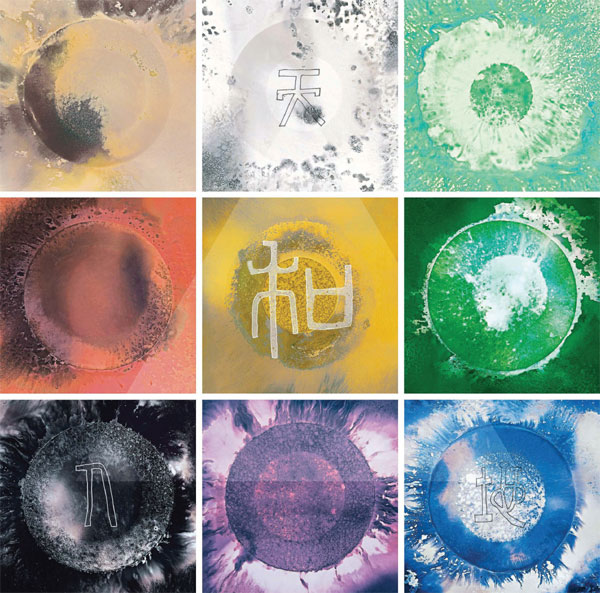 The Nine-court Diagram is inspired by the idea of harmony between man, earth and heaven which forms the basis of ancient Chinese philosophy.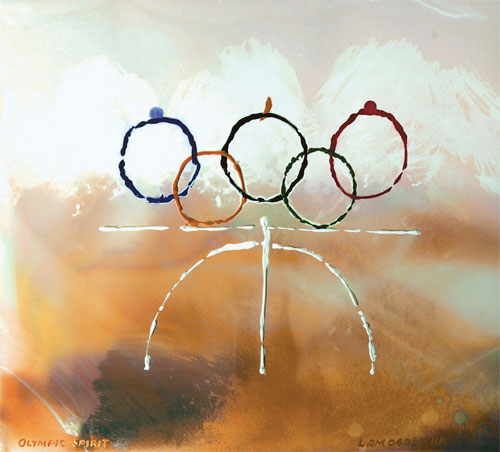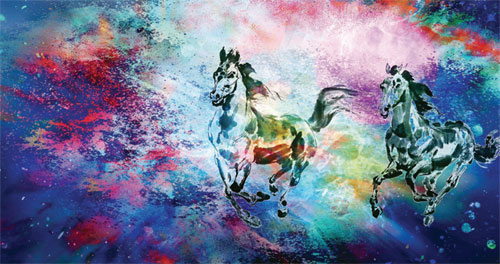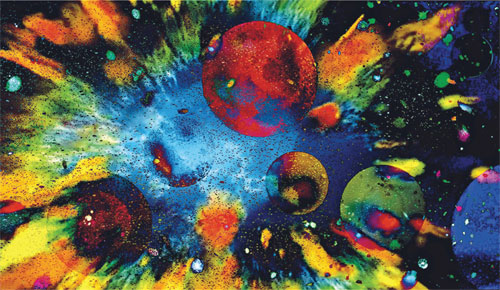 Using the chromoskedasic painting technique, Lam created Olympic Spirit: Ode to Happiness (above) in 2004, a mechanism involving exposing the canvas to different quantities of light for different durations he uses often, as in the photo paintings here (below).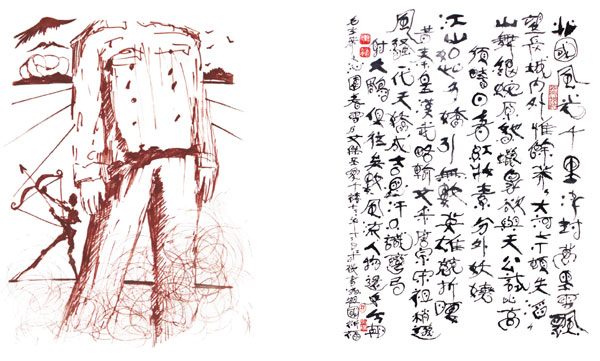 Lam's calligraphic adaptations of Mao Zedong's poems are a celebration of Salvador Dali's illustrations based on the same poems.

Olympic Odyssey: From the Great Wall to the River Thames earned him a gold medal at the Olympics Fine Arts Exhibition in London 2012.
(HK Edition 03/24/2015 page9)