Save the elephant
Updated: 2015-02-09 07:55
By Wang Yuke(HK Edition)
| | | | | | | | | |
| --- | --- | --- | --- | --- | --- | --- | --- | --- |
|   | | Print | | Mail | | Large Medium  Small | 分享按钮 | 0 |
Wildlife conservationist Richard Leakey's recent campaign in HK, advocating a ban on all endangered species, turns the spotlight on a major area of concern. Wang Yuke reports.
"I'm impressed that Hong Kong government has been systematically destroying ivory seized from illegal shippers coming to Hong Kong," said Richard Leakey. The world-famous conservationist is calling on the port city to ban trade in all endangered species.
"The price of ivory is very high today and the market is huge because Chinese mainland's economy has been boosted significantly and wealth is being generated from the mainland," he stressed.
Leakey is the second son of Luis and Mary Leakey, who carried out groundbreaking studies on human evolution in East Africa. Richard Leakey has devoted much of his own career to conservation.
He said the Port of Mombasa in Kenya has become a principal export point for ivory traffickers, who hide the ivory in shipping containers. While Hong Kong has no direct role in the ongoing slaughter of endangered animals, the city ranks fifth in the world in the terms of the volume of illegal trade in ivory.
Since 2000, Hong Kong Customs has seized approximately 33 tons of illegal ivory. Nearly six tons of ivory were seized in other countries en route to Hong Kong, and 2.87 tons of ivory were seized overseas after leaving Hong Kong, according to the Elephant Trade Information System.
The number of elephants killed illegally has been increasing dramatically across Africa. Between 2011 and 2013, Leakey said, 100,000 elephants were slaughtered by hunters. That's about 33,000 a year, 90 every day. The year 2013 was reportedly the worst year on record for rhino poaching in South Africa, with 1,044 killed.
"Unless we find a way to control poaching and illegal trade, elephants in African countries will disappear before the next generations have the chance to see them," Leakey said.
His conservation efforts led to his plan for national park management that has become a model for all of Africa. His work as a paleoanthropologist has led to several important discoveries of early hominid fossils.
Crackdown on poaching
Leakey says he is satisfied Hong Kong is moving aggressively to take a positive role in curbing the illegal trade in ivory. Hong Kong embarked on a program almost a year ago to burn some 28 tons of confiscated ivory by the middle of this year. Still, some 15 tons remain to be burned.
The Hong Kong Customs and Excise Department, the front-line agency responsible for countering smuggling activities, has adopted an intelligence-based approach. Exchange of information with source and destination countries has become a top priority. The Road Cargo System and Air Cargo System also provide modules of risk indicators for profiling and targeting high-risk cargoes and passengers.
Hong Kong Customs spokesman Albert Hui says front-line officers identify suspicious cross-border vehicles, passengers and cargoes for inspection, in close cooperation with the Agriculture, Fisheries and Conservation Department (AFCD), mainland and overseas agencies. Information on containers collected from source countries, such as South Africa, is verified on arrival by Hong Kong Customs.
The first Biodiversity Strategy and Action Plan is being formulated in a bid to step up conservation efforts and facilitate Hong Kong's sustainable development in the next five years. It is included in the 2015 Policy Address by the Chief Executive Leung Chun-ying. In preparation for the initiative, the Hong Kong government has examined the existing conditions and tried to identify what extra effort is needed to comply with the Strategic Plan for Biodiversity (2011-2020).
"Hong Kong Customs has done a great job of fighting illegal wildlife smuggling," acknowledges Elizabeth Quat, a lawmaker who went to Kenya to foster a connection between Africa and China as part of her campaign to stop trade in ivory and put an end to elephant poaching.
Still, the authorities face an almost impossible job. "It is hard for Customs to trace 35,000 other species on its endangered species list, other than elephant ivory and shark fins. Much of the illegal ivory from places like Kenya or Tanzania which passes through Hong Kong undetected is destined for the mainland. We suspect a certain amount to be leaking out into the illegal market in Hong Kong too.
"AFCD and Customs are overstretched. The lack of time, manpower and resources for enforcement are very real issues that need to be dealt with," Quat concludes.
And yet the government's efforts come under criticism. The number of licenses issued to carry on trade in endangered species grew by 46 percent between 2009 and 2013. That raises doubts among critics if the government really is committed to the effort, says Chan Hak-kan, a Legislative Council member.
Ban sale of tusks
Alex Hofford, a wildlife campaigner for WildAid, says some speculators are sitting on tons of ivory, waiting for the price to rise. "Banking on extinction, these 'investors' are robbing the planet of the last remaining elephants."
He suggests that a good first step for the Hong Kong government should be to prohibit the sale of raw elephant tusks. "The government needs to show the world that it can effectively police the illegal ivory markets in the city," he demands.
Education is a necessity, said Leakey, because wildlife smuggling at this level is the result of ignorance. Leakey believes people naively ignore the fact that elephant tusks or rhino horns are obtained at the cost of the lives of the said animals.
"I visited some schools in Hong Kong during my stay. When I showed children the graphic and bloody pictures of elephants having their tusks pulled out, they were shocked and very emotional. Some girls even cried and covered their faces," Leakey said.
He agreed that Hong Kong should make the brutal reality of the ivory trade more evident in its public education campaign.
"If you hush-hush about it, why do people become interested and conscious? Only if they show shock and disgust could they possibly build a relationship between ivory and death."
Lack of public education could help fuel the illegal wildlife trade in Hong Kong. The naked truth should be out there for the public to understand and sympathize with. "The problem is urgent. We can't wait," said Leakey.
Contact the writer at jenny@chinadailyhk.com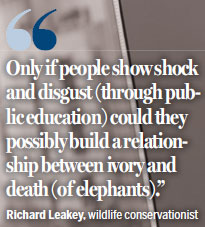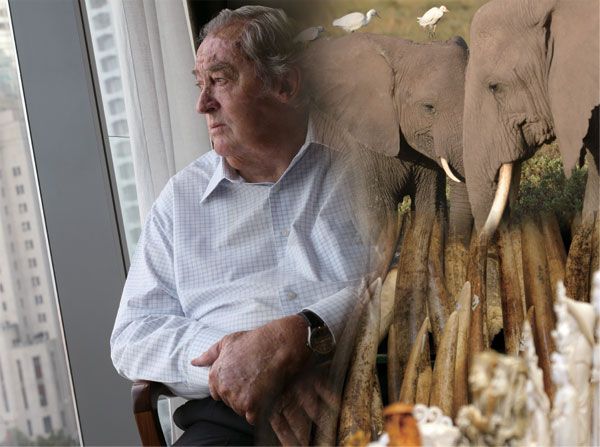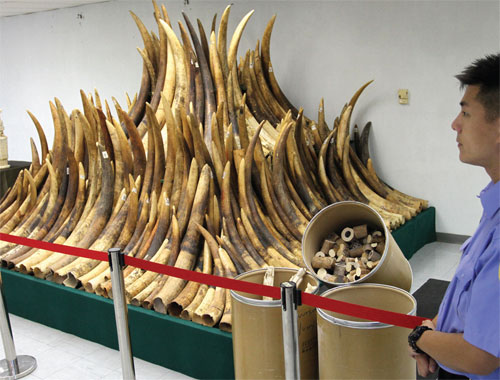 Hong Kong is ranked fifth in the world in terms of ivory seizures since 1989.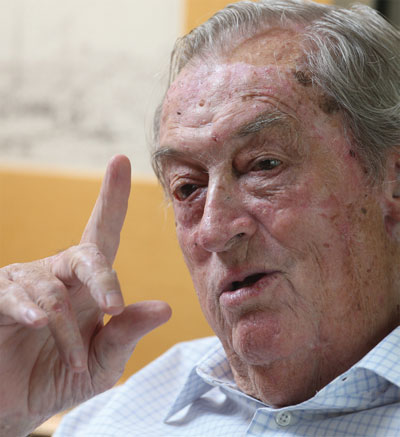 Richard Leakey prescribes for Hong Kong more public education about the lethal nature of poaching, to stem illegal trade in wildlife.  Edmond Tang, Parker Zheng / China Daily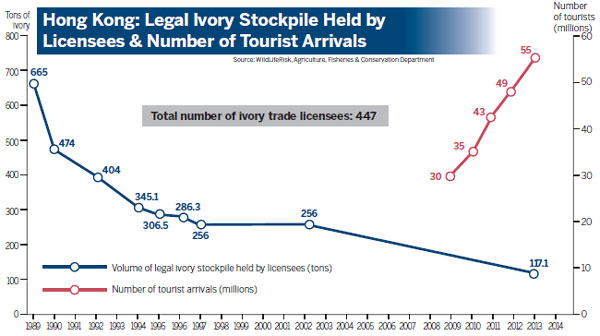 (HK Edition 02/09/2015 page8)