'Occupy Central' has become a political farce
Updated: 2014-10-17 07:04
By Eddy Li(HK Edition)
| | | | | | | | | |
| --- | --- | --- | --- | --- | --- | --- | --- | --- |
|   | | Print | | Mail | | Large Medium  Small | 分享按钮 | 0 |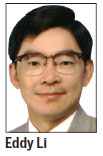 It's been almost 20 days since the "Occupy Central" campaign started.
As time passes, the whole movement has developed into a farce. We have recently witnessed protesters gathering round cooking hot-pot, playing card games, table tennis, and even mahjong! Their original claim of fighting for democracy has now turned into the deliberate obstruction of society. This type of behavior should not be seen in civilized citizens in an international metropolis such as Hong Kong.
The police have had to take action against such incidents. Early on Wednesday morning, despite fierce protester resistance, the police attempted to clear Lung Wo Road. They arrested 37 men and 8 women during the action. Public attention, however, was drawn to a particular video showing a police officer kicking a demonstrator. "Pan-democrats" have since used this to censure the police.
From my viewpoint, this is simply one rare case of such behavior, and according to Secretary for Security Lai Tung-Kwok, the officers concerned were moved to other posts and the police department is undertaking an investigation. I believe it is better not to be distracted by this video alone, for generally, the police have shown considerable restraint and discipline in a series of actions. We should judge the incident by considering all the facts.
It is important that the messier the situation, the clearer we should keep our minds. Essentially, the "Occupy" campaign is illegal in every sense, no matter how glamorous the pretext appears. According to the Hong Kong Bar Association statement on the rule of law and civil disobedience released on Oct 8, "civil disobedience is a philosophical, not a legal principle", and therefore "if a participant is prosecuted for an offense committed in the course of civil disobedience and if the elements of the offense can be proven, his motive for committing the offense, however noble, is not a legal justification or defense for the criminal charge". The "Occupy" campaign can never be truly reasonable if carried out under the banner of civil disobedience.
The "Occupy" movement is described in the Western world as a Hong Kong version of a "color revolution". The participants are proud of this title as they have used nonviolent resistance. But in reality, in most areas where "color revolutions" have broken out, including the Rose Revolution in Georgia, Tulip Revolution in Kyrgyzstan, Orange Revolution in Ukraine, and Jasmine Revolution in Tunisia, the revolutions have not brought happiness to people; on the contrary, they have disrupted their societies and impeded normal economic development.
"There is no benefit more beneficial than social stability; there is no harm more harmful than social unrest." In today's Hong Kong we are seeing the modern embodiment of this ancient Chinese proverb. Multiple trunk roads have been "occupied" by the protesters, and as a result commuters are forced to rise hours earlier so as to get to work punctually, tourists are forced to give up their travel plans, and shops and stores in affected areas are forced to suspend business while the movement continues - for quite a few people, it really is a matter of life and death.
Judging from history, we can't be overly optimistic about the possible consequence of the current movement. As a matter of fact, bifurcation already exists in Hong Kong society, and people are gradually losing their ability to trust, respect and tolerate others. I believe nobody wants to see this in the city, neither the students nor other citizens.
We should also remember the undeniable fact that Hong Kong has always been part of China. As Charles Powell, Margaret Thatcher's former private secretary said, "Hong Kong has extensive autonomy - far greater than we actually believed could be achieved when we negotiated the Hong Kong joint declaration with China. They have far better conditions - including political conditions - than any other city in China. But the bottom-line is they are a city in China."
Rather than seeking unrealistic goals by protesting against the government, we had better get back to normal and reestablish the city as an economy-oriented territory, this is the most suitable position for Hong Kong. The students should also focus on their academic work and go back to school. Before they can understand what is best for society, they need to have real social experience; they should not arbitrarily sacrifice the interests of all the other citizens in society by blocking the roads. I sincerely hope that Hong Kong can return to its traditional pathway of economic development as soon as possible.
The author is vice-president of the Chinese Manufacturers' Association of Hong Kong.
(HK Edition 10/17/2014 page10)