Ways to provide more land resources for housing
Updated: 2014-10-16 06:48
By K.M. Mo(HK Edition)
| | | | | | | | | |
| --- | --- | --- | --- | --- | --- | --- | --- | --- |
|   | | Print | | Mail | | Large Medium  Small | 分享按钮 | 0 |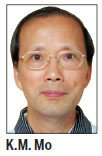 Since the scarcity of land for residential development has become critical, I would suggest the following ideas for "squeezing" alternative land resources into use to help alleviate the problem:
1. Reappraise our existing land resources and re-designate for public housing some of the land currently ear-marked for government, institutional and community use, plus other existing land now designated as greenbelt, industrial land and vacant land.
2. Redevelop existing pre-war and early post-war low-rise buildings into high-rise residential buildings.
3. Reclaim land from the sea for residential development.
Of my three ideas, option one would appear to be the only course of short term action readily available for the government to increase the supply of housing.
Option two would rely on market forces for the redevelopment of existing old buildings. But it must be noted that, besides being more than 70-years-old, pre-war buildings are only five or six stories high.
With regard to option three, the government announced in 2012 that it had identified 25 possible reclamation sites. In response, green groups claim that many of these sites are in waters of high ecological value, where the marine environment would be seriously threatened by reclamation. In the present circumstances I would strongly argue that whatever the "Greens" might argue, residential development would prove to be the best possible use of reclaimed land.
Considering the high density of buildings in built up areas, and comparing this with the high percentage of green areas in the territory, then factoring in the urgent need for residential development, why shouldn't some greenbelt areas be reassigned for residential use? There are about 15,200 hectares of greenbelt zoned land, which is not within country park boundaries. Many of these greenbelt zones primarily comprise slopes and hillsides covered with natural vegetation. If only one percent of such areas were converted for housing development, we could supply some 89,000 housing units. Surely these figures are an irresistible argument in favor of such land zoning changes?
According to Hong Kong Planning Standards and Guidelines, permitted uses for statutory green zones are:
- "Public Open Spaces" for open space zone;
- "Woodland and vegetated land at urban fringe areas and countryside to limit the sprawl of urban development" for Green Belt zone;
- "Areas of landscape value and ecological features" for conservation area zone;
- "Designated Country Parks" for country park zone;
- "Coastal areas with attractive features" for a coastal protection area zone.
These guidelines clarify that the Green Belt helps to conserve existing landscape features, areas of scenic value and additional outlets for passive recreational use. But the primary objective of the Green Belt is to define the outer limits of urbanized districts and serve as a buffer between and within urban areas. As such, there should be no objection, in principle, from the statutory planning point of view if there is genuine need to expand an urbanized district into the Green Belt, unless such an area falls within a conservation area or country park.
Under the current town planning mechanism, the public, including the adjoining owners and occupants, can make submission in response to applications for the conversion of Green Belt sites into housing land. Certainly the views and submissions made by the affected owners and occupants are fully and impartially considered. They are then evaluated by the Town Planning Board when processing each individual rezoning application.
If some greenbelt areas are allocated for housing development, I would advise that serious attempts should be made to integrate the concept of preserving trees and vegetation into the design of the housing development, or at the very least the replanting of trees and/or provision of suitable greenery. This is to preserve the environment as much as possible. Also, any greenbelt rezoning that affects existing passive recreational facilities such as walking trails, alternative provisions, should be made available nearby wherever feasible.
While most greenbelt land belongs to the government, small pockets of private land do exist within the greenbelt. Rezoning of greenbelt land for residential use should not be seen as benefiting private land owners. This is because owners will need to pay a premium to the government if housing development is not permitted under the lease. Where the lease does permit residential development, the owners will only regain their entitlement under the lease.
In 2013, the Chief Executive embarked on a program of rezoning government, institution or community sites and industrial sites into housing sites to meet the housing demand in Hong Kong. Why is this taking so long?
The author is a fellow of both the Royal Institution of Chartered Surveyors and the Hong Kong Institute of Surveyors.
(HK Edition 10/16/2014 page10)