Govt, education groups condemn class boycotts
Updated: 2014-09-30 07:35
By Ming Yeung and Wang Yuke in Hong Kong(HK Edition)
| | | | | | | | | |
| --- | --- | --- | --- | --- | --- | --- | --- | --- |
|   | | Print | | Mail | | Large Medium  Small | 分享按钮 | 0 |
The decision by the Hong Kong Professional Teachers' Union (HKPTU) to join the protests disrupting the education of thousands of local students has been condemned by the Hong Kong government and local education organizations.
The Education Bureau expressed deep regret over the teachers' union's decision and in its statement "sincerely called on all teachers to uphold professionalism in their own positions and make every effort to take care of students so that their normal schooling can be free from any interference."
In a press release, the Hong Kong Association of the Heads of Secondary Schools said it would not advocate a teaching boycott. The statement said that schools' educational and professional autonomy must be protected, and all external political influence and pressure must be kept away from school campuses.
Wong Kwan-yu, chairman of the Hong Kong Federation of Education Workers (HKFEW), denounced teachers who allowed personal political sentiments to cloud their professional judgment.
"The responsibility of teachers is to create a peaceful environment in which students can learn without disturbance," said Wong, adding that one teacher's decision to support a teaching boycott could disturb the rights of his co-workers.
Wong estimated teachers from no more than 20 schools took part in the teaching boycott.
Street blockades set up by protesters in Wan Chai and Central and Western districts forced suspension of primary and secondary classes in the two districts on Monday. The government urged schools in other districts to be lenient with students who were late for school.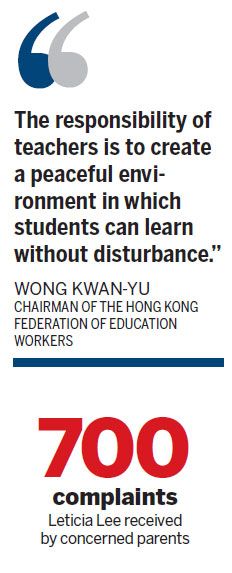 Some students were unaware classes had been suspended until they got to school.
Although schools in other parts of Hong Kong maintained regular classes, some buses carrying students were diverted to avoid clots of protesters. Some routes had to be suspended as thousands of protesters maintained blockades in Mong Kok.
A parent said she had to walk with her son from Hung Hom to Yau Ma Tei, which is usually a half-hour bus ride, as the minibus service stopped.
"Many parents escorted their kids to school and didn't leave until they got to the school gate, for the sake of their safety," said Chan Sing-tat, secretary of Hong Kong Parents Association. "Students who live on Hong Kong Island left home much earlier than usual to have more time for commuting to work."
"Most parents reminded their kids to distance themselves from the protests," Chan added. "After all, children should not get politically involved." Ho Chu-ping, chairman of the Federation of Parent-Teacher Associations, Tai Po District, convened an emergency meeting on Monday night to discuss precautionary measures with other stakeholders.
"We will strictly adhere to the guidelines issued by the association of secondary school principals. If there are students unattended because of class boycott, we parents would help take care of them if needed," Ho said.
Leticia Lee See-yin submitted a petition to the HKPTU office criticizing the teaching boycott, saying teachers should participate in protests only after class.
Lee said she has received nearly 700 complaints by concerned parents about increasing risks of kids joining protests.
Lee told China Daily that a Secondary Five student was persuaded by classmates to join them in Admiralty on Saturday morning, without informing his parents. The boy did not return home at night. The parents were anxious. He returned home on Sunday, exhausted, saying he had been curious about the protests.
Many students who are not taking part in the class boycott are finding themselves isolated by their peers.
Apple Wong says her two nephews, who attended Secondary Two and Secondary Five, did not join the class boycott because of their parents' warnings. Their classmates urged them to take part.
"They became social castoffs at school, sunken into depression at the hostile reaction of their peers who turned cold," said Wong.
She thinks the boys may require counseling. "Their 80-something grandmother, who cares for these two kids, cries her heart out these days at the thought of her grandchildren's ordeal."
A government spokesman urged people blocking roads to vacate some carriageways to allow emergency vehicles to get through and to allow partial resumption of public transport services.
The Subsidized Secondary Schools Council, the Hong Kong Association of the Heads of Secondary Schools, various school sponsorship bodies and the HKFEW had declared their opposition to class boycotts by secondary school students earlier.
Clinical Psychologist Kitty Wu Kit-ying from the Hong Kong Red Cross said among those who called the group's hotline seeking help, many are parents worried about their children's safety.
Contact the writers at mingyeung@chinadailyhk.com and jenny@chinadailyhk.com
(HK Edition 09/30/2014 page2)