Drowning it all in musical chairs
Updated: 2014-09-05 08:36
By Lin Jing(HK Edition)
| | | | | | | | | |
| --- | --- | --- | --- | --- | --- | --- | --- | --- |
|   | | Print | | Mail | | Large Medium  Small | 分享按钮 | 0 |
Hong Kong's records retailers are shifting their strategy and modus operandi to keep their heads above water amid soaring rents and the Internet challenge, Lin Jing reports
Music, by all accounts, seems to be the perfect panacea for Hong Kong's unmatched hectic, fast-paced lifestyle.
And, there's no scarcity of musical ears in the city, particularly those with a lust for fine music, and who are prepared to pay dear for it.
"In the pursuit of fine music, it's no longer a cheap hobby which you can indulge in every day," says music fanatic Windy Lo, a local student in the midst of a shopping spree for records.
"To buy a dream record, I have to save up hard first," she admits.
Although she can still download free music from the Internet, purchasing her favorite records is an inescapable path to building up her records collection.
A newly released CD normally costs HK$200 ($25.80) to HK$300, which is more expensive than an MP3 player.
Chase for top-quality music
But, loyal music aficionados like Lo provide the impetus and strength for local records stores in the SAR.
"No matter how the market changes, there will always be people chasing after high-quality music and records," argued Kelvin Wu, director of HMV Ideal Ltd - a subsidiary of entertainment retail giant HMV.
In his view, free music offered with the advent of the Internet cannot compete with quality records.
"Of course, people can enjoy music downloaded from the Internet for free, but it's like fast food," said Wu.
"You can have fast food once or twice, or even five days a week. But, once in a while, you still need fine dining, and this case, the high-quality music we offer."
The Internet has severely dented the records retail industry in the past few years, forcing scores of smaller music stores to go bust or shift their business online, as commercial rentals keep going up and business coming down.
Local records retailer Monitor Records had to change its strategy in 2012, moving its business online due to high rentals. The store, established in 1989, has been collecting and providing musical products to Hong Kong music lovers.
Leo Sin, professor of marketing at The Chinese University of Hong Kong, said the industry has gone down along with the entertainment sector.
"Previously, Hong Kong singers were popular not only on the mainland, but also in other Asian countries. But now, the growing number of popular singers in countries like South Korea and Japan has eclipsed Hong Kong's leading role," he said.
Sin gave the key reasons for this as skyrocketing rents as well as free music from the Internet. "It's just inevitable that records stores gradually shrink in scale and number to a certain degree," he said.
But, HMV Ideal, located in Central, is not prepared to budge. It plans to revamp its business model via O2O (online to offline) to attract more clients. "The future of HMV lies with O2O," said Wu.
Wu believed that consumers are familiar with entertainment products and services both online and offline. It would only require a platform to create a community brand to link the two together.
HMV Ideal reputedly commands one-third of the local home entertainment market share, while revenue from its Central store has gone up by 15 percent since the beginning of the year.
HMV will launch a new app for smartphones in line with the consumption behavior of its clients, and refer customers to its bricks-and-mortar stores.
"Young people can enjoy performances by their favorite singers via this app, and place orders online with the app," said Ivy Wong, chief executive officer of HMV.
The application, costing millions of dollars, will be available for download by the end of this month.
The company has already invested HK$3 million in the app, and expects to launch the O2O model on the mainland and in Macao, Taiwan, Malaysia and Singapore.
Marketing advantages
According to Wu, only 5 percent of their revenues currently come from online business, and the company aims to raise it to 50 percent within a year.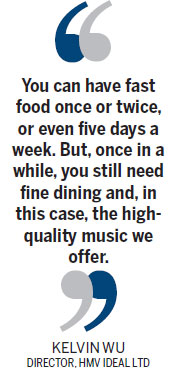 Sin agreed that the O2O model can give retailers certain advantages in marketing. "O2O will be a good way to start with, as records companies may get a better understanding of their clients' consumption behavior via their information and comments on Facebook or Twitter."
He added that records companies can also introduce relevant new products to potential clients, based on their consumption history.
Meanwhile, he said, sales of records in future will not be the major revenue source for retailers, as the profit margin is too narrow to cover soaring rentals. Sin suggested that local records shops should offer more value-added services, rather than just music.
"The major reason for people spending hundreds of dollars on a record is the added value. We're talking about a photo album, a souvenir or a gift that goes with a record," he argued.
To better build a soothing environment, HMV's Central store comes with a caf, vinyl records and a mini bookstore.
The new concept store can even accommodate a small concert and a movie premiere in future.
Currently, less than 25 percent of HMV's revenue is from sales of records, with the rest coming from the caf, clothing and other services.
Wu said the HMV store is gradually changing from a traditional records store to a lifestyle hub.
Sin thought the records industry's golden era is long gone and may never return. "The records industry may still need to change and adapt to the Internet era, as downloading music will be the main stream."
He said records companies, retailers and their marketing partners should work together to generate more synergy to see themselves through the Internet challenge.
Contact the writers at linjingcd@chinadaily.com.cn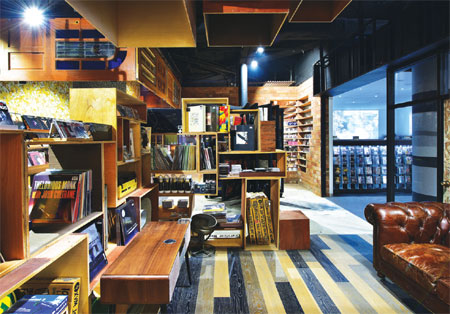 HMV's store in Central offers a tranquil environment with vinyl records, a cafe and a mini bookstore. Provided to China Daily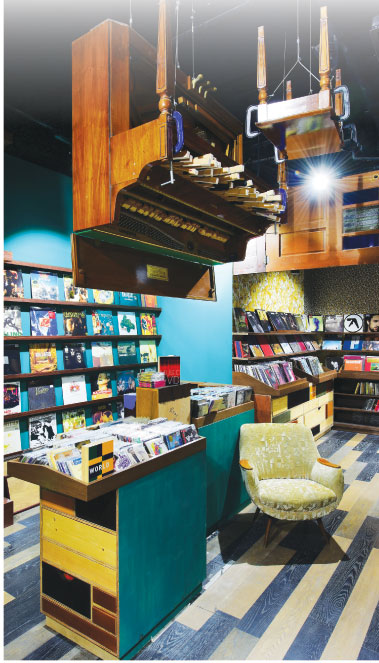 HMV's Central store offers a wide variety of records and discs guaranteeing top quality music for music lovers. Provided to China Daily
(HK Edition 09/05/2014 page9)