Group to tackle aging population problems
Updated: 2013-02-28 06:59
By Ming Yeung and Kahon Chan in Hong Kong(HK Edition)
| | | | | | | | | |
| --- | --- | --- | --- | --- | --- | --- | --- | --- |
|   | | Print | | Mail | | Large Medium  Small | 分享按钮 | 0 |
A working group is to be set up to deal with the financial problems arising from a shrinking working population.
At the same time, the financial secretary hints there is still room to expand the city's tax base, but the details have to be thoroughly discussed.
There will never be a perfect time for reform, John Tsang told a press conference on Wednesday. "In an economic downturn, people ask why do we need reform, and when the economy gets better, they ask the same question."
However, he said there is a clear consensus that Hong Kong won't levy a goods and services tax or a sales tax despite its narrow tax regime.
The working group, expected to be led by scholars and experts, aims to "explore ways to make more comprehensive planning for our public finances to cope with the aging population and the government's other long-term commitments." But, the group will not touch on any topic concerning taxation.
A government source said, nevertheless, there is a need to widen the tax base in the long run, although it is aware of the controversy over introducing new taxes.
Concurring with the government's views, Professor Chong Tai-leung of the Chinese University of Hong Kong's Institute of Global Economics and Finance said a sales tax would be unfair to the poor as it would accelerate inflation.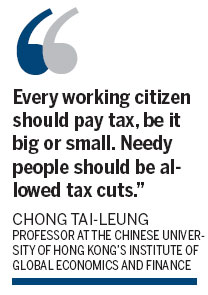 He noted the government has been prudent in spending mainly because of its unstable income. To stabilize or increase income, it's important to identify the "hidden" profit-making, small and medium-size companies, which had denied making profits in the past.
At present, half of Hong Kong's working population is out of the tax net, while 80 percent of salaries tax comes from the top 20 percent taxpayers. About 1,000 companies account for 70 percent of profits tax while 90 percent of enterprises pay nothing.
Chong urged the government to lower the basic personal allowance of salaries tax to HK$100,000 from the current HK$120,000. "Every working citizen should pay tax, be it big or small. Needy people should be allowed tax cuts," he said.
Citing other regions and countries as examples, a government source said Hong Kong may split its reserves into smaller funds, with some to be locked up for investment and long-term expenses.
The source described the city's reserves as a "pool of money yet to be spent". The reserves were equivalent to 13 months of government spending at its lowest point (in 2003) and are now equivalent to just 23 months of government expenditure - still lower than amount during the pre-1998 (Asian financial crisis) level - because public expenses have since soared.
The source said the planned working group will not fix a "target" for Hong Kong's reserves as no government will set such a goal.
So far, taxpayers have been subsidizing services guided by the "user pays" principle. More than 1,000 fees and charges under the "cost recovery items" have not been adjusted since the handover. The government plans to increase rates, including licensing fees for horse-riding venues as well as visa fees. But, fees will only go up progressively to avoid affecting the people's livelihood.
A source said although the "user pays" principle has always been upheld, fees have been frozen across the board during the recession in the past decade. All government departments have been asked to identify the fees to recover costs within this year. Some fee hikes will require public consultation and even amendment of laws.
The financial secretary expects a HK$4.9 billion deficit in the coming year due to increased government expenditure, even though the overall economic outlook will be slightly better.
He dismissed allegations that he had made a wrong prediction last year as an initial forecast of a HK$3.4 billion deficit has now turned into a HK$65 billion surplus. He said it is very difficult for the government to predict financial performance as Hong Kong is vulnerable to external economic factors.
Contact the writers at mingyueng@chinadailyhk.com and kahon@chinadailyhk.com
(HK Edition 02/28/2013 page3)