Taking the SlutWalk
Updated: 2012-12-06 06:29
By Ming Yeung(HK Edition)
| | | | | | | | | |
| --- | --- | --- | --- | --- | --- | --- | --- | --- |
|   | | Print | | Mail | | Large Medium  Small | 分享按钮 | 0 |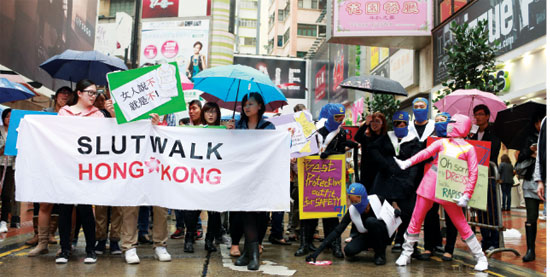 The Hong Kong SlutWalk was held on November 25 to challenge social attitudes that blame victims of sexual assault and rape for the way they dress or behave. Provided to China Daily
It has been a longstanding fact of life that government officials, enforcement officers, the media and even the public at large point fingers at sexual assault victims, blaming them for their own misfortune. Now women's groups are fighting back to change that public perception. Ming Yeung reports.
It was in the final hour before dawn. April knew she had too much to drink. She'd hopped into a taxi home and needed only to walk through the damp, dimly lit alley on the way to the housing estate in Ap Lei Chau where she lived. She felt a hand, suddenly clutch her neck with such ferocity that she choked. Recovering her senses briefly, she saw a man, wearing a cap.
"I tried to grab his cap off but he was just too strong, he held me down and used one hand to cover my mouth, even when I struggled hard," April hissed, clearly not liking to recall that terrible moment.
The rapist struck quickly and 15 minutes later had vanished out of sight. April (not her real name) lay stunned for some time, before a cool breeze brought her back to attention. She walked home slowly.Her parents were up already, preparing for their morning exercises. When they saw April, pale and exhausted, they demanded to know what was wrong.
Her Dad became furious. Her Mom couldn't stop crying. In the end they said, "Let it go and don't tell anyone else."
That was two years ago, but the incident remains the most shameful experience of April's life, a blight on her soul that she believes she will carry with her for the rest of her days. But what bothers her most about the event of that fateful morning, what she never can understand, was that her parents blamed her for the attack - because she went out drinking with friends until the all hours in Lan Kwai Fong. She was ordered by her parents not to report the assault to the police, or "make a big fuss".
"Time will heal," her parents told her. Time did not heal. The shock at her parents reaction remains as hard to bear as the attack itself. She is haunted by nightmares and wonders if she will ever regain enough confidence to bond with any man.
The pressure of keeping her hurt and shame became unbearable. April broke down and told her best friend, a social worker, who encouraged her to report the matter to police and seek professional help. April did neither. She was afraid she might embarrass her family.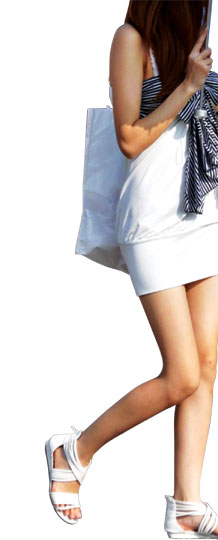 According to the police, there were more than 1,400 cases of indecent assault last year in Hong Kong, compared to around 1,000 a decade ago. Only 91 cases of rape were reported in the city last year, but obviously many more went unreported.
April drifted apart from her parents. She moved out of their home at the end of last year and now lives by herself.
Her parents' condemnation of her behavior gnawed at her. Like many other victims, April internalized a deep suspicion that the rape, somehow, was her fault. "Could I have prevented this should I have not got drunk?"
This is what Angie Ng, organizer of the SlutWalk Hong Kong march, and other women's rights activists want to get through to April and the public at large: "victims must not be blamed for this kind of obnoxious crime".
Victim blaming arises from the belief that a victim of rape "wanted, asked for, deserved to be raped due to her behavior or appearance, or even enjoyed the experience", according to a report by the World Health Organization and London School of Hygiene and Tropical Medicine.
The SlutWalk was held for the first time in Toronto in April 2011, after a police officer commented that women could avoid being victims of rape if they stopped dressing like "sluts".
Following the first successful walk last December, some 200 protestors took to the streets again in spite of the cold and gloomy weather on November 25, to protest against authorities and members of society in general that sexual violence toward women is caused by the victims' appearance.
Ng deliberately wore hot pants and fish net stockings as a jab at people who believe women dressing in this fashion are "sluts" or "whores".
Five feminists took the opposite approach and dressed in Gosei Sentai Dairanger costumes. They protested that even women covered from head to toe are not protected from sexual assault. They carried a sign, bearing the taunt, "Oh sorry, does my dress make you feel like a rapist today?"
"We dressed up like this to emphasize the absurdity of blaming the victims of sexual assaults," said Elene Lam Yee-ling, advocacy officer for Association Concerning Sexual Violence Against Women.
Many people tend to liken precautions to reduce the chance of being raped to those they take to keep their house from getting robbed, Lam acknowledged. "Robbery is a crime, so is rape. We should blame the one who breaks the law, not the victim," she said firmly.
"People believe sex offenders are usually strangers but many reports around the world suggest that most sex offenders are acquaintances of the victims," Ng told the crowd before inviting participants to share their thoughts. "One woman in eight in the world will be raped in their lifetime - the figure already exclude other forms of sexual assault."
"Rape is not sex, rape is violence. This is using sex as a weapon to oppress women, to scare women in this 'patriarchal society'," Ng decried, who is a survivor of sex violence herself. "Patriarch is everywhere but I think it is worse in Hong Kong, this is my personal experience."
Luk Kit-ling, vice-chair of the Association for the Advancement of Feminism, said the overwhelming prevalence to blame the victim can be seen on mass media. Soup operas "heavily label" sex crime victims as destined to be hit on, assaulted or raped, judging by their apparel or occupation.
"The first impression people have when they hear about the victim of a sex crime is 'why did she go out late at night?' or 'what was she wearing?'. Such perceptions not only blame the victims, they restrict the freedom of all women in many activities," Luk remarked.
Restriction is not an effective measure to prevent sex crimes, Luk pointed out. Educating the public about the importance of "sexual autonomy" is far more important and effective.
"Everyone should be taught to respect other people's choices and ask for consent (to sex). It's an obligation for the government to protect its citizens so that there is a chance for everyone to attain sexual autonomy," she added.
All sorts of people walked in the rain for about an hour. They started at East Point Street in Causeway Bay and finished at Chater Garden in Central - holding signs and chanting "blame the rapists, not the victims, doesn't matter how I'm dressing".
An elderly woman named Theresa from the UK came to Hong Kong to visit her daughter who just gave birth to a baby girl. Theresa happened to learn about the march on the Internet, and decided she wanted to participate.
"Today (November 25) is also an international day of ending violence against women so I think it's very appropriate that the same kind of activity is happening all over the world," she said.
Theresa commented that only 6 percent of rape cases ever get reported and one in four women suffer domestic violence during a certain stage of their lives in the UK. "It's more open now than it used to be but there are still lots of women suffering."
There were more than 1,400 cases of indecent assault last year in Hong Kong, compared to around 1,000 a decade ago, according to the police. Only 91 cases of rape were reported in the SAR last year, but obviously many more went unreported.
"Most rapes in Hong Kong went unreported because it is considered shameful to be sexually assaulted, so women do not speak up. This is what we should be ashamed of," said marcher Rufus Redsell, a gay rights advocate who has been living in the city since 1998.
"I hope people will see our signs and start thinking about the issue. I hope it will inspire people to speak out when somebody is being abused and report it to the police," Redsell told China Daily. Too often people assume that time heals all wounds, but this is simply not true when it comes to sexual abuse, said Angie Ng. The healing process is complicated and can involve emotional twists and turns.
"(The march) is about educating the public about the rape myths that make perpetrators feel safe and the victims hide because they can't speak up as no one takes the issue seriously," she said. "Until people start taking the issue seriously and understand what rape really is, nothing's gonna change."
(HK Edition 12/06/2012 page4)