Mainland property developers target Hong Kong listings
Updated: 2012-12-04 05:53
By Wang Ying (HK Edition)
| | | | | | | | | |
| --- | --- | --- | --- | --- | --- | --- | --- | --- |
|   | | Print | | Mail | | Large Medium  Small | 分享按钮 | 0 |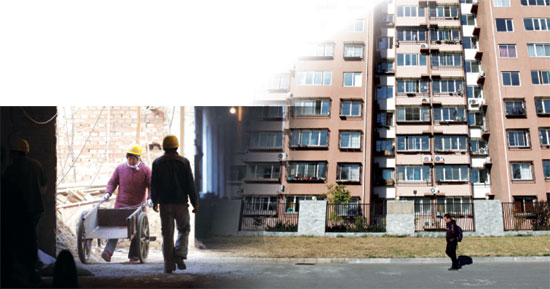 People in residential project on the outskirts of Beijing. Mainland authority's plan to lower entry levels for mainland players to list on the HKEx may provide opportunities for cash-starved property developers. Tomohiro Ohsumi / Bloomberg
An increasing number of mainland developers turn to Hong Kong for fund raising as regulators tighten their grasp across the border. Wang Ying reports.
Cash-starved mainland property developers started flocking to the Hong Kong Stock Exchange with initial public offerings to finance their expansion plans, after it became increasingly hard for them to go public on the Chinese mainland. Regulatory approval on the mainland is increasingly hard to come by.
Although the reason was never officially explained, stock market analysts have long suspected that the mainland securities regulator is holding back approval of IPOs, because of widespread concerns that a flood of new listings could depress the already moribund A share market by draining liquidity.
Guo Shuqing, chairman of the China Securities Regulatory Commission (CSRC), China's top securities regulator, said in November that related departments of the Chinese mainland authorities and Hong Kong regulators are in negotiations aimed at lowering requirements for domestic companies seeking IPOs in Hong Kong, the Securities Times reported.
CSRC's plan to lower entry levels for mainland players to list on the HK stock market, will provide financing opportunities for cash-starved property developers, said Gao Jian, an industrial analyst from Northeast Securities.
Shanghai-based CIFI Group Co Ltd started to trade on the Hong Kong Stock Exchange on Nov 23, becoming the first mainland property developer to be listed in Hong Kong this year.
CIFI Group is another Chinese mainland-based property developer to list in Hong Kong falling in behind Zall Development Group Ltd, which raised $195 million in July 2011.
Lin Zhong, chairman of CIFI Group, told Hong Kong media on November 12 that CIFI will use 80 percent of IPO proceeds to purchase new property projects and land in the mainland's first and second-tier cities.
In an announcement on Nov 22, CIFI said its HK IPO price was set at HK$1.33 per share, and it has raised about HK$1.53 billion through global selling.
The company's aggressive land purchase also shows its confidence in its Hong Kong IPO. Also on Nov 22, CIFI spent 99 million yuan, or at a 38 percent premium of the bidding price, to acquire a plot of land in Shanghai's northwest Jiading district. The land will be developed for commercial office projects.
Earlier this year, CIFI purchased two plots in Shanghai and another two properties in Tianjin.
According to Zhu Yu, vice-president of CIFI Group, the company will continue to expand its land reserves in future.
"We are still looking for new land that is in line with our product strategy and our company's development. And we will take it," said Zhu.
CIFI Group was founded in 2000. It has projects in cities of Shanghai, Beijing, Chongqing, Tianjin, Changsha in Hunan province, Hefei in Anhui province, Fuzhou in Fujian province, Tangshan in Hebei province, Suzhou in Jiangsu province, etc.
A handful of other property developers want to follow suit. Shanghai-headquartered Jiangsu Xincheng Real Estate Co Ltd is also looking to land on the Hong Kong Stock Exchange, and Shui On Land Ltd is splitting up its commercial properties on the Chinese mainland, including Xiantiandi Shanghai, a landmark commercial block, for serious IPO consideration.
The board of directors of Shui On Ltd announced on May 28 that the company has proposed to spin-off and offer separate listing of China Xintiandi Co Ltd on the main board of the Stock Exchange of Hong Kong Ltd.
The Hong Kong Stock Exchange has confirmed the proposal. However, the details about the split, including which assets will be injected into China Xintiandi will be announced after the approval by the Hong Kong Stock Exchange, said the company in a written reply to China Daily.
Mainland-based property developers are seeking to go public in Hong Kong, as the property market and macro policy starts to stabilize, said Hui Jianqiang, research director of Beijing Zhongfangyanxie Technology Service Ltd.
"Borrowing costs on the mainland are still very high for small and mid-sized developers, and they are looking for alternative financing revenues for expansion. Listing generates increased equity and opens the door to cheaper credit in the form of overseas corporate bonds," said James Macdonald, head of Savills research China.
According to Macdonald, the Hong Kong stock market has performed well recently. Meanwhile, the mainland residential property market has seen a substantial recovery in volumes and sentiment has picked up.
Domestic property developers have never slowed down their pace of expansion, and a successful IPO will grant them broader and cheaper access to capital (both equity and debt), and the equity injection will allow developers to lower gearing ratios, said Zhao Zhenyi, an analyst with Industrial Securities.
Since 2007, no property developer has succeeded in placing an IPO on China's A-share market. That bitter fact has forced some property developers to begin eying Hong Kong as their alternative IPO destination, according to Hui.
Once the property developers' start trading on the Hong Kong Stock Exchange, they will be able to issue bonds, which will further strengthen their capital flow, added Zhao.
The improved currency and investment environment as well as the better liquidity will bring more benefit to property developers seeking IPOs, said Zhao.
Despite the bright prospects, Hui noted that developers should also be careful about the risks of going public.
"To become a public company means the market will decide the share price of the company based on conditions in the industry and macro economy performance," said Hui.
"The key risks are the same for any IPO, anywhere in the world; namely, a lack of interest in the listing and falling share prices should the property market weaken again," said Macdonald.
According to Hui, large property developers are actually enlarging their market shares despite an overall decline in trade volume, because homebuyers tend to buy high-quality apartments, which provide big-name property developers more opportunities in the sluggish market.
If new supply is reasonably positioned and priced, transaction volumes should exceed what has been seen in 2012 to-date on a seasonally adjusted basis, said Macdonald.
He contends, many believe the market is recovering and there may be a shortage of residential supply in the coming two to three years. Developers may be looking to raise capital to get ready for the market rebound.
In the third quarter, major Chinese real estate developers posted stronger earnings results following a market rebound that started in July.
In the first three quarters of 2012, China Vanke Co Ltd generated 5.08 billion yuan in net profits, up 41.74 percent year-on-year. Analysts said there is no doubt that the nation's largest property developer by market value will set a revenue record in 2012.
Key developers have recorded significant improvements in sales performances. By the end of September, 18 key listed domestic developers had completed 81 percent of their 2012 sales targets on average. Small-to-mid-sized developers, however, have lagged a bit behind. In general though, most developers will still be looking to the "golden" season to boost sales volumes, hence the large increase in supply in September and October.
Analysts expect the policy situation in the short term to remain relatively neutral, with November's change in the party leadership and as market performance lines up with government targets: comparatively high transaction volumes and stable prices.
Developer financing is expected to remain constrained in 2013. As the market makes the transition from high growth to more moderate growth, developers will have to adjust their business strategies accordingly.
"As developers' financial positions improve, they will most likely remove the 5 percent to 15 percent discounts they offered in quarters past. However, it is unlikely that developers will be able to increase pricing quickly, as unsold inventories currently on the market remain high and will take some time to run down," said Macdonald.
In the longer term (after 15 months), inventory levels will gradually come down as the lack of new investment in development over the last two years translates into lower supply volumes. Once inventory levels fall to more manageable levels, prices will be given the opportunity to rise again, added him.
You may contact the writer through wang_ying@chinadaily.com.cn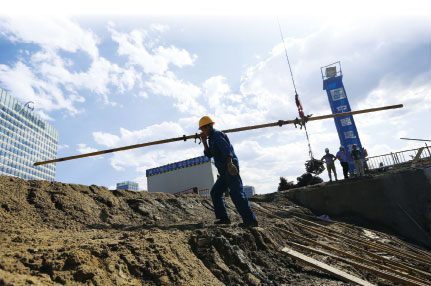 A worker transports parts used for scaffolding at a construction site in Beijing. Albeit the sluggish market, some said domestic developers have never slowed down their pace of expansion, and a successful IPO will grant them cheaper access to capital. Nelson Ching / Bloomberg
(HK Edition 12/04/2012 page4)