Street art goes main street
Updated: 2012-11-02 06:52
By Doug Meigs(HK Edition)
| | | | | | | | | |
| --- | --- | --- | --- | --- | --- | --- | --- | --- |
|   | | Print | | Mail | | Large Medium  Small | 分享按钮 | 0 |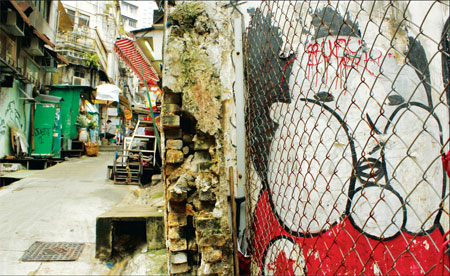 Their iconic fat-faced cartoon character appears in older districts around Hong Kong. This older poster from Graphic Airlines is located across from the Gutzlaff Street public toilet in Central District.
Graphic Airlines, an art duo consisting of Tat (left) and Vi, is one of Hong Kong's most prolific street art groups. Their studio in Kwun Tong is filled with their fine arts, commercial designs and street art materials.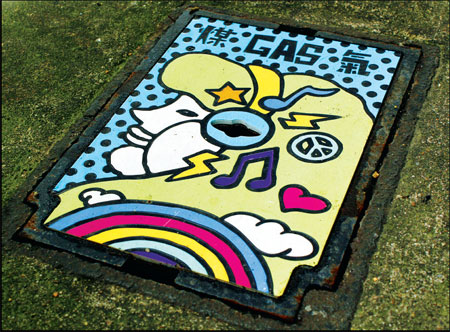 The group's iconic fatty face cartoon appears on Graphic Airlines' pit cover design for the Towngas 150th anniversary street art project. Town gas commissioned 11 prominent artists and designers, and selected 10 others from contest entries from the general public.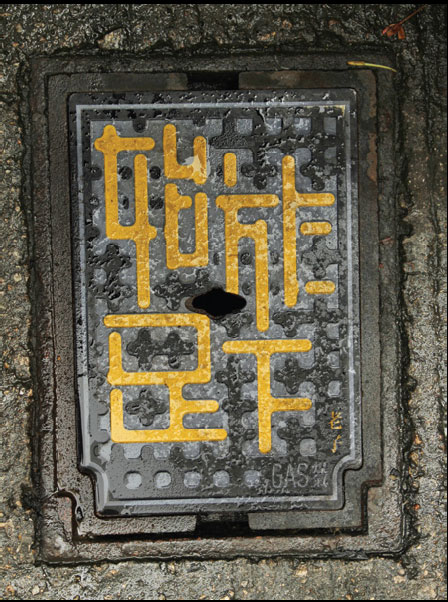 Stanley Wong, also known as Anothermountainman, is another of Hong Kong's prominent designers to participate in the Towngas-sponsored street art project. All photos: Doug Meigs / China Daily
Many people consider street art, often graffiti, mere 'vandalism'. But public opinion is changing in Hong Kong. The art form is gaining wider mainstream acceptance, evidenced by a utility company's decision to commission 'street art' for its 150th anniversary. Doug Meigs reports.
A dilapidated tong lau building cluster awaits redevelopment in Central District, the perfect canvass, for aspiring street artists and those whose tags are already well known. Along the dark alleyway, the crumbling, graffiti-covered walls face the Gutzlaff Street public toilet. Patches of spray-painted graffiti, committed by vandals, can be seen alongside enormous posters made by some of Hong Kong's most-acclaimed street art groups.
The fatty cartoon face, on one poster, towers over pedestrians walking along Gutzlaff Street. The image is the iconic signature of Graphic Airlines, an art group that has earned its reputation by plastering bizarre illustrated creatures throughout Hong Kong's old districts.
Graphic Airlines is an artistic duo, Tat and Vi, whose reputation for creating high quality street art, has helped to secure freelance work. And their high-profile assignments have helped to improve public perception of their street art. The symbiotic interplay of commercial art and what might be viewed as "illicit" art, became especially evident in a project the pair undertook not long ago for Towngas, Hong Kong's largest natural gas provider.
Towngas commissioned Graphic Airlines among 11 prominent visual artists, for works to commemorate the utility company's 150th anniversary. For the occasion, the company wanted new designs to embellish the protective panels that cover gas valve access pits, from which more than 3,000 kilometers of gas piping across Hong Kong are controlled. There was also an open design contest that received 10,000 entries from members of the general public.
Graphic Airlines' submission featured a variation of their iconic fat-faced cartoon character. Towngas engraved the image on a stainless steel metal sheet, and then welded the finished product onto a normal cast-iron metal pit cover. The company set in place 21 outre designs at 150 existing access locations around Hong Kong - a small fraction of the territory's thousands of pit covers.
"Towngas is really bold to do it, to redesign pit covers and incorporate artists," says Tat. "There were a lot of obstacles and bureaucratic specifications to meet (each cover needs to be a specific size, with a key slot and the words "gas"). This sort of design idea inspires the spirit of innovation in Hong Kong."
Tat is a tall young man with long hair pulled tight into a bun. Vi, his female partner, wears a blue stocking cap perched atop her cherubic face. They decline to give their full names. Their spacious art studio, converted from a Kwun Tong factory is filled with finished paintings, sculptures and works-in-progress.
Currently, the pair are balancing several different projects: collaborating with local fashion boutique Lab Concept's Halloween-theme; contributing to an art exhibition for Converse; beginning an arts project to protest redevelopment of Pokfulam Village; decorating some easy chairs for an Adidas promotion; and they continue to paste-up posters in Hong Kong at night. They even do it sometimes when they travel abroad.
"People might ask if we're becoming commercial, but I don't think about it that way. Up to a point, the line between fine art and street or commercial art is blurry," Tat says. "We like to work in different mediums. We don't want to limit ourselves to one particular category of art," Vi continues.
Defining artistic genres can be tricky. Towngas's "Street Art x Pit Cover Design Contest," Tat and Vi say, it's more like "public art" than "street art". Street art is characteristically unsanctioned. Strictly speaking, their street artwork is vandalism, though they have encountered no problems with Hong Kong's police.
The duo say they stick to neglected old buildings (that are less-likely to be repainted), for their street art. They avoid newer buildings where there is a much greater risk of running afoul of police, guards and security cameras.
Redevelopment of Hong Kong's old neighborhoods means there are fewer places for them to work in the city. Their poster beside the Gutzlaff Street public toilet is many years old. The fat-faced character was initially meant to be a social comment. Vi created the image, which has since appeared on T-shirts, jewelry and other merchandise sold on the Graphic Airlines website.
"In the beginning, he was a reflection of how city people have lots of desires, and they can't be satisfied," says Vi. "There are so many people who are chasing after something and they don't really know what is driving them.
The way Towngas understands "street art" differs from the way it is conceived by Graphic Airlines. "I suppose our pit covers are quite different from graffiti," says Wong Sau-ying, head of corporate communications. "We rely on these pit covers and use them for a purpose that is still operational, and we own these pit covers."
Towngas had originally planned to remove the 150th anniversary pit covers after a year, but in response to positive feedback, Wong says the company is planning to leave them indefinitely. She says Towngas might even spread its street art campaign to another 150 access pits around their North Point office, and maybe another 150 to pits near the company's Ma Tau Kok plant.
"I hope that other utility companies are interested and help make our pedestrian walkways more interesting (with their own street art initiatives)," she says.
Wong believes Hong Kong's various metal covers and grey electrical boxes could also provide a platform for the city to promote local artists. Graphic Airlines agreed, but lamented on how street artists who clandestinely paint the boxes, could expect to soon find their work covered with a fresh coat of paint.
The Towngas commemorative project took inspiration specifically from manhole covers in Japan, which the company discovered through the work of British-Australian street artist Remo Camerota. Camerota published a book, documenting more than 6,000 different city or town-specific manhole cover designs that appear across Japan.
Special, local manhole cover designs began appearing in Nagoya in the 1940s, he says. Then in the 1980s, local governments began making colored manhole covers and the trend spread rapidly nationwide.
Camerota learned about "manhoru mania" (manhole mania) while researching another project about Japanese graffiti. People were traveling the country, photographing different manhole covers and uploading images to Internet fan sites. Camerota called the trend "drainspotting", the title of the book he eventually published in 2010.
Aside from Graphic Airlines, Camerota is the only experienced street artist to receive a commission from Towngas. He designed a robot pit cover. Camerota has painted graffiti in Australia and written books on the graffiti cultures of Japan and New York.
Two years ago, organizers in from Singapore contacted him to judge a manhole cover redesign contest similar to the Towngas event. He says businesses and governments worldwide are increasingly sponsoring street art.
"There's a lot more commission-type murals going up on shop walls, especially in Japan. The shopkeepers really love this style of art and they will get some young artist and pay a small amount for them to go and paint the side of their building. That's happening a lot in Melbourne and other bigger cities, too," he says.
Legally commissioned street art would be suited to Hong Kong's abundance of concrete surfaces, and would help lend legitimacy to the art form, Camerota says. He went hunting for street art in the city during two trips this year and was disappointed by the quality and low saturation of work.
Worldwide, the work of established street artists shows in top galleries, sells as fine art at premium prices and secures lucrative corporate design jobs. The genre's big names - such as Banksy and Shepard Fairey - have also helped fan street art's presence in global pop culture, thanks to their memorable stunts.
Street art as a global phenomenon began emerging after hip-hop culture spread from New York City in the late '70s. Graffiti was one component of the hip-hop style, which also included rapping, DJing and break-dancing.
Contemporary street art has since broadened beyond any single musical affiliation, and works might utilize graffiti, stickers, posters and spray-paint stencils, lock-in sculptures, yarn-bombing or LED displays.
Hong Kong's very own King of Kowloon, aka Tsang Tsou-choi (1921-2007) gained renown as Hong Kong's first graffiti artist. Tsang was reportedly mentally unbalanced, and as early as the 1950s, dedicated himself to vandalizing Hong Kong with scrawling calligraphic rants that declared he was the ruler of Kowloon.
Graphic Airlines gives credit to local rapper MC Yan of the rap group LMF for being the first to experiment locally with modern graffiti, early in the new millennium, while stencil and poster paste-ups from Start From Zero inspired them to try their own.
Tat began Graphic Airlines in 2002 while feeling bored at his news media design job. Graphic Airlines was just a website platform at first. Vi started posting her drawings a year or two later. They didn't try their hands at street art until 2005.
Similar to Graphic Airlines, Start From Zero (SFZ) is a two-person team, consisting of Dom and Katol. Dom began making stickers and posting them around Hong Kong nearly 12 years ago. An "Obey" poster by Shepard Fairey in Causeway Bay piqued his interest. Then he found an Australian-based sticker-printing website and began printing stickers to trade with other artists.
The phrase "Start From Zero" is a play on an abbreviation of "Street Art" or "St. Art." He hoped the words could be of comfort to downtrodden passersby: "you can always start over with nothing." He conceived the name back when street art was new to Hong Kong, and he sounds disappointed when talking about the passing street art fads that occasionally sweep the city.
Even after working in street art for a decade, Dom says Hong Kong's remains lackluster. Speaking from his Kwun Tong studio, in a factory building, a short walk from Graphic Airlines' studio, he estimates that there are only 10 or so street artists in Hong Kong.
Katol joined SFZ roughly seven years ago, around the time Dom was branching into designing t-shirts and urban wear. "In this society, you have to do part-time projects or work freelance, to sustain your street art," Dom says.
Last year they opened a Sheung Wan store called the Rat's Cave, selling clothing, stickers and art made by friends. SFZ also helps local bands make t-shirts and is in the process of crafting wooden tables and stools for the upcoming Clockenflap Music and Arts Festival.
Surprisingly, some unlikely advocates for graffiti have begun to encourage street art in Dom's neighborhood. A youth outreach organization, Warehouse, teaches classes on creating "responsible" graffiti. Artists from Warehouse will demonstrate their graffiti artwork at the Energizing Kowloon East Office (EKEO) in Kwun Tong every Thursday through Jan. 10. The EKEO is an office of the government's Development Bureau.
Meanwhile, local graffiti's fine art credentials received a boost in September, when M-- contemporary art gallery (slated to open in 2017 in the West Kowloon Cultural District) purchased graffiti-covered doors by the "King of Kowloon."
Tsang spent decades battling the authorities who wanted to paint over his eccentric diatribes. He began achieving artistic recognition only during the final years of his life. Now only a small number of his Tsang's once-prolific graffiti remains. One example is an encased pillar at the Tsim Sha Tsui Star Ferry Pier.
Tsang's calligraphic vandalizing of an electrical utility box fetched a whopping HK$800,000 at a Soetheby's auction in 2011. But not all of his remaining graffiti works are safe from destruction. The future of metal doors that Tsang vandalized (at Kwun Tong's now-defunct Silver Tongue Theatre) remains in limbo - much like the future of Hong Kong's street art.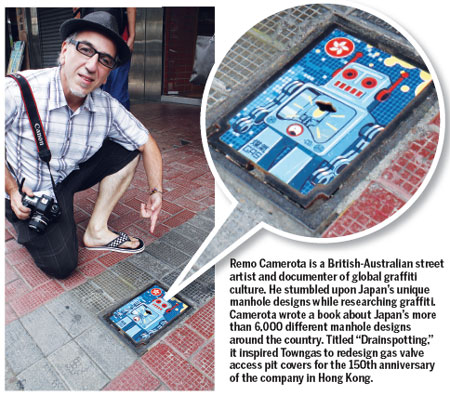 (HK Edition 11/02/2012 page4)