Two countries mark 40 years of cooperation
Updated: 2012-10-11 07:10
(HK Edition)
| | | | | | | | | |
| --- | --- | --- | --- | --- | --- | --- | --- | --- |
|   | | Print | | Mail | | Large Medium  Small | 分享按钮 | 0 |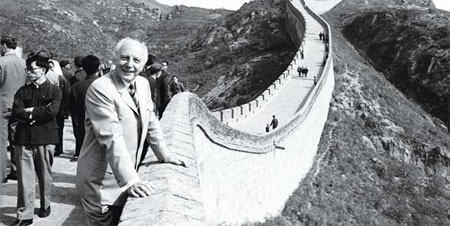 Walter Scheel visits the Great Wall. Photo Provided by German Embassy in China

Editor's note: All three personal stories are part of a special publication by the German embassy to celebrate 40 years of diplomatic relations between China and Germany. In this publication, a total of 19 contributors from various segments of society, ranging from business and academia to politics and culture, share their personal experiences and thoughts on the legacy of ties between the two nations.
Reflecting on a journey of friendship
Lasting friendship
I am now an old person. I am slowly forgetting many things that have happened in this long journey of life. However, one significant memory in my life is my experience with China. Perhaps, you may find this memory is a little childish.
In building foreign relations between Germany and China, late Chinese Premier Zhou Enlai and I held our meeting over green tea. What was surprising to me was that both of us, with very different political standpoints and backgrounds, could engage in frank, almost philosophical discussion. His brush-like eyebrows and his humble approach made me feel we could easily start a discussion on any topic without any fear of hurting each other. This is especially so in his empathy toward the issue of splitting Germany into East and West Germany, which I vividly remember to this day.
Something else left a deep impression on me. That is the different way of life in China, especially the different ways of eating. To me, the experience of living a healthy life through eating the ingredients in food was strange yet refreshing. My love for Chinese cuisines lasts even until today. Every year, I visit a fantastic Chinese restaurant to celebrate my birthday.
Also, I like the hotels in China. As a result of this feeling, each time I go to China, I relish the freshness of the air when I sleep with the windows open, and I enjoy waking up to the daily morning ring of the bicycle bell.
Of course, this may seem childish to some people. But every time I experience that, it makes me very happy. So I have purposely "left behind" my alarm clock in Germany and also made known to my consort and the hotel staff not to wake me up.
Apart from these personal experiences, what is even more unforgettable is the foundation we laid for today's development: the long-lasting friendship between the two countries; the highest level of cultural exchange, including student exchanges; and unimaginable wide-ranging economic activities.
My speech of Oct 11, 1972, given in Beijing, has been and is infused in the daily lives of both parties: "The building of foreign relations is based not merely on protocol. It also represents our hope and clarity of vision, patience, realizing the potential of various exchanges between the two countries through continuous political dialogue, lively economical, scientific, technological and cultural relationships, and the engagement between the people of both countries to establish a lasting understanding of each other."
I firmly believe that the two countries will continue to pursue and deepen this close relationship. As such, I am very pleased for what we have achieved. And we will achieve much more.
My greatest wish is to be able to once again personally experience China's impressive culture, people and to delight in China's sights. This brings me back to the start of my essay: I am an old person. But there is a Chinese idiom I speak very well: bu yao yin wei shi qing de zhong jie er ku qi, yao wei le ta ceng jing de mei hao er wei xiao (Don't cry because it is the end of something. Smile because it happened.)

Germany is fertile ground for investments from China
My experience in Germany
My first trip to Germany was in spring 2004 when I went to join the BAUMA exhibition. It was the first time that Sany has been to a major exhibition abroad. I was the chief of the project. At that time, the team had no experience at all with exhibitions abroad, so the preparation work was quite a headache.
In 2004, Sany Group's annual sales revenue was only 2.65 billion yuan ($420.56 million), and we barely had any international experience. We made the decision to join an international exhibition based on strategic considerations.
Standing at the overpass in Munich, where the exhibition took place, the scenery was quite a shock to us. It's just like a jungle made of iron and steel. We were impressed by the huge scale of the industry and, at the same time, felt the enormous pressure of the competition.
I still remember two things about the journey in Germany afterward. First, was a couple of white swans we found in an unknown lake on the side of the highway. We were so excited and took dozens of pictures of them. We do respect Germany's care for animals and the natural environment.
Another unforgettable experience was a visit to the latest assembly line of Mercedes-Benz trucks. Along the huge production line, workers can assemble different models according to customers' requirement for various color and equipment options.
I didn't expect that I would be working in Germany as the president of Sany Germany in October 2009. Unlike in 2004, this time we have a clear strategic goal. We will provide products and services that meet consumer demands and expectations and set up a localized team to implement the strategy. We expect to be the leading machinery supplier in Europe.
In 2011, our plant in Bedburg, Germany started production. At the beginning of this year, we successfully took over Putzmeister. We kept their original management and gave them more support.
Germany has the world's most-discerning customers and the most-advanced suppliers. It's a great challenge for a Chinese company to gain a foothold in Germany. We have to return to the basic mission of an enterprise, which is to offer products and services that meet the local customers' demands. Therefore, investment in research and development and manufacturing is essential. We also have to invest in the most treasured thing of a company - human resources - and try our best to attract and keep local talents.
The manufacturing industry in Germany and China are complementary. Germany's strong parts industry has supported the development of China's manufacturing sector and also shared a piece of the Chinese market.
Take Sany as an example. We have been purchasing parts from German suppliers, and they can share in Sany's growth at every step. The fast growth of Germany's GDP during the financial crisis and euro crisis should be partly attributed to the growth of the Chinese market.
Medium-sized and small enterprises are the backbone of the German economy. In the current economic situation, these enterprises need a much broader market and bigger capital investment.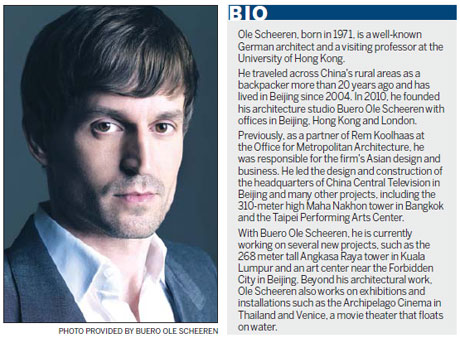 Foreign architect helps to build a modern nation
Accomplish the impossible through collaboration
It was 20 years ago that I first came to China. I came out of curiosity - an interest in seeing a country about which, as a boy, I knew little other than its sweet and sour cuisine, like gulaorou, probably the most well-known Chinese dish in Western countries.
The three and a half months that I spent traveling through China changed my perception of the world - and my life. It has been almost 10 years that I have lived in Beijing. It is my new home and a place that has had a substantial influence on my work.
I am an architect and am interested in cities, urbanization and its effects on society. I am fascinated by the question of what we can contribute through the cities we plan and the buildings we have built, and how we can address the challenges of a radically changing society.
In 2002, I won the bid to build the new headquarters for CCTV together with my partner at that time, Rem Koolhaas.
As the leading architect in charge of the team, I decided that the project could not be done as things were done at the time.
It used to be that people would sit in their offices in Europe to work on a design and then simply hand over the blueprints to China without further involvement.
After we had defined the initial idea of the project, I shifted all efforts to China, moved to Beijing and set up a practice integrated in this environment with the goal of working from within this culture for this culture. This method meant engaging in an intense process of collaboration with China.
Two and a half years ago, I founded my own design firm, Buero Ole Scheeren, which is headquartered in Beijing. It now has about 50 employees and is undertaking projects in Beijing, Shanghai, Wuhan, Chongqing and in other Asian countries, like Singapore, Malaysia and Thailand. We are also preparing to take on projects in Western countries, including Germany.
I think the most important aspect of our work is communication and exchange. We have to explore the possibilities and potential that we can find in working together and how we can do things jointly that one or the other side would not be capable of accomplishing alone.
The new CCTV building is maybe one of the best examples of such a collaborative synergy. China might not have been able to produce such a concept without us. However, without China's enthusiasm and courage, this project could have never happened either.
The cooperation with our Chinese partners, clients, government departments and all walks of life has laid a solid foundation for this nearly impossible project to become a reality. And without any of them, it would still be nothing more than an idea.
(HK Edition 10/11/2012 page12)