IPhone fever
Updated: 2011-12-09 08:01
By Emma Dai (HK Edition)
| | | | | | | | | |
| --- | --- | --- | --- | --- | --- | --- | --- | --- |
|   | | Print | | Mail | | Large Medium  Small | 分享按钮 | 0 |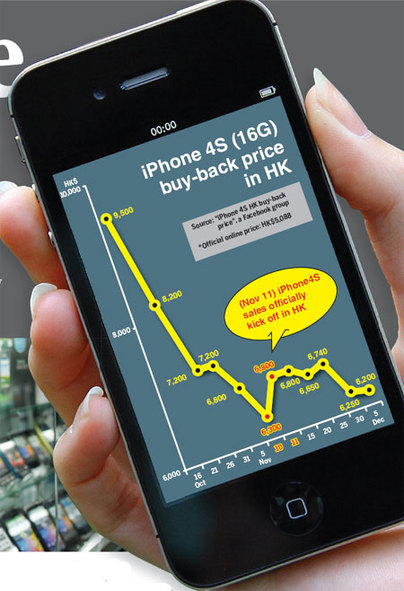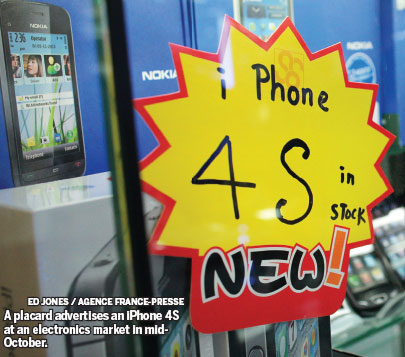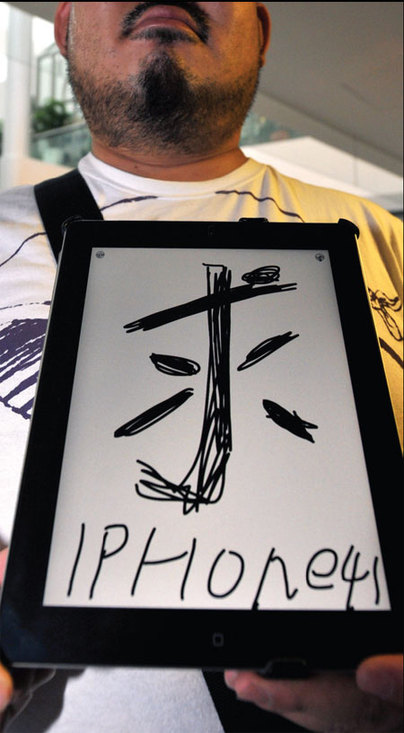 A 26-year-old designer from Shenzhen holds an iPad that reads "Want iPhone 4S" near the Hong Kong Apple Store on Nov 11, the day when the smartphone was released in the city. Aaron Tam / Agence France-Presse
IPhone 4S, Apple's latest high-tech gadget, has touched off a hot trend in town. Demand is so high that Apple has to limit itself to online orders to avoid chaos at the company's IFC store. Thanks to the shortage of the units, people not only want the smartphone - they also want to cash in. Emma Dai reports.
Ms Zhen had just paid out HK$13,460 at a corner store in Sin Tat Plaza, Mong Kok, for the two 16G iPhone 4Ss she had just bought. At a price of HK$6,680 each, Zhen paid 31 percent more than the HK$5,088 list price. She was satisfied. As long as the phones were "brand new", she still thought it was a good deal.
Zhen lives in Shenzhen, but she prefers shopping in Hong Kong. "It's more convenient and much safer," she said. "On the other side of the border, I might be fooled by used stuff or a phone with problems. They could even sell you an iPhone 4 and tell you it's a 4S."
She considers the new iPhone an involuntary choice on her part. "This is what everybody else buys," Zhen said. "All of my friends are using it. My last phone is a '4' and once you adopt an iPhone, you no longer want any other."
In Sin Tat Plaza, the biggest mobile phone market in Hong Kong, the first and second floors are crowded with small stalls, customers and sellers. Most of the stores, if not all, have similar banners all over their windows and doors: "iPhone 4 and 4S wanted - with high pay" "iPhone 4S in stock, enquiry welcomed". But there is no mention of prices on the banners.
This is a snapshot of the fever for the new Apple smartphone model in Hong Kong. IPhone 4S, the latest must-have gadget for Apple fans, engages dealers, buyers, speculators and directs an intense drama.
Back on Nov 10, more than 1,000 people queued overnight on the footbridge outside the International Finance Centre (IFC) Mall in Central, where the Apple flagship shop is located. Waiting for them inside was a stock of 5,000 iPhone 4S, which would go on sale when the shop opened the next morning. The sale marked the launch of the 4S units in Hong Kong. As professional queue jumpers set off scuffles, the fighting became the subject of banner headlines. Fifty policemen were brought in to keep the peace.
Not long after the doors opened, many of those who had been successful in their efforts to pick up iPhone 4Ss resold the phones to dealers hovering outside the store. The first purchaser, whose surname is Xie, had stood waiting at the head of the queue for four days. He resold every one of the phones he purchased.
The Apple store decided to shut down the chaos that very day and issued an announcement that the iPhone 4S would no longer be available to walk-in customers. To purchase one, customers would be required to place their orders on line. Sales were limited to two per ID. Then purchasers were directed to pick up their phones the next day.
Still, the shop had exhausted its stock of 4S phones at 8:45 am, Nov 12, one day after the phones went on sale, and half an hour after the shop inaugurated its online ordering policy. Since then, the question of when new stock would come in remains unanswered. The order page at the online store lists the iPhone 4S as "currently unavailable".
"The new model is definitely the hottest item," said Alex Yeung, a shop assistant in LIKE, an 80-square-feet store in Sin Tat Plaza. Behind him was a wall blanketed by phones of different models.
"Since October, we started to sell smuggled 4S," Yeung recalled. "Sin Tat is the most capital-rich market in Hong Kong. An average store here can easily pay HK$600,000-700,000 in cash. That's why this is the hub for iPhone trading. Customers are from everywhere. Through my hand, there have been at least 20,000 iPhone 4s since last year and about 1,000 4Ss since October."
Making its debut on Oct 14 in the US, iPhone 4S was successively released in North America, Europe, Australia, Japan and Singapore. Hong Kong became part of the third phase. During the gap, gray market brewed. At the peak time when the phone was just launched in the US, the retail price for a 16G model flied to HK$13,000 ($1,677) in Sin Tat Plaza. Its tag price, though, is just $199.
"When 4S didn't officially land in Hong Kong, we bought at the tag price plus HK$5,000, and sold them as high as more than HK$10,000 each," Yeung said. Apple fans are clearly not the only buyers. According to Yeung, most of the wholesalers are from the mainland. The store's record sale is 300 iPhone 4S units in one deal.
The price of the smartphone, sharing the fate of lots of other fancy digital products, is gradually going down after its launch. According to a Facebook group called "iPhone 4S HK buy-back price", which updates local gray market prices everyday, the wholesale price for 16G model was HK$6,230 on Dec 3, far below the previous peak.
"It's as volatile as the stock market," Yeung said. "One never knows whether the price will go up or down tomorrow. Surely there are risks, but we bet on iPhone only because we are confident." The store adjusts buy-back prices when wholesalers or other dealers approach them. "From their asking prices, we learn the market sentiment," Yeung said. "Today the buy-back price is around tag price plus HK$1,500."
But what if the official website suddenly opened for order again? There is a possibility that Apple could restock, leaving all the dealers with piles of expensive phones that have to be sold far below purchase prices.
However, Yeung said he doesn't worry about that either. That's what happened with iPhone 4 in 2010. "If they open again, Hong Kong people will soon drink up the pool. According to my experience, 4S will be hot for at least a year."
Yeung is not the only one who believes in the phone's rosy future. Many people in town, looking for big profits, are studying possible ways to cash in.
Though the 4S remains unavailable online, to the dismay of many, technically there's still a chance. According to various digital forums, such as uwants.com and iphone4hk.com, there have been supplies at the Apple online store several times since Nov 12. Each time, however, the interval was so short that most people were unable to place their orders before the "door" closed. "There were only 20 seconds," one poster complained to an online forum, "I just typed in my HKID and it was gone." But relying on a record of an irregular timetable, people still try to predict when the next opening will come.
"I can hardly believe I was so lucky," said Charles Chan, a graphic designer who bought his iPhone 4Ss on Nov 25. "It was 2:00 am. I was awake and there was a forecast that 4S might be available again at 2:30. So I started refreshing the online store, and kept an eye on forum at the same time. Suddenly it showed 'available'! I ordered two at once (yes, it was still limited). It was so unbelievable. I really should try Mark Six with that kind of luck."
The next morning, Chan picked up his quarries in IFC Mall and resold them both in Sin Tat Plaza, for a net profit of HK$2,650.
Lucky dogs are always in the minority. In online forums, people talk about which method, using a computer or an iPhone, is more likely to get through and score during one of the evanescent openings for sales. Some posts forecast when the online store will open again, usually a time most office workers would find odd. After a sale, screens of posts complain about how inexplicably they have missed it again. Then sometimes one declares he "got in". The post evokes a mixed response of envy and new hope.
"I want to speculate on 4S because I saw my friends earn a lot from iPhone 4 last year. They earned about HK$1,000 each," said Tommy Mok, a friend of Chan. "Last year I hesitated and everything became too late. This time I made up my mind to seize the opportunity."
Missing the initial sale, Mok applied a simple strategy: check the online store as frequently as he can. He downloaded an app on his Android phone and added an extension to the Google browser, both for the purpose of monitoring the store. "They will send an alarm once 4S is available. I just need to keep my browser open and check my phone from time to time, as no one knows when exactly they will sell again."
"Hoarding iPhone 4 is risky now, though Sin Tat still buys them back," he said. "They were available online recently. But I'm positive on 4S. It just starts. Once Apple restores supply, I'm sure 4S will be all sold out within 30 minutes."
The reason iPhone 4S is so eagerly sought in town, according to him, is that Apple applies an "order-one-make-one strategy". "Unlike other phone makers, Apple doesn't keep many in stock," Mok said. "They don't give orders to assemblers until consumers do. That's why those who ordered online on the first day need to wait for two weeks to get their phones delivered. Whatever product you order, they tell you to wait. That's why people always feel Apple products are hot and supplies short. That's the reason I can speculate with them."
Adding to the city's short supply is also demand from the mainland. With iPhone 4S not yet released on the mainland and a considerable population thirsty for trendy consumer goods, smuggled iPhone 4S is also hot on the mainland.
According to zol.com and pconline.com, both popular digital products websites based on the mainland, until Dec 12, the suggested price for the 16G model is 5,600 yuan (HK$6,840) in Beijing and 5,580 yuan (HK$6,815) in Shanghai. On Taobao.com, the largest mainland online shopping hub, prices vary from 3, 000 to up to 10,000 yuan.
"I can earn more if I sell these phones in Shenzhen," said Charles Chan. "But I might risk being caught. I heard some mainland people write programs that can place orders to the Apple store automatically. No wonder so many Hong Kong people feel it's impossible to buy 4S. This is not a game ordinary people can play. I'm not a professional speculator. I just want some side money."
"Given the high cost and the rapid change of technology, not everyone is chasing the iPhone 4S. It's kind of luxury," said Chen Yun, a media worker in Shanghai. "A lot of friends have asked me about it. But none of them finally buy. 4S is expensive and really not that revolutionary."
According to him, iPhone 4S' camera, at 8 megapixels, is only "average". Sony Ericsson and Sharp phones have better cameras, as high as 16 megapixels. Besides, Japanese products, usually tagged below 3,000 yuan, sound much more wallet-friendly. Screen size is another complaint. A screen of 3.5 inches might be enough for Apple, but many people prefer bigger screens. In this term, Samsung's Galaxy wins. "We waited for Apple to enlarge its screen but it didn't. It's disappointing," Chen said. "Right now 4S is expensive. But by next March or April when it will have been released on the mainland, it won't look so fancy."
Not an iPhone fan, Mok said he doesn't understand why people love it so much that they are willing to pay a considerable premium for what will be available sooner or later, anyway. "I think they are idiots."
"If I get an iPhone 4S," Mok said, "I could sell it online, with a price a little bit lower than the retail price in Sin Tat. That's the most marketable way."
All his plans, of course, were based on "if" he could get the phones.
(HK Edition 12/09/2011 page4)