Ghost in the machine
Updated: 2011-07-14 08:18
By Kane Wu (HK Edition)
| | | | | | | | | | | |
| --- | --- | --- | --- | --- | --- | --- | --- | --- | --- | --- |
|   | | Comments() | | Print | | Mail | | Large Medium  Small | 分享按钮 | 0 |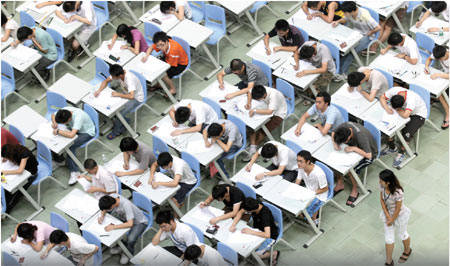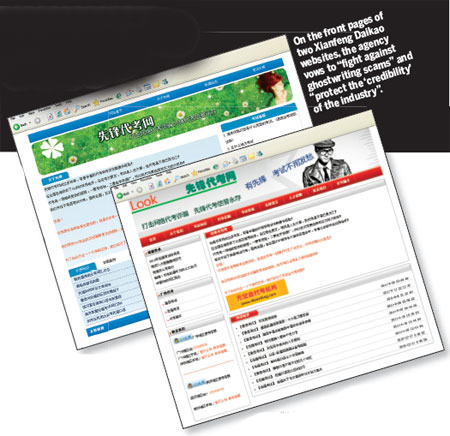 Many hopes of mainland students have been wrecked on the reef of the official exam used to assess English language proficiency. Other avoided disappointment simply by having others sit the test and earn their passing grade. Ghostwriting is becoming a flourishing business. Kane Wu reports.
"Our agency is very experienced in ghostwriting and cheating in exams. Exams are crucial in every student's life; you can't be too serious when choosing a capable and reliable ghostwriter!"
So reads the home pages of dkxianfeng.com and yydaikao.com. Both websites belong to Xianfeng Daikao ("pioneering ghostwriting" if translated into English), an agency providing ghostwriting services to millions of students on the mainland who want to study abroad but fear they will never meet the English language requirements.
Earlier in May, a Guangzhou newspaper revealed that Xianfeng Daikao hired a ghostwriter to sit the critical IELTS exam in Hong Kong, in the stead of a junior-year college student from Guangzhou. IELTS, or International English Language Testing System, is one of the most popular high-stakes English language tests in the world, recognized by 6,000 organizations in over 135 countries. The majority of universities in the UK and the US require an IELTS score for prospective international students.
The girl with an online nickname "Baobao Tang" told the paper that she needed a 7 overall score to go to a university in the UK next year. But after getting a 6 twice in the test, she decided that hiring a ghostwriter was the only way to make her UK dream come true.
If a test taker is caught cheating on the mainland, he faces a lifetime ban from the test and will not be awarded a valid IELTS score. This may end the student's chance of being accepted for study at a university in the UK, according to the British Council, one of the organizing bodies of IELTS.
Thus, Hong Kong became the perfect locale for creating a pool of IELTS ghostwriters. IELTS in Hong Kong is managed entirely separately from IELTS on the mainland.
"If you are caught cheating in Hong Kong, the record won't reach the IELTS headquarters in Beijing. So there is no future risk if I want to take the test again on the mainland. It's just a matter of money," Baobao Tang explained.
Tang spent some 70,000 yuan on a ghostwriter provided by Xianfeng Daikao, plus another 2,000 yuan for the trip to Hong Kong in June. "We had some 10 people all together taking the test in Hong Kong from Guangzhou," she said.
Ghostwriting business is not new in China. If you Google "IELTS ghostwriter" in Chinese, you will find the first ten pages list different agencies providing services. They normally only leave QQ (the most popular instant messenger on the mainland) or MSN accounts online and will discuss details only when approached.
In the forums of the two most popular websites providing comprehensive information and services to mainland students who wish to study abroad, one finds several advertisements offering ghostwriting services. The postings for the illegal services continue to appear despite the efforts of webmasters at www.taisha.org and www.gter.net to delete the unwanted advertisements.
Jacky Chen, a TOEFL and IELTS teacher at a language school in Zhejiang province in Southeast China, told China Daily some students at the school, who are from wealthy families, hired ghostwriters to assure a good score.
"Money is not an issue for them. They just want to get the required score and go abroad as soon as possible and don't want to waste their time in language courses," said the teacher. "But I have never heard of people who hire ghostwriters to take IELTS in Hong Kong. This is news."
Indeed. Xianfeng Daikao seems proud of its innovative ghostwriting service. The agency told the Guangzhou paper that up to now, it has successfully organized over 40 ghostwriters to take tests in Hong Kong, Vietnam and Malaysia. The agency claims liaisons in Guangzhou, Wuhan, Nanchang and Shenzhen.
"There is no risk at all. You can absolutely trust us," one of the agency's customer service staff member told a China Daily reporter, who approached the agency's Guangzhou office through its QQ online number, pretending to be a ghostwriter looking for work.
The agency asked for a high-definition picture from the ghostwriter to compare with the clients' pictures. The staff member said once it found a good match, it would contact the ghostwriter and arrange a swap.
Xianfeng Daikao charges clients 10,000 yuan for a point of IELTS score. If a client needs a 7, he will have to pay at least 70,000 to the agency, excluding the travel and accommodation fees for both the candidate and the ghostwriter. The ghostwriter is paid on only 1,500 yuan a point, the staff member said.
The staff member said a ghostwriter takes all of the clients' documents to the test venue.
"Nobody knows who you are and nobody bothers to know!
"If you are caught, the only thing they can do is ask who you are ghostwriting for. It will have no consequence on you at all. They don't have your records because you are from the mainland, what can they do to you?" the staff member said.
As to the client, the staff member said the worst scenario would be that the client loses a valid IELTS score in Hong Kong.
"But we could always arrange another test elsewhere, like in Vietnam or Malaysia, and the client does not have to pay twice."
Is the ghostwriting business really as risk-free as the agency describes? In a written reply to China Daily, the British Council said: "In Hong Kong, it is a criminal offence for candidates to pose as someone else to sit for an exam and such cases will be reported to the police."
The Hong Kong Police Force, when contacted by China Daily, said that the police do not keep statistics on test imposters. Whether writing a text on behalf of another person may constitute a criminal offence depends very much on individual circumstances, the department said.
But the authority said according to Section 7A of Cap 177 Registration of Persons Ordinance, any person who, without lawful authority or reasonable excuse, uses or has in his custody or possession a forged identity card or other document under the Ordinance, commits an offence.
Last July, a mainland student was sentenced to six months in prison by a Hong Kong magistrates' court for posing as someone else to take the SAT in Hong Kong. SAT, or Scholastic Aptitude Test, is the college entrance examination for American universities. The student used a fake identity at the time.
Xianfeng Daikao is not worried at all. When asked whether there is any legal consequence if a ghostwriter is busted, the staff member simply said: "If you use a real identity document, it is impossible (to be imprisoned)."
"I have been doing this for so many years, you think I didn't know the consequences?" the staff member said. "If you are interested, send me two recent photos and your contact number. We guarantee there won't be any security issues, as long as your English is good!"
Another agency Yingjia Daikao, contacted online by a China Daily reporter who posed as an IELTS candidate, said that it has connections with people inside the test venues to make sure there is no trouble for ghostwriters, hinting there is a certain degree of corruption involved in the IELTS system.
"These are examples of the exaggerated and false claims made by individuals who are trying to persuade candidates to give them money," the British Council responded.
The council said it is aware of "a full range of fraudulent practices carried out by exam candidates in China including substituting candidates" and that it is working to curtail such practices "using all the options at our disposal". However, the council did not give details of its processes or any specific cases "for reasons of security".
IDP, co-organizer of IELTS and the world's largest student placement and English language testing services provider, also did not answer directly China Daily's query, whether certain test venues in Hong Kong and on the mainland had been corrupted.
"In the experience of IELTS, the small percentage of test takers who resort to cheating via the use of imposters or other methods either fall victim to scammers who take their money and disappear without delivering on promises, or have their results cancelled by IELTS upon detection by post test day security processes," said John Belleville, IELTS Australia director, who oversees the IDP IELTS Australia Centre in Hong Kong.
Xianfeng Daikao is fully aware of the various scams in the market. On the front page of its website, the agency vows to "fight against ghostwriting scams" and "protect the 'credibility' of the industry", as if the "industry" were a legal and valid one.
"Ghostwriters are supposed to help students, but in recent years we have seen many fraud schemes in the market. These people ask for a 50 percent deposit before the business is done, and then just disappear. This really destroys the reputation and credibility of our industry. So we have decided to grant a no-deposit policy for all our clients from now on."
The agency will charge clients' money only after the ghostwriter finishes the exam and achieves the desired score.
"If you fail to meet the client's requirement, you get nothing and we get nothing," the staff member said. "We only want the best people to join us."
"I think it's a complete waste of money to hire ghostwriters," said Jacky Chen from the language school. "If you are going to study abroad anyway, the English language is a must-have skill. Are you going to cheat every time when you do homework or write papers at university? You will be expelled immediately if you are busted."
Chen said he has met students who had high scores in language tests but still didn't understand anything the teacher said at an overseas university.
"Even these students have language barriers, if you don't even pass the language tests, how are you going to survive in a foreign country?" he asked. "It is a highly risky action (to hire ghostwriters) with almost no benefit in the long-term, not to mention the moral hazards."
Chen suggested every student who dreams about studying abroad get down to actual language learning.
"You may get away once with the help of those fearless agencies. But you can't get away cheating with everything in your life," he said.
(HK Edition 07/14/2011 page4)