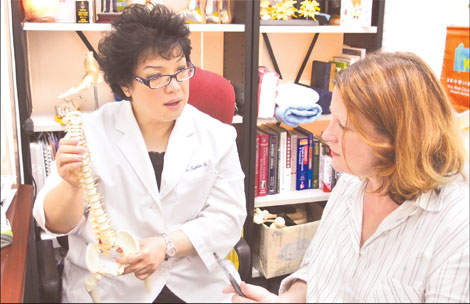 Chiropractor Dr Sophia Ng Mo-tack (left), chairwoman of the public relations committee of the Hong Kong Chiropractors' Association, tells reporter Hazel Parry that she sees potential "iPhone syndrome" sufferers everywhere she goes in the city.
Mobile phone and computers users are being advised to straighten up to avoid the multiple strain injuries which come with over-use.
The Hong Kong Chiropractor's Association is promoting a three-minute exercise routine which targets the spine and neck and can prevent muscle fatigue and strain which can lead to paid and permanent damage.
The exercises, devised by spinal experts and approved by the World Health Organization, are designed to be done by all ages. They include stretches which focus on the neck and spine which the association hopes will become a daily habit, like cleaning teeth, to people using computers, handheld devices and smartphones.
Sophia Ng Mo-tack, the association's chairwoman, said the exercises were very easy to do and could also be taught to children in schools.
"These exercises do not need any equipment. You can do them anytime, all you need is a little space. They only take a few minutes and so kids can do them without getting impatience," she said.
Ng said the key to avoid aches and pains while using computers and smartphones was to take regular breaks and not to use them continuously for long periods of time.
"The maximum time you should use these devices should be an hour. Get up have a drink, do some stretches, do something else.
"We always say prevention is better than cure and people shouldn't be allowing themselves to get in such a serious situation."
Ng also stressed the importance of ergonomic and ensuring that desks, chairs and screen monitors were at the right height and that people used wrist and mouse pads to avoid bad posture which could aggravate the problem.
"The most important thing when they are doing this kind of activity, is not to do it too long. If you maintain bad posture all day long you will develop a problem."
China Daily
(HK Edition 06/21/2011 page4)