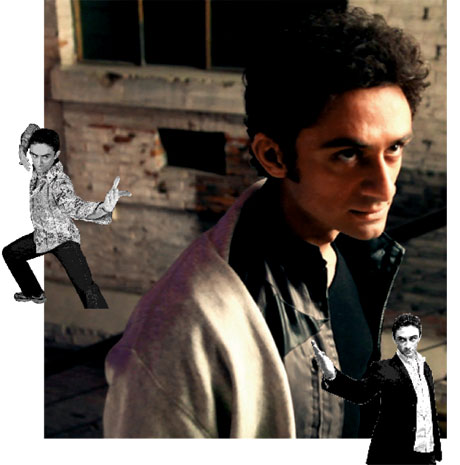 Despite the wholly Asian kung fu skills, Bachini still retains a typically Italian look, from a scene of Shangdown. Provided to China Daily
Bringing a touch of the spaghetti Western to kung fu cinema, that newest action hero
Christian Bachini rides onto the Hong Kong film scene all the way from Parma Italy. He has a mission of his own, he declares, to maintain the integrity of martial arts in the cinema in an era of high-tech fakery. Andrea Fenn reports.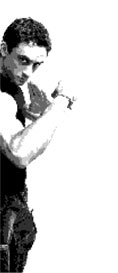 "The public will appreciate my movies: I am one of the few actors keeping up the original style of Hong Kong martial arts cinema." One thing, however, makes the speaker different from most other martial arts film actors: he is not Chinese. Not even a bit, as his dark complexion, thick eyebrows and prominent nose attest. The speaker is Christian Bachini, born and raised in Parma Italy.
Those who have worked with him say he has the skills of a kung fu master and the confidence of an up-and-coming movie star. As computer artifice increasingly substitutes for genuine martial arts ability, adulterating the tradition of action movies, this new, aspiring talent provides an "exotic" breath of fresh air for the stifling Hong Kong martial arts cinema scene.
Bachini speaks quickly, gesturing animatedly the way Italians tend to do. But probably as a result of endless repetition on set, his gestures look more like kung fu moves, and a tribute to both his origins and recent Chinese upbringing.
Bachini started practicing martial arts in his hometown in Italy when he was 11, and he soon realized his talent.
"I won every competition I participated in", he says. "So I decided to make a career out of it, and become a martial arts movie actor."
He joined an acting school in Italy, but in a country proud of neorealism and dark comedy, no one took his dream seriously. In 2009, he decided to leave Italy and venture to Shanghai.
"It was a courageous choice: I didn't know anybody in the field, and didn't even have a place to sleep."
Thanks to fortunate coincidences and unwavering determination, Bachini managed to send his promotional videos to some Hong Kong producers, and finally to be introduced to his idol Jackie Chan.
"Jackie was very appreciative of me. And even if (we) never make a film together, meeting him was useful because people in the industry started taking me seriously," he recounts.
Opportunities started to come in 2010. Bachini shot his first full-length feature, Shangdown, which is scheduled for release in September, in time to compete at the next Venice Film Festival. As he describes it, the film pays homage to the old "spaghetti Western": a mixture of western, action movie and Italian-style drama.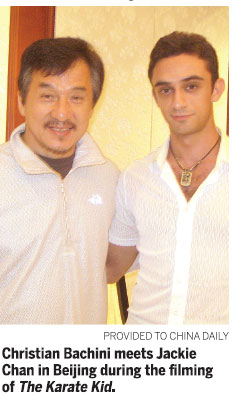 But while promoting Shangdown, Bachini is already working on his next movie Deficit, a Hong Kong production directed by local director Richard Chung.
"This time we are doing things well", ensures Bachini. He promises Deficit will feature several Hong Kong movie superstars, but for now he refuses to give away names.
Bachini's new movie mirrors his identity conflict - pitting East against West. As the main character, he is an Italian who was born in China, Western only in his external features; his antagonist is instead an American-born Chinese, Asian outside but fully Western inside.
"Cultural clichs fall apart in the film," says Bachini. "In Hong Kong cinema, Westerners were always the bad boys. Here I am trying to present myself as a Chinese so that the audience will be able to accept me."
Despite being a foreigner, the way Bachini makes films strives to abide by the traditional style of Hong Kong action cinema.
"In the West, action scenes are all staged or reproduced on the computer," he says. "Instead, I do not use stuntmen, and fights are all real."
Bachini's audacious spirit led him to play his part in Shangdown with a broken knee ligament, which he had twisted during one of his stunts.
According to him, being venturesome earned himself respect and praise among his local troupe.
"The first day of filming, locals sighed when they saw me, because they imagined I would be a standoffish Westerner and they would have to teach me how to fight," he says. "Then they realized I know my stuff, and the second day they were all excited about fighting with me."
When asked about his skills as a martial artist, however, Bachini shows none of the typical Asian modesty.
"I know more styles than most Chinese fighters," he says. "I often see my stuntmen trying to reproduce my moves during breaks so that they can perform them against me when filming."
While a foreigner has come to Hong Kong to safeguard the local standards of martial arts movies, the tradition is already outmoded as a result of threats coming from abroad.
According to the Dean of Film and Television of the Hong Kong Academy of Performing Arts Shu Kei, international competition and the erosion of original features have led to a long-lasting decline of action cinema in Hong Kong.
Shu argues that Hong Kong had a profound influence on international action cinema with elements like the use of kung fu and dance-like choreography. However, the increasing use of computerized scenes has made the Hong Kong tradition outdated.
"Back in the days, actors were real fighters, and that was fantastic," says Shu. "But now, with all these special effects from Hollywood, who cares if people are really performing their own stunts?"
As a consequence, the future of action cinema looks uncertain.
"Action will always sell, because it is a universal language," says Shu. "We will still have action films in the future, but probably not the traditional ones anymore."
As actors' skills become less important owing more to technology, the industry is looking for new ways to make action movies enticing. According to Bachini, Hong Kong action films increasingly feature pop stars and models as professed martial artists, sacrificing real talent for promotional purposes.
"Martial arts movie stars in the past could snap your head off with a kick if they wanted," he says. "Now action film actors know nothing about martial arts, they are only recruited because of their glossy look."
In this bleak panorama, Bachini hopes to be the one carrying on the Hong Kong tradition of unadulterated action movies. There is only one obstacle on the way to realizing this dream: his Caucasian look.
"I hope people will accept that I am a Westerner," he says. "At the same time, I feel that Hong Kong action cinema needs me: when Jackie Chan, Jet Lee and Donnie Yen retire, who will continue their tradition, Jay Chow?"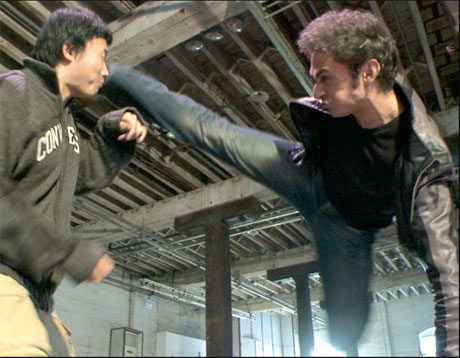 A display of Bachini's skills in a scene from his first movie Shangdown. Provided to China Daily
(HK Edition 04/22/2011 page4)