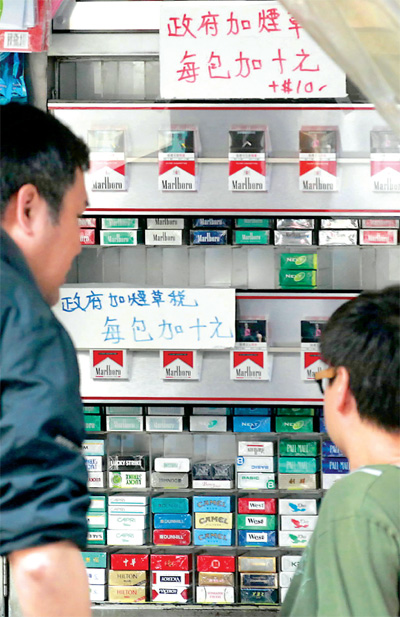 Notices put up by a cigarette vendor Wednesday say that HK$10 is added to every pack of cigarettes with the rise in tobacco duty. Edmond Tang / China Daily
Duty on cigarettes was proposed to rise by 41.5 percent, soaring to 70 percent of the total price of one cigarette, Financial Secretary John Tsang said Wednesday in his 2011-12 budget.
Cigarette prices immediately moved up from HK$39 on average to HK$ 49 or higher on Wednesday afternoon, closely following the budget announcement.
"We welcome the tobacco control measures. Increasing the tax duty on cigarettes is really an effective way of encouraging people to quit smoking, especially the younger generation," said Lisa Lau, chairman of Hong Kong Council on Smoking and Health.
Lau said the smoking population in Hong Kong remains at 670,000, roughly the same with the figure in 2009.
However, the amount of young smokers aged between 15 and 29 has increased by 10 percent since then, she said.
Lau suggested the government continue raising the duty tax to 75 percent of the total price as suggested by the World Health Organization.
Dr Choi Kim, president of the Hong Kong Medical Association welcomed the tobacco control moves but urged the government to set up law enforcement to contain cigarette smuggling, otherwise, Kim said, the money will be just wasted.
"This (tax duty increase) will certainly affect our business. With our profit per cigarette remaining the same, the soaring price will scare away many customers," said Yeung Man-queng, vice president of the Hong Kong Newspaper Hawker Association, who runs a newspaper stand at Shek Kip Mei.
Yeung told China Daily that he usually sold 60 to 80 packs of cigarettes everyday.
Most buyers were young people, including those aged 17 or 18, he said.
The adjustment on cigarette tax duty takes immediate effect by way of a Public Revenue Protection Order gazetted on Wednesday.
In general, the estimated recurrent expenditure on healthcare will increase by HK$3 billion, climbing to HK$39.9 billion by 2012, accounting for 16.5 percent of recurrent government expenditure.
In particular, more than HK$1 billion of the HK$3 billion additional funds will be dedicated to enhancing public primary care service, including HK$26 million for tobacco control, HK$1 billion for setting up a medical research fund.
Medical experts welcomed the move saying it indicated that more funding was proposed for public primary care services, such as health promotion and disease prevention, instead of simply illness treatment.
"It's a good move for the government to pledge to spend more on public primary care services, thus to better service the public in the long run, including grassroots, the elderly and people with mental illness," said Professor Sian Griffiths, director of the School of Public Health and Primary Care at the Chinese University of Hong Kong.
Griffiths especially welcomed the HK$1 billion reserve for the Health and Medical Research Fund since, she said, it will promote research and development in public health and medical service.
In total, 90 percent of the HK$3 billion additional expenditure, or HK$2.74 billion, will go to the Hospital Authority.
The expansion will mainly be used to add nine more drugs to the authority's subsidized drug list, enhance mental health and chronic disease management and shorten the waiting time for specialist services.
All the measures are expected to benefit 60,900 more patients, according to the budget.
China Daily
(HK Edition 02/24/2011 page2)