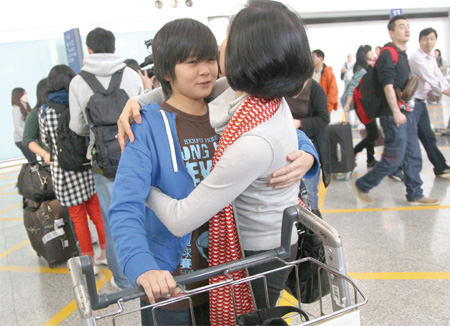 A Hong Kong student, who was stranded at London Heathrow Airport because of snowy weather, hugs her mother after she returns to Hong Kong Tuesday. More than 400 Hong Kong students are still waiting to get on the homeward-bound planes. Edmond Tang / China Daily

Chaos all around as heavy snow keeps air traffic all butparalyzed in London
Cathay Pacific Airlines has announced three additional flights to bring stranded Hong Kong students home from London.
The flights will bring home more than 400 Hong Kong students who remain stuck at London Heathrow Airport, Europe's busiest airport, because of heavy snow that has brought operations there to a near standstill.
The flights will operate one per day commencing today. Additional seating will be available to accommodate students who hold other airline tickets. The three flights are capable of carrying 1,000 passengers.
Two flights carrying the first group of Hong Kong students, who had been stranded in snow-covered London Heathrow Airport for two days, arrived back in Hong Kong Tuesday morning.
"The situation in Heathrow is such chaos. They (airport staff) asked me to call a certain number for rebooking the ticket when he knew the number didn't work at all," a returning student named Anthony said before a television camera at the airport Tuesday morning.
The students blasted Cathay Pacific, saying the airline had failed to offer efficient support.
Meanwhile, a short piece of video taken by stranded students in London revealed a dimmed and crowded conference room, where Hong Kong students were billeted. The youngest of the students was 12. One student named Calvin described the room, which had been arranged by Cathay Pacific, as a "concentration camp". He said that some people got sick after a long time waiting in the cold room. Most became desperate for word from the airline concerning a timeline for their return home.
Meanwhile, Under Secretary for Security Lai Tung-kwok told local radio Tuesday that the government had no plans to lay on special flights to bring students home at present. The government's major concern would be cases of emergency or where the safety of students was involved.
At London Heathrow, heavy snow and ice continued to keep air traffic all but paralyzed. Only one of the two runways was operational and air traffic was operating at one third of capacity, according to the Security Bureau.
Other major European hubs like Paris and Frankfurt also are facing large scale flight cancellations due to heavy snow. The Hong Kong Airport Authority announced Tuesday that 20 scheduled flights between Hong Kong and Europe faced delays, with five to and from Britain cancelled.
Cathay Pacific announced Tuesday that it would operate the three Hong Kong-London flights (CX253, CX251 and CX255 after midnight Hong Kong time), and the four scheduled London-Hong Kong flights (CX256, CX252, CX250 and CX254 on December 21 UK time).
Cathay Pacific strongly suggested passengers who do not have confirmed bookings on the scheduled flights not go to the airport. The company also appealed to passengers Tuesday to postpone or cancel non-essential travel between London and Hong Kong.
China Daily
(HK Edition 12/22/2010 page1)