The Equal Opportunities Commission (EOC) is renewing its call for a special tribunal to handle discrimination cases in light of a rising number of complaints over ethnic prejudice.
Although the city's race discrimination law came into effect nearly a year ago, there were 34 complaints of racial discrimination lodged with the EOC as of May this year, compared to 20 cases recorded last year.
Commission chairperson Lam Woon-kwong said that although the overall number of cases in the first five months of this year - 351 recorded - has not been as high as last year, when 1,161 cases of discrimination based on sex, race, disability or family status were recorded, a better mechanism is needed to ferret out and administer justice in connection with complaints of discrimination.
The Commission recommended the formation of a tribunal in March last year, but Lam said the government has yet to respond to the proposal, adding broad public support should inject new life into their call.
"Our close to 14 years of operation tells us there is a need for a simplified process for adjudication equal opportunity cases. Currently, the gap between the EOC conciliations, which is what we can do best, and civil court adjudication is very big," he said following the commission's 85th meeting Thursday.
Such a tribunal would provide easy access and a more convenient and flexible system of adjudication so that cases can be dealt with more quickly, he said.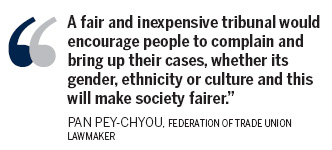 Currently, legal cases involving discrimination are dealt with in the District Court as regular civil cases.
Overseas, it is a common feature of similar anti-discrimination laws to have procedures to commence and conduct cases outside of ordinary civil litigation procedures.
"Going to court involves legal representation and a lot of waiting and tedious procedure and a lot of complainants wouldn't bother with it. If we can have a simplified tribunal arrangement, there would be a quicker and fairer process for complainants," he said.
Lam said it was necessary to talk to various stakeholders to gather their support - stakeholders such as non-governmental organizations providing services for equal opportunity complainants along with the unions and employers.
"Only with a wide consensus and support from the community" will the government be willing to give the idea a try and accept the proposal, he suggested.
Expressing such support, Federation of Trade Unions lawmaker Pan Pey-chyou said his party supported the formation of the tribunal in principle.
"We have to go over some of the details, but I support the concept because people may be treated unfairly for various reasons; moreover, hurdles to the new law can be quite big. A fair and inexpensive tribunal would encourage people to complain and bring up their cases, whether its gender, ethnicity or culture and this will make society fairer," he said.
The proposed new judicial organ would be presided over by District Court judges as ex-officio presiding officers.
Locally, there are specialist tribunals, such as the small claims tribunal, with whom claimants need not follow technical rules on pleadings and other formalities, allowing lay persons to present their own case if they wish to do so.
In the EOC's original proposal, the tribunal would deal with cases brought under the anti-discrimination law and would be able to refer cases to the EOC for investigation or conciliation, while allowing the option for legal representations and encouraging mediation where possible.
Lam also said the EOC had reached an agreement with the government over a transition process for the disabled under the new minimum wage bill set to go before the Legislative Council before the summer recess.
The latest proposal would allow (the disabled) to opt for the minimum wage, or an assessment that would allow them to adjust the wage accordingly or thirdly, through a mutual agreement with employers to retain their present salary with an option to have a reassessment in the future.
The proposal, spearheaded by the rehabilitation sector, will be monitored by the EOC after the law is implemented.
Lam is also calling on the government to issue a categorical statement affirming that the arrangements will be reviewed in a period not longer than two years from the start of the new law.
China Daily
(HK Edition 06/18/2010 page1)