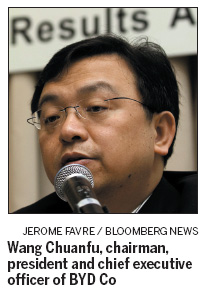 Following a remarkable performance in 2009, the Shenzhen-based carmaker BYD Co enunciated its growing ambitions for the overseas market yesterday, which include planning to set up a sales headquarters and a production plant in the US and to begin selling electric cars in Europe before long.
The company's capital expenditure in 2010 is expected to reach as much as 10 billion yuan, a 58 percent increase from a year earlier. Projects for a third vehicle production base in Changsha and a new plant in Xi'an are under way, with both planning annual outputs of 400,000 units.
Besides major capacity expansions on the mainland, the company also announced planned sales of electric and hybrid vehicles in the US this year and in Europe next year.
Wang Chuanfu, chairman of BYD, said the company, some 10 percent owned by the American investor Warren Buffett, may establish a headquarters to spearhead sales of an all-electric crossover vehicle and set up a manufacturing facility in the US as early as this year.
"If there is a market, we will not exclude the chance to set up a production plant in the United States," said Wang.
The Hong Kong-listed BYD managed to climb 0.2 percent to close at HK$69.05, countering a 0.62 percent drop in the Hang Seng Index yesterday.
CLSA, a financial-services group in Hong Kong, continues to rate BYD a buy with HK$98.99 as the price target. It said BYD's performance was "exciting", expecting the company to make a further gain in its mainland market shares this year.
Starting out by producing rechargeable batteries, BYD spent less than 10 years to capture the majority of the international mobile-phone battery market, and became the largest Chinese manufacturer of all types of rechargeable batteries.
Wang expects BYD's success in making batteries to be duplicated in the automobile business. He said the group aims to double sales to 800,000 units after the establishment of new manufacturing facilities this year - an expectation buoyed by data that show China's auto demand soared 46 percent, to a record, last year. It surpassed the US for the first time and became the world's largest car market, due to government tax cuts and subsidies aimed at boosting domestic demand, especially for energy-efficient small vehicles.
BYD sold around 450,000 vehicles in 2009, up 170 percent from a year earlier. With sales up 47 percent to 39.5 billion yuan, BYD more than tripled its profits last year. Its net income for 2009 rose to 3.79 billion yuan from 1.02 billion yuan a year earlier, according to its annual report.
(HK Edition 03/16/2010 page2)