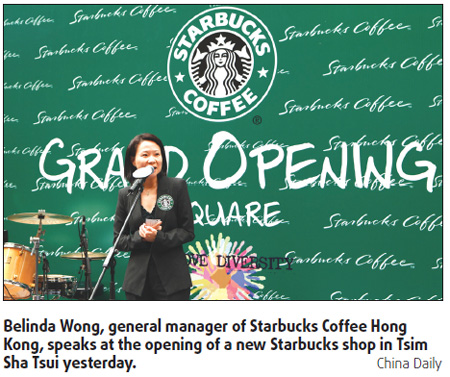 HONG KONG: When the Seattle-based Starbucks Coffee chain entered the Hong Kong market ten years ago and opened its first shop, it catalyzed a "chain"-reaction that has since then dotted the city with more than 100 of its iconic outlets.
Of course, this is only a drop in the cup, compared with the 11,000-plus Starbucks stores in the US and the thousands in 43 countries and regions worldwide (data 2008).
However, Starbucks' Hong Kong growth reflects the trademark expansion pattern Starbucks has followed since its first,lone outlet opened in 1971, prior to its franchising of the Starbucks name, derived from a character in the classic Melville novel, Moby Dick.
Sharing its history as well as vision with China Daily in an exclusive interview, Starbucks Hong Kong general manager said it hopes to add more than six new outlets in Hong Kong in 2010.
"Last year, despite the volatile economic conditions, we opened six new stores in Hong Kong. This year, we hope we can fulfill more of our customers's wishes," said Belinda Wong, general manager of Starbucks Coffee Hong Kong, with a note of acknowledgment for Starbucks' regular customers who, she said, have contributed hugely to the Hong Kong success story.
Looking ahead, Wong said Starbucks "will surely open more stores" in Hong Kong in 2010, as the company is yet to reach many of the city's districts.
According to information on Starbucks' Hong Kong website, the current distribution of its outlets ranges from 17 in Central to one on the Peak.
Globally, quantitative expansion has been matched by qualitative expansion from core coffee products and services to include its now familiar fresh food, merchandise, broad range of non-coffee beverages and free Internet connectivity, among others.
Clearly recovering from the 2008 global financial meltdown, Starbucks posted a 2009 net income of $390.8 million, significantly better than its 2008 figure of $315.5 million, although dwarfed by the pre-crisis 2007 net annual income of $672.64 million (data from Google Finance).
Mirroring this expansion of services and outlets, Starbucks' shares have risen from their split-adjusted 1992 IPO value of $0.53 to a current robust $22-level per share.
Onsite at the opening of a new outlet in Tsim Sha Tsui, Wong said, "When customers need us to be there, we will definitely take a look and see whether we can open a store to provide them convenience and Starbucks experience."
To support the ongoing expansion in Hong Kong, Wong said Starbucks will continue hiring more people to work for its coffee outlets, adding that each outlet usually needs as many as 20 staff members to operate.
"We are currently hiring people. A couple of months ago, we employed six young people from our career talk and invited them to observe our daily operation. We want to inspire young people to work passionately as they start their career," Wong said.
"Business conditions were very difficult last year, because of the wait-and-see attitude in the city. Therefore, this year, we expect to see better growth (in sales) over last year," Wong said.
In terms of its business strategy, the world's largest coffee shop chain said the secret of running this kind of prosperous business is not to rely solely on the coffee itself, but also to cultivate relationships with its customers and the community. To this end, Starbucks invested almost 5 million training hours in its staff in 2006 and 350,000 hours of volunteer community service through a program called Make Your Mark.
"We associate our business with strong community relationships. Many of our customers have now become our friends," she said, adding that their customers are purchasing not only a cup of coffee, but also a quality experience with a topping of friendship.
Wong said the company welcomes competition from other local coffee shop chains, as their participation will help enhance the coffee culture in Hong Kong.
"Compared with Singapore and Japan, where coffee culture is very mature and many people there drink coffee, here in Hong Kong, we still need plenty of time and education to grow this culture," Wong said, with a note of resolve matched by understandable confidence.
China Daily
(HK Edition 02/05/2010 page3)