HONG KONG: After helping to chase seagoing pirates in the Gulf of Aden and off the Somali coast, two missile frigates of the People's Liberation Army escort taskforce 529 arrived in Hong Kong for a port call yesterday. Zhoushan and Xuzhou are nearing the end of their homeward trek to their base in Zhoushan, Zhejiang province.
The frigates are docked until Thursday at Ngong Shuen Chau Barracks, Stonecutters Island after coming here at the invitation of the HKSAR government.
Escort taskforce 529 became the third Chinese naval escort taskforce sent out to patrol the Gulf of Aden to protect shipping from Somali pirates. During its four-month mission, the task force completed 53 escort missions for 582 ships, both Chinese and foreign. Among that number were 146 merchant ships from Hong Kong.
Chief Executive Donald Tsang officiated at the welcoming ceremony for escort taskforce 529 yesterday. Tsang said the Chinese navy shouldered responsibility to safeguard the world and regional peace, and had won a widespread acclamation from home and abroad.
"I believe the officers and soldiers must be anxious to reunite with their families after living at sea for five months. I represent the citizens to express my heartfelt gratitude to the taskforce for its port call in Hong Kong," said Tsang.
Wang Zhiguo, commander of the escort taskforce 529, said the taskforce is composed of two missile frigates, a tender, two helicopters, and marines. A total of 806 officers and soldiers took part in the task force.
Wang said the missile frigates and tender are all home-made, equipped with the latest electronics, communication and navigator technologies. During the escort, for the first time, taskforce 529 conducted joint escorts, and carried out joint military exercises with foreign naval forces.
"It's worth mentioning that there were three female soldiers working on the missile frigates in the escort taskforce 529, the first time in the history of the Chinese navy. They performed remarkably at their duties," said Wang.
The public has been invited to tour the two frigates during their Hong Kong port call.
Han Jinsong, a postdoctoral student from the Hong Kong University of Science and Technology, visited the ships on the first day. Han said he was impressed with the equipment aboard the frigates, but compared to the blue-water navy, they do not have the same standard of gear.
"I am inspired, particularly by the soldiers' mental outlook. However, as the old saying goes, 'a century to build up a navy', we still have a long way to go," said Han.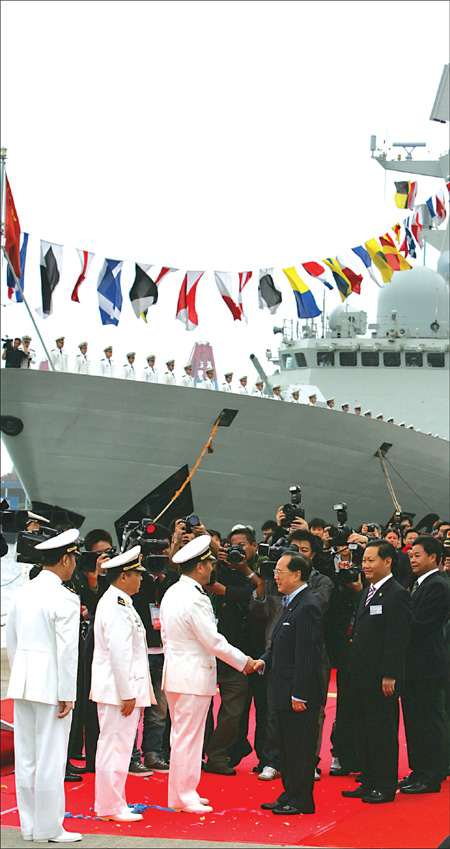 Chief Executive Donald Tsang (3rd right), Director of the Central Government's Liaison Office in Hong Kong Peng Qinghua (2nd right) and Commissioner of the Ministry of Foreign Affairs in Hong Kong Lu Xinhua (right) greet Wang Zhiguo, commander of the PLA escort taskforce 529, during a ceremony to welcome the arrival of two missile frigates of the taskforce at Ngong Shuen Chau Barracks yesterday. Edmond Tang
(HK Edition 12/15/2009 page1)