Smaller carbon footprints this Xmas
Updated: 2009-12-12 07:04
By Simon Chau(HK Edition)
| | | | | | | | | |
| --- | --- | --- | --- | --- | --- | --- | --- | --- |
|   | | Print | | Mail | | Large Medium  Small | 分享按钮 | 0 |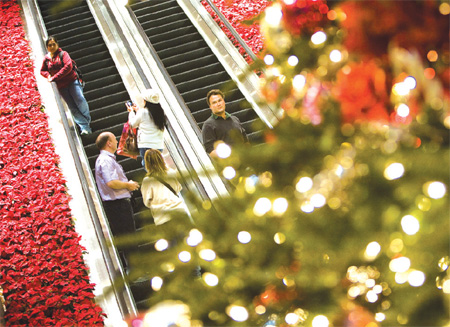 Shoppers take photos on escalators adorned with Christmas decor in Central, Hong Kong. Holiday trimmings such as shown here can be reused to reduce waste as well as carbon footprints. Bloomberg News
Over the decades, Christmas has turned from a spiritual celebration to a consumption frenzy. According to one estimate, the whole holiday season's worth of ribbon thrown away each year could literally tie a bow around our planet!
These days, people are becoming aware of how critical the state the planet is in. Americans are using LEDs on their Christmas trees to save energy. Even the White House has pledged to recycle its Christmas decorations. Here are some suggestions for how you can enjoy a festive, green Christmas:
1. Save paper
* Send fewer cards: The 2.6 billion holiday cards sold each year in the United States could fill a landfill the size of a football field 10 storeys high. Instead of sending hundreds of hasty, impersonal Christmas cards, send only a few, with more thought and feeling. Better still, make the cards yourself, using recycled material. Buy cards that donate a portion of proceeds to a good cause. Send e-cards rather than Christmas cards - it costs less; uses no paper, and there are no transport emissions and no waste afterwards. Try creating a holiday album on a photo-sharing website and circulating that instead of a traditional card.
* "Green" wrapping: Re-use paper from gifts that friends have given you. Recycle magazines, fabric, newspaper, old maps, posters, kids' coloring book pages, or paper bags into wrapping paper. Wrap the gift with scarves, kitchen towels or tablecloths. A canvas bag can hold gifts and be reused for grocery shopping throughout the year.
2. Green gifts
* Give the gift of time: Time is the basic currency on which relationships and communities are based. Show your true love by offering this personalized and precious commodity. Present friends and family with a time pledge in the form of a handmade coupon committing you to spending some time with them or on their behalf. You could teach their kids drumming or cooking, take the old folks to the clinic for medical checkup, or fix their computer. Offer the recipient 20 minutes of active listening, flute playing, or a massage.
* Give handmade gifts: Ask yourself what kind of art and craft skills you have, and use those skills to make gifts for friends and family. Your family members and friends will be delighted to receive something hand made. If you like baking or cooking, try making preserves, cakes, pies or bread. Knit socks. Send home-recorded CDs and DVDs with your music playing or story telling.
* Buy a service, not a product: Instead of buying grandma a massage appliance, hire a professional masseur to visit her home. Guitar classes or wind-surfing sessions are much more eco-friendly than battery-powered toys. Gift a certificate for a facial, pedicure, or other spa service. Annual memberships at an organic farm or the Wetland Park are a great idea too.
* Buy gifts that give twice: Give your friends and family membership to charities, animal rescue centers, environment groups, or a donation to an overseas aid project.
* Think green when you buy: Look for recycled and recyclable content, minimal packaging, certified organic contents and buy products that are made to last.
* Buy local: Buy food that is grown close to home to reduce food miles. Offer a membership to an organic farm that will deliver locally-grown fruits and vegetables.
* "Green" tags: Reuse holiday cards you receive to make gift tags. Most people don't write on the back of the front of the card.
* Recycle your unwanted presents: Send them to friends who need them, or to charities or old peoples' home.
3. Green parties
* Eco-friendly dining: Serve vegetarian food. Sources local ingredients whenever possible. Do not over-cater.
* Eco-friendly utensils: Borrow or rent additional glassware, plates, and kitchenware. If you must use disposable items, choose biodegradable products.
4. Green holiday
* Minimize carbon use: If you're going away on holiday, try to reduce the distance traveled - go for a location closer to home and take the train rather than flying.
* Combine service with holidaying: Work in a school, hospital, farm, nursery, old people's home or the like on foreign soil.
* Respect local communities: Patronize green resorts. Do nothing to damage the environment, buy no unnecessary souvenirs.
(HK Edition 12/12/2009 page7)