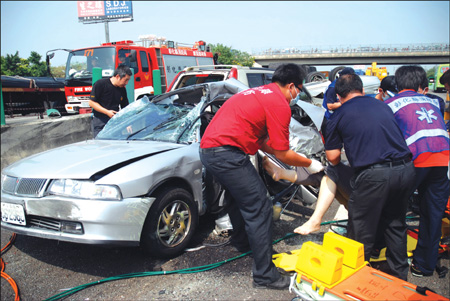 Four people were killed and five others injured when a bus traveling from Tainan to Taichung hit more than 10 cars on the No 1 Freeway in Changhua yesterday, according to local police reports.
The bus, belonging to the United Bus Company (UBus), crashed into cars that were preparing to stop for a heavy traffic jam near Puyan township, the police said.
A shaken driver who spoke to reporters recalled hearing a loud booming noise coming from behind her.
"I looked back and saw the bus smashing into the cars like a bowling ball into pins," she said, adding that although she tried to maneuver her car out of the path of the bus she was still struck by the vehicle.
Bus driver Su Ku-pang, who has about 20 years behind the wheel, said he was driving at about 70-80 km per hour at the time of the accident but could not recall the actual moment of the crash.
According to the Directorate General of Highways, the bus is less than a year old and the driver has no record of major traffic violations.
Above: Rescue workers and by-standers help remove an injured woman from her mangled car at the scene.
Right: A local government official looks at the bus that caused the terrible accident, with its damaged front for all to see. CNA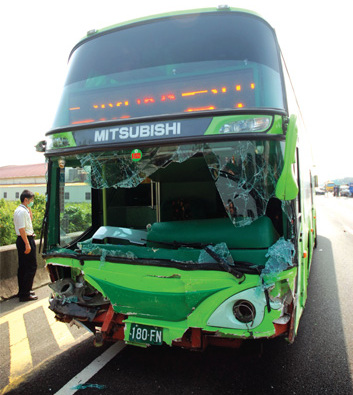 (HK Edition 10/16/2009 page2)