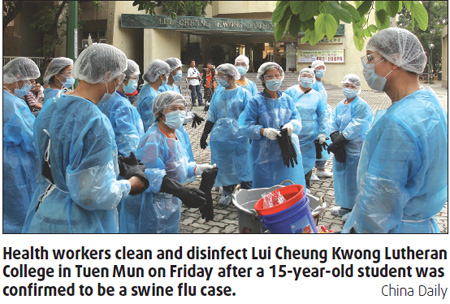 HONG KONG: Four more secondary schools have been forced to suspend classes for two weeks Friday, as more students came down with cases of A (H1N1) influenza. Altogether 14 secondary institutes have suspended classes since the outbreak.
One of the affected schools was Lui Cheung Kwong Lutheran College in Tuen Mun. One of its Form Four students developed fever, sore throat and coughing on Wednesday and was admitted to Tuen Mun Hospital for treatment.
The principal said the 15-year-old boy attended oral examinations without wearing a face mask Friday morning. The school was contacting about five students who sat for the same exam. Classes will resume at the school July 4.
The other two institutes to be closed were Renaissance College Hong Kong in Ma On Shan and YMCA of Hong Kong Christian College in Tung Chung, each reported a sick female student.
A fourth case involved a 38-year-old teacher of Ling Liang Church M H Lau Secondary School in Tai Po. He had onset of symptoms on June 14 and was admitted to hospital for isolation Friday tonight.
The outbreak continues to climb in the city, with at least 26 new cases confirmed Friday bringing the total to 247.
In addition, the Centre for Health Protection (CHP) found that three students confirmed Thursday had attended the same private arts center previously. One of the arts center's tutors was a previously confirmed case.
The students are from King George V School, ESF South Island School and GT (Ellen Yeung) College.
"It seems that they didn't contract the disease from schools," said CHP controller Thomas Tsang.
He added no sign of outbreak is observed in these schools. The arts center was ordered to close for 14 days for disinfection.
Tsang said authorities may give up classifying the cases if the numbers continue to rise.
Secretary for Food and Health York Chow said there is no current need to suspend all secondary schools as teenagers may still gather under a relatively mild epidemic.
"Principals also express the wish to finish all examinations and they don't want to postpone, since it's difficult to estimate the date of class resumption," he added.
The authorities will announce the re-opening of junior schools and arrangements relating to summer activities next week.
"Guidelines on organizing activities will be given to private institutes," Tsang said. "The pandemic is still mild now and social life should not be affected."
The designated influenza clinics provided treatment for 400 patients Friday. Chow said more consultations are expected in the coming weeks and public medical services will be in urgent demand.
Meanwhile, the finance committee of Legislative Council approved Friday a fund of HK$1 billion for the procurement of vaccines including those meant to fight human swine flu and seasonal flu. HK$700 million of the fund will be used to procure the anti-swine flu vaccines targeted to 2,500,000 people, while the remainder will be spent on pneumococcal and seasonal influenza vaccines to be provided free for elderly persons aged 65 and above.
(HK Edition 06/20/2009 page4)