Teaching spirituality
By Joy Lu (HK Edition)
Updated: 2008-05-08 06:57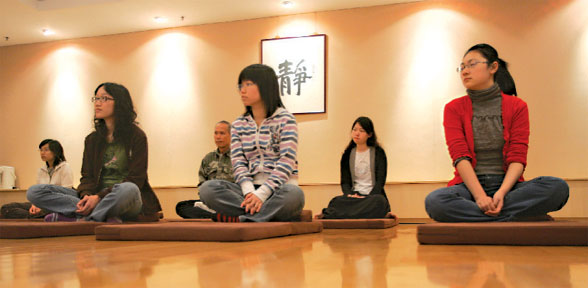 Students attend a class at the Quiet Room of the center. Photos by Edmond Tang
It's Thursday. A class is in session at the Quiet Room of the Centre for Religious and Spirituality Education (CRSE) at the Tai Po campus of the Hong Kong Institute of Education (HKIEd).
In Buddhist meditation posture, participants kneel down on the wooden floor as instructor Lau Nga Sze recounts overseas studies in mindfulness training.
"It helps students with Attention Deficit Hyperactivity Disorder. It improves athletes' performance," Lau says, as she goes through her PowerPoint slides. "A study showed those who meditate could produce significantly more antibodies than those who don't, after receiving vaccinations."
Before the session concludes, the class is asked to do a mindfulness exercise: "Please stand up. Align your head and spine," Lau began.
Such meditation class is now part of the curriculum of the HKIEd, the city's largest teacher education provider. Aside from weekend classes targeting in-service teachers, the CRSE also organizes workshops in primary and secondary schools for children. "They are well received. All the schools invite us to give more classes," said Ng Tze Ming, the director of the center.
A forgotten need
Nowadays in Hong Kong, education experts are not the only ones who espouse the need for life and spirituality education.
A survey conducted by Research International in May last year found only 22 percent of youngsters are able to adequately focus on study, sports and socializing. This is the lowest among the eight Asian countries or regions covered in the study, including the mainland and Taiwan.
A recent poll by the Hong Kong Women Teacher's Organization found that 80 percent of students either always or sometimes feel depressed.
And then there are the suicide attempts by young children. In January, a 9-year-old girl hanged herself at home. No explanation was found, except that the girl always stood first in class and she scored less than 90 percent in a test.
"She's popular in school and doesn't sound like having low EQ," Ng said. "Some said her AQ (Adversity Quotient) is low. But is scoring less than 90 percent in a test a crisis? I think the point is she failed to recognize how precious life is."
How to accept one's strengths and weaknesses, what the value and meaning of life are, how to face pressure and setbacks - these are the subjects of life and spirituality education, Ng said.
A teacher has two roles: to teach knowledge and to cultivate a person. "Education not only involves verbal teaching, but also teaching by our hearts and spirit," Ng wrote in a CRSE newsletter.
Oftentimes, people find it's not knowledge that makes enduring impression during their school years. "The unforgettable is the experience of being accepted, being forgiven, being criticized or being ridiculed," Ng said.
Sadly, teacher's role as an educator is being diminished as teachers and students stop viewing each other as human beings. With the advent of market economy, teachers have become human resources and students commodities in "knowledge factories". "In a market-oriented society, people's spiritual needs are forgotten," he said.
One of the primary purposes of the CRSE is to remind teachers that they are not knowledge-passing machines, and that students are persons with lively spirituality, Ng said.
The Quiet Room was designed for teachers to be quiet, to reflect or to pray. If schools could allot space and time for students to think about life, the benefit to students' spiritual growth would be great, Ng said.
Every teacher's job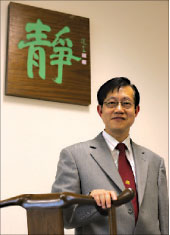 Ng Tze Ming, the director of the Centre for Religious and Spirituality Education in Hong Kong Institute of Education
The CRSE was set up in May 2006 with a HK$13 million donation from five major religious groups in Hong Kong, namely, Catholic Diocese of Hong Kong, Ching Chung Taoist Association of Hong Kong, Hong Kong Sheng Kung Hui, Sik Sik Yuen, The Hong Kong Buddhist Association. The inter-faith venture aims to broaden education with religious beliefs, values and practices, as well as instill a spiritual dimension into the lives of teachers and students alike.
Religion has a lot to offer in understanding people's spiritual needs and the meaning of life, Ng said. In the words of religious scholar Daniel Overmyer: "Religion expresses the deepest wishes and fears of human beings. Without taking religion seriously, we can't understand human culture or even ourselves."
So far, the center has opened nine General Knowledge modules for HKIEd teachers, such as "Faith and Reason", "Truth and Falsity: Critical Thinking", "Buddhist Ethics: Conflicts and dilemmas in modern world" and "Paths to Liberation in modern life: Nirvana, Buddhahood and Enlightenment".
"The prospective teachers think the programs do help them acquire positive views on life and also offers a structured approach to promoting the value of well-being. We see a huge demand for training in this field," said Ng.
In the pipeline is the Master of Education Program specializing in life and spirituality education. Ng believes that the two-year program will enrol 20 to 30 students. "Programs on life education have been existing in Taiwan. We believe Hong Kong has a similar need," Ng said.
Spirituality research will also be one of the objectives of the CRSE. Borrowing from Western experience and collaborating with the Chinese University of Hong Kong, "we're exploring a method to research spirituality of Chinese, particularly the Hongkongers", Ng said. "For example, setting up a spirituality index for people to evaluate their happiness, interpersonal relationships and sense of success."
Ng aims to make spirituality education a core program at the HKIEd in three to five years.
Not just a part of General Education, spirituality education should be "across the curriculum", Ng said. "A teacher of Chinese Literature told me that he needs spirituality in his class, because it's an underlying element in almost every piece of classic literature."
In a way, every teacher teaches spirituality - in his reaction to a student who has accidentally spilt a glass of water or in his guidance for a student who quarrels with a classmate, he added.
If psychological counselors are called in to help students overcome a crisis, spirituality education builds up a preventive immune system against trials in life. "I believe training for spirituality education is a must for everyone in the teaching profession," he said.
(HK Edition 05/08/2008 page4)