The Mexican ambassador to China on Tuesday assured the A(H1N1) flu virus, which has till now infected some 20,000 people in 66 countries after breaking out in Mexico two months ago, has been "brought under control" in the Latin American country.
"Slowly, we are returning to normalcy back home in Mexico," ambassador Jorge Guajardo told China Daily in an exclusive interview, adding that the country was "safe to visit" now.
The first case of the A(H1N1) flu was confirmed in Mexico on April 13, after which the virus has infected over 5,000 people in the country, killing 97 of them.
Special coverage:
A(H1N1)Influenza Outbreak
Related readings:


 New ID rules begin June 1 for Mexico, Canada trips


 Mexico to erect statue to swine flu 'patient zero'


 Mexico City ends swine flu alert, no cases in week


 Mexico won't withdraw from Expo: organizers


 There's no race between Mexico and China


 Mexico flu anger hits Shanghai trade fair


 98 Chinese return from Mexico
According to the World Health Organization (WHO), 19,273 people in 66 countries and regions had tested positive for the virus till yesterday, with a global death toll of 117.
Ambassador Guajardo said scientists had learnt that the A(H1N1) virus was "even weaker than the common seasonal flu".
"We are now ready and proud to welcome visitors to Mexico," he said.
Jose Angel Cordova, Mexico's health minister, said on Tuesday the flu alert in the country may be lifted in two weeks.
But Mexican officials are certain the outbreak, even after being brought under control, is bound to hit the country's tourism market hard.
Mexican Tourism Minister Rodolfo Elizondo has estimated a $4-billion drop in the industry's revenue this year.
However, Guajardo said Mexico will continue to come up with "innovative measures" to revive its tourism sector.
Cancun, a Mexican city known for its beautiful beaches, announced that "any tourist, who was infected with the influenza and cured, will be entitled for free of cost visits for life" to the resort town.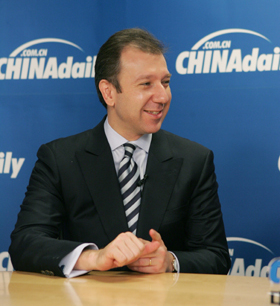 Jorge Guajardo, the Mexican Ambassador to China, talks about tourism recovery during an exclusive interview with China Daily website in Beijing, June 2, 2009. [chinadaily.com.cn]
And every traveler to Mexico City, the capital, where most flu cases have been reported, will be provided with free health insurance, Guajardo said.
"The number of tourists to Mexico has already started picking up," he said, adding that Cancun was bustling with visitors.
The country launched a $90-million campaign called "Vive Mexico" in a bid to boost its tourism industry after the flu outbreak.
As part of the new campaign national heroes like singer Placido Dominigo and golfer Lorena Ochoa will advertise Mexico as the world's top tourist destination.
"This year, before the flu broke out, Mexico was seeing a massive increase in the number of tourists, even as other countries reported a huge slump in the wake of the economic crisis," said Guajardo.
"For long the world has known Mexico for its beaches, hospitality and for being a shopper's paradise. And the conversion rate between the dollar and Mexican peso is very favorable.
"Tourism is bound to pick up in the country."