MALE -- A former political prisoner and democracy crusader who defeated Asia's longest-serving ruler in the first multiparty election in the Maldives was sworn in as president of the Indian Ocean archipelago on Tuesday.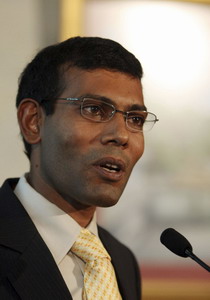 Maldives President-elect Mohamed Nasheed speaks during a news conference in Male November 10, 2008. Nasheed won the island's first multiparty presidential election on October 29 and will be sworn in as president on November 11 marking the end of President Maumoon Abdul Gayoom's three decade rule. [Agencies] 
Mohamed Nasheed, 41, took the reins from Maumoon Abdul Gayoom, a man who jailed him repeatedly on what rights groups say were trumped-up charges, after a brief ceremony.
"No other citizens in the world in modern times have changed a 30-year-old regime so peacefully. I congratulate the Maldivian citizens," Nasheed said shortly before signing his presidential oath to applause and a 21-gun salute.
Gayoom did not attend. Nasheed, who was just 11 when Gayoom took power in 1978, defeated his former adversary in a runoff poll on October 28 with 54.2 percent of the votes.
Gayoom, 71, made good on his pledge to hand over power peacefully, conceding his loss swiftly and promising to become an opposition figure.
At his first press conference as president, Nasheed played down his plan to create a sovereign fund to finance the purchase of land in case rising seas force inhabitants of the low-lying Maldives to leave.
"We do not want to be environmental refugees. As a nation we should get ready for such an eventuality," he said when asked about the plan, which he revealed in interview published in Monday editions of the Guardian newspaper.
If a UN climate change panel's predictions about rising seas are right, most of the Maldives will be underwater by 2100. "I did mention a sovereign fund, but we have a lot of financial problems ... and we need international contributions and assistance," Nasheed said.
The Maldives' GDP is less than $1 billion, and the IMF has warned it to trim a large government payroll and create more sustainable revenues beside those from tourism.
Forgiveness
The election was the culmination of years of agitation for democratic reforms on the string of 1,192 mostly uninhabited coral atolls 800 km (500 miles) off the tip of India, peopled by 300,000 Sunni Muslims.
Nasheed's victory caps a remarkable journey for an activist whose criticism of Gayoom and crusading for democracy resulted in him being charged 27 times and jailed or banished to remote atolls for a total of six years.
In a farewell address broadcast on Monday, Gayoom said he was proud of his accomplishments and urged Nasheed's government to push on with more democratic reforms. He also apologised.
"I deeply regret any actions on my part... that led to unfair treatment, difficulty or injustice for any Maldivian," Gayoom said. "I sincerely seek forgiveness."
Gayoom is widely credited with overseeing the Maldives' transformation from a fishing-based economy to a tourism powerhouse with South Asia's highest per-capita income, a haven favoured by Hollywood stars and other wealthy travellers.
But Nasheed argued that only a small clique around Gayoom grew rich amid corruption in his government, which Gayoom denies.
Nasheed takes over an economy that earns 28 percent of its GDP directly from tourism, which is expected to suffer from the global financial crisis.
He has pledged a host of reforms, including privatising state enterprises and using solar power to cut costs while making the Maldives a showcase of profitable green energy.