Tourists in Denmark consist mainly of people from neighboring countries, especially Germany, followed by Sweden, Norway, and The Netherlands. With 4.7 million visitor arrivals in 2007, Denmark ranked 43rd in the UNWTO's World Tourism rankings. Statistics show, however, that the total annual number of overnight stays in Denmark is currently declining.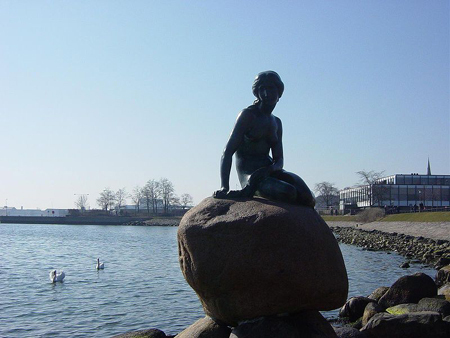 The Little Mermaid in Copenhagen [wikipedia.org]
Denmark has many sandy beaches which attract mainly German tourists. Swedish and Norwegian tourists often come to visit the relatively lively city of Copenhagen while many young Scandinavians come for Denmark's cheap and readily accessible beer, wines and spirits.
As Europe's oldest kingdom and the home of Hans Christian Andersen, Denmark is often marketed as a "Fairytale country". The term is so engraved that it is still used in international news reports, especially when the news is of a nature contradicting the image such as the Copenhagen riots or the Cartoon crisis.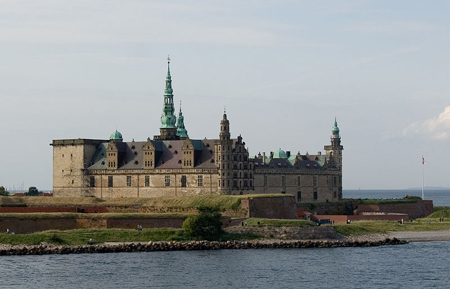 Helsingoer Kronborg Castle [wikipedia.org]
The capital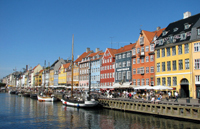 Nyhavn, Copenhagen 
In 2004 Copenhagen Region had 136 hotels with a total of 4.9 million nights spent. There were 250 cruise liners calling at Copenhagen Port with more than 350,000 passengers.
Among the major tourist attractions are Tivoli Gardens, the Freetown Christiania and The Little Mermaid, all located in Copenhagen. A survey conducted by the newspaper Berlingske Tidende in July 2008 listed The Little Mermaid as the most popular tourist attraction in Copenhagen.
Surrounding area
The old road north from Copenhagen to Helsingør follows the scenic coastline passing through Klampenborg with its vast Dyrehave Park and the Bakken amusement fair, Rungsted with the Karen Blixen Museum and Humlebaek with the Louisiana Museum of Modern Art. The most impressive sight is however Kronborg Castle in Helsingør, famous for its associations with Shakespeare's Hamlet.
Southern Sealand, Lolland, Falster and Møn
In view of its proximity to Germany, one of the most popular areas of Denmark for visitors is the South of Sealand and the neighbouring islands. Møn, with its magnificent chalk cliffs and its sandy beaches is one of the main destinations. Falster has a number of sandy beaches including those at Marielyst. The area also has several tourist attractions including Knuthenborg Safari Park on Lolland, BonBon-Land near Næstved and the GeoCenter at Møns Klint.
Bornholm
The island of Bornholm in the Baltic Sea to the south of Sweden offers tourists a variety of attractions including rocky seascapes, picturesque fishing villages and sandy beaches. Among the quaint towns worth visiting are Gudhjem, Sandvig, Svaneke and Rønne. The magnificent ruin of Europe's largest castle, Hammershus, is the island's most famous monument. There are ferry services to Bornholm from Køge near Copenhagen, and from Ystad in the south of Sweden. There is also an airport at Rønne.
Funen
Funen, linked to Sealand by the Great Belt Bridge, has strong associations with Hans Christian Andersen who was born in Odense. The small coastal towns of Fåborg and Svendborg are popular with tourists both as attractions in their own right and as centres for visiting the surroundings, particularly the castles of Egeskov and Hvedholm and the unspoiled islands of Thurø, Tåsinge and Ærø with their narrow streets and thatched cottages.
Major cities
The cities of Aalborg, in the north, and Aarhus, in the east, attract a considerable number of visitors, whether for business or pleasure. Aalborg's 14th century Budolfi Church, 17th century Aalborghus Castle and the Jomfru Ane Gade (a lively old street close to the city centre) are major attractions. In Aarhus, Den Gamle By (the Old Town) is in fact a museum village in which old houses from various parts of Denmark have been brought together.
Regional attractions
Among Jutland's regional attractions are Legoland close to Billund Airport, the easterly village of Ebeltoft with its cobbled streets and half-timbered houses, Skagen in the far north famous for its seascapes and artist community and the north-west beach resorts of Løkken and Lønstrup. Finally the island of Mors, famous for its natural beauty, attracts tourists to its Jesperhus Flower Park and to the cliff at Hanklit which overlooks the sea.
Jelling, near Vejle in the south-eastern part of Jutland, is a World Heritage Site, famous for its two great tumulus mounds erected in the late 900s and its runic stones erected by King Harold.
Near Esbjerg on the west coast stands Svend Wiig Hansen's enormous scultpure of four chalky white figures gazing out at the sea. Known as Mennesket ved havet or Men at the Sea and standing 79 m high, it can be seen for miles around.
Cuisine
Main article: Danish cuisine The most typically Danish meal of the day is the traditional lunch or smørrebrød consisting of open sandwiches, usually on thinly sliced rye bread. Traditionally, the meal begins with fish such as marinated herring, smoked eel, crab, or breaded plaice filets with remoulade and moves on with slices of roast pork or beef, frikadeller (meat balls), hams and liver paté. The sandwiches are richly garnished with onion rings, radish slices, cucumbers, tomato slices, parsely, remoulade and mayonnaise. The meal is often accompanied by beer, sometimes also by shots of ice-cold snaps or akvavit.
In the evening, hot meals are usually served. Traditional dishes include fried fish, roast pork with red cabbage (the national dish), pot-roasted chicken, or pork chops. Game is sometimes served in the autumn. Steaks are now becoming increasingly popular.