STOCKHOLM -- The Shanghai World Expo 2010 will be a good opportunity for Denmark to show to the world its historical and present life, Danish Vice Prime Minister Lene Espersen has said recently.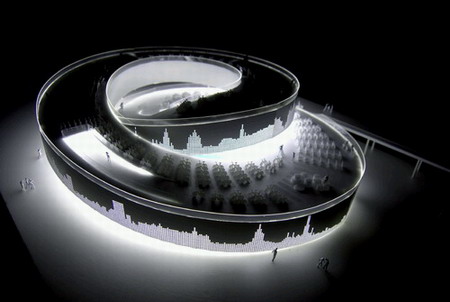 An artist rendition of the Danish Pavilion [en.expo2010.cn]
"The Danish pavilion at Shanghai Expo 2010 will offer a genuine Danish city experience. We'd like to show our history which includes Hans Christian Andersen's fairy tales, and we also want to emphasize sustainability and social responsibility in modern urban life in Denmark," Espersen told Xinhua in the Danish capital Copenhagen.
The Danish pavilion is named Welfairytales, and the combination of the words welfare and fairy tale frames the concept of the pavilion and the exhibition, Espersen said.
The pavilion has been designed as a traffic center for pedestrians and cyclists at the expo. Visitors can get an impression of the theme of the exhibition by having a ride through the pavilion to actually perceive what it is like to ride in a Danish city.
Espersen said many visitors, specially Chinese visitors, will come to the pavilion to learn more about Denmark. She hopes that they will not just see Danish history, but also know Danish people and their way to seek a balance between city life and the environment.
Speaking of Denmark-China relations, the vice prime minister said she believed the cooperation between the two countries would be reinforced after the Shanghai World Expo.
"The Little Mermaid which will be moved from Copenhagen to Shanghai definitely will bring our culture to China," Espersen said, referring to a statue at the center of a paddling pool in the pavilion.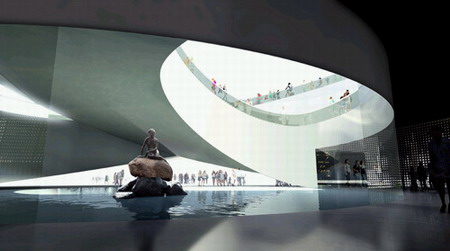 An artist rendition of the Danish Pavilion[en.expo2010.cn]
According to the vice prime minister, a Chinese artist will create a special artwork that will be placed where the Little Mermaid is standing now.
"It's a very important cultural exchange and communication between us,"  Espersen said.
She added that Shanghai Expo 2010 would be an extremely good chance to enhance business cooperation between Denmark and China.
"I think it'll be a wonderful and successful expo. For China, it will also be a good opportunity to show itself. The rest of the world will learn more about Chinese culture and Chinese city life through Shanghai World Expo," Espersen said.