Egypt was known throughout its history as a destination for tourists and travelers since it was visited by "Herodotus" during the ancient time, when he got surprised because of the vast difference between Egypt and his homeland. Egypt maintained this image throughout the middle and modern history. However, the discovery of the Pharaonic antiquities long time ago has added a special charm to Egypt, besides its unique religious and cultural monuments. On the other hand, Egypt enjoys a geographical location, and a moderate climate all the year-round, along with its smooth vast coastlines, and beaches with its unique treasures of coral reefs, providing Egypt with advantages of a competitive edge.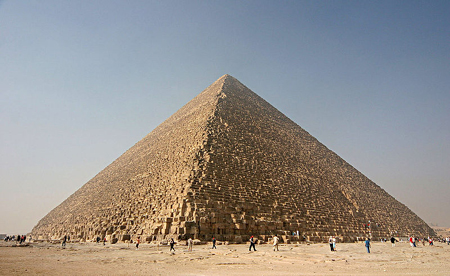 The Great Pyramid of Giza was the world's tallest building from c. 2570 BC to c. 1300 AD. Today it is one of Egypt's largest tourist attractions. 
Attractions
The greatest tourist attractions in Egypt are the antiquities for which Egypt is known worldwide. Principal attractions include the pyramids and Great Sphinx at Giza, the Abu Simbel temples south of Aswan, the Valley of the Kings, and the The Mosque of Muhammad Ali Pasha in Cairo, also coastal areas in Sinai.
Giza is most famous as the location of the Giza Plateau: the site of some of the most impressive ancient monuments in the world, including a complex of ancient Egyptian royal mortuary and sacred structures, including the Great Sphinx, the Great Pyramid of Giza, and a number of other large pyramids and temples.
Saqqara, located some 30 km south of modern-day Cairo is a vast, ancient burial ground in Egypt, serving as the necropolis for the Ancient Egyptian capital, Memphis. Saqqara features numerous pyramids, including the world's oldest standing step pyramid, as well as a number of mastabas.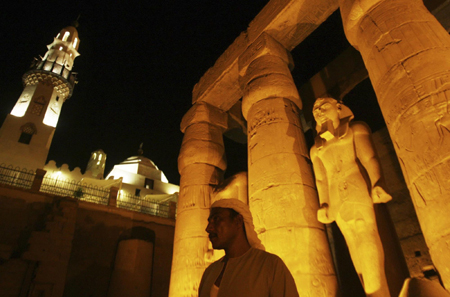 An Egyptian man looks at Abu El-Hagag mosque (L), which was built over a portion of Luxor temple, in the port city of Luxor, around 650 km (404 miles) south of Cairo, August 16, 2009.  [Agencies] 
Diversity of the Egyptian tourism modes
Egypt enjoys various fields of tourism attraction, the most important are archeological or cultural tourism as one of the oldest types of tourism in Egypt, where the landmarks of the ancient civilizations are visible to the naked eye, an incarnation of the nations that constructed these civilizations since the dawn of history. Despite the multiple types of tourism, and Egypt's cultural tourism remains the unrepeated, unique and non-competitive component of tourism as Egypt possesses one third of the world's known monuments.
Besides cultural and archaeological tourism, many tourism attraction types have come into existence and addressed broader segments of tourists across the world, including recreational tourism, beaches tourism, religious tourism, therapeutic tourism, eco-tourism, sports tourism, golf tourism, safari tourism, desert tourism, yacht tourism, and maritime tourism in addition to festivals tourism, and cultural events and finally conferences and exhibitions tourism.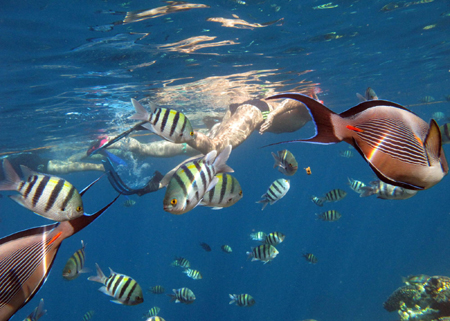 A tourist swims with fish in the Red Sea resort of Sharm El-Sheikh in the Sinai Peninsula August 7, 2009. [Agencies] 
In addition to these types of tourism, "Diving Centers Tourism" represents a tourist activity that attracts large numbers of tourists. Sharm el-Sheikh city is one of the largest diving centers in the world because of its potential environment and unique diversified nature which leads Sharm el-sheikh to be one of the major centers for attracting domestic and international tourism, in addition to being a resort for armatures fishing, tourism and diving. There you will find the biggest diving centers equipped with the latest devices, because of which, World Travel Awards awarded Sharm el-Sheikh the best global destination for diving in 2007.
In order to achieve further flourishing and tourist attractions, "Time-sharing Tourism", which was developed by Egypt, has revived. This new type of tourism grant non-Egyptians the right of ownership and usage of small units of accommodation in some new urban areas as well as in tourist areas in each of the distinguished cities such as Sidy Abdul Rahman, Hurghada, Red Sea and Marsa Matrouh.
Moreover, conference tourism in Egypt has steadily increased over the past six years where the total events held in Cairo International Conference Center amounted to 665 events, including 132 international and local conferences and 235 exhibitions and 298 cermonies and occasions. In 2008, Egypt witnessed a significant recovery for conference tourism, where many world conferences have been held on its territory such as Davos economic forum in Sharm El-Sheikh, The National Conference on Population and the African Summit.
Festival tourism is also one of the most important and latest types of tourist attractions, either sport, recreational, or artistic festivals. Egypt solely holds many popular festivals such as Cairo International Song Festival, International Film Festival, and Tourism and Shopping Festival, the annual fishing festival for amateurs and Alexandria International Festival for Mediterranean Song and the Sharm el-Sheikh International Championship for Bowling.
In September 2007, Al-Alsharkeya governorate organized the XVI International Festival for Arab Horses, which is one of the most important tourism festivals in Egypt.
The festival has organized several shows including the musical horse taming and horseback gymnastics and other show of various musical trots with horses, in addition to, the skill of brandishing weapons while riding a horse.
In 2007, Egypt won the second rank among the best 5 tourist destinations in the Middle East for setting up conferences and festivals on the sidelines of Egypt's participation in the Gulf Incentive Business Travel & Meetings Exhibition.
Significance of tourism in National Economy
Tourism is currently representing 11.3% of Egypt's GDP, 40% of the total Egypt's non-commodity exports and 19.3% of Egypt's foreign currency revenues.
Egypt's plan to develop tourism sector
Because of the significant role of tourism in the national economy, the Ministry of Tourism has developed a plan to increase the capacity of the Egyptian tourism to become globally competitive, increase its share in pushing forward the national economy and attract more tourists to the Egyptian market. The ministry also diversified the tourist destinations to attract tourists from non-traditional markets as well as increasing the number of hotel rooms.
The Ministry of Tourism is aiming at achieving several goals by 2010 , including attracting 14 million tourists, attaining 140 million tourist nights , equipping 24,0000 hotel rooms and accruing 12 billion dollar as a tourism revenues and providing 1.2 million jobs.