Getting to the meat of the matter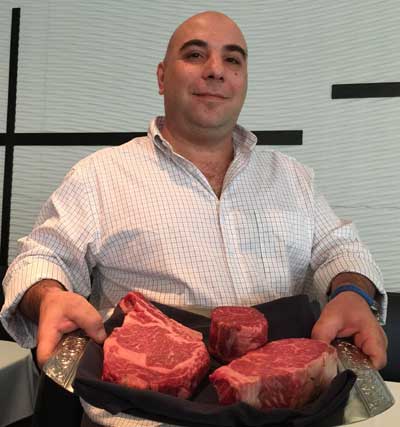 Tony Mesiano talks about butchering basics at a seminar on steak at Morton's Beijing. Mike Peters / China Daily
Are there different kinds of rib-eye?
The steak is marbled a little differently over the length of the ribs. The end is the most tender because of the type of fat.
Is the 'tomahawk' rib-eye offered on some menus really better?
(Laughs.) Only if you are planning to throw your steak across the room, like an axe. The only difference is, you are paying for more bone.
Does beef keep getting better the longer it ages?
Aging the meat in cold, well-aerated storage for four to six weeks after cutting is best. After four weeks, aging continues to improve the meat, but much more slowly.
How does the steak we're eating stay so tender after cooking?
At Morton's they are using a broiler that keeps the temperature about 470 C all the way around, so it cooks quickly, caramelizing the surface, and the juices are sealed in. Medium-well and well-done orders are finished in the oven, so the outside of the steak doesn't over char.
So how can we cook a tender steak at home?
The trick is to sear one side quickly and then the other, to keep the juices inside.
What's the ideal way to cook a steak?
Medium, so you have a good bit of pink inside and juice on the plate. That's when you know it's perfect.
Related:
A seasonal feast of spring lamb