Top fashion designer confronts convention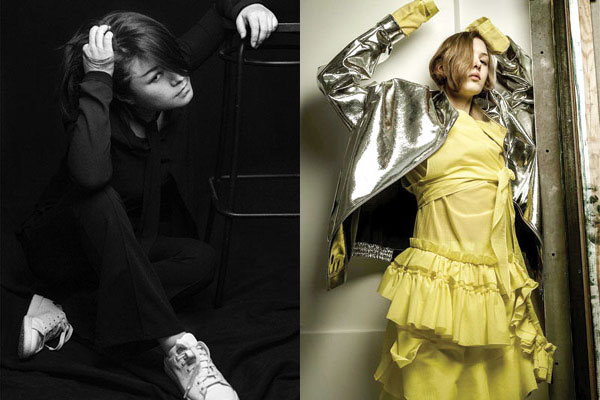 Left: Masha Ma studied fashion in the UK and is known worldwide. [Photo/provided to China Daily]
Right: A model poses in clothes designed by Masha Ma, the Londoneducated Chinese designer. [Photo/provided to China Daily]
Masha Ma likes to defy convention. Techno music floods her studio on the Bund in Shanghai where she has built a reputation as a rising fashion design superstar. The pulsating beat echoes the hectic pace of a global taste-maker who is steadily growing her brand with little regard for rules or traditional restraints.
The 31-year-old Beijing-born designer's hair is in a sleek bob that falls over one eye. Her eyebrows are painted fashionably straight. And she is dressed in black, hyper-modern, her current aesthetic influenced by underground youth culture in which, she says"gender has no relevance and everything is re-imagined".
In her Spring Summer 2017 "lookbook" both male and female models wear fringed silver skirts and over-the-knee boots. Her aim is to challenge social constructions of gender difference elegantly and eloquently without being noisily confrontational.
"Masha Ma offers design for very strong-minded independent individuals," she says."I want to bring out the femininity of the new era, elegant but very modern at the same time."
Her fan base reads like the front row of Paris Fashion Week.
Yet, despite an expanding empire that straddles East and West and that has grown into three lines-Masha Ma, Ma By Ma Studio (her youth line), and Mattitude for men - she retains a grounded quality.
Falling asleep on a rainy day is"my idea of heaven", she says, and reading, listening to music and travel are favorite ways to relax.
She is inspired by both the local people of Beijing and the quaint streets of Wuzhen in East China.
"The diversity of characters you could meet in Beijing is extremely exciting," she said."And I also love Wuzhen and those small water-towns in South China, charming and cozy."
As a teenager, Ma was a promising artist, but a chance encounter with Alexander McQueen's work in a magazine shook up her understanding of what fashion could be and inspired her to pursue it as a career.
She left China to study at London's Central Saint Martins at 16, where she took a foundation course, followed by a BA and an MA.
"I moved alone, without my family. I discovered so many things. It was like going into a new world, so I never really felt lonely. It was very exciting to express my artistic approach via fashion."
She interned with her inspiration, McQueen, and with Veronique Branquinho before launching her eponymous label to critical acclaim.
She divides her time between the Bund and her Paris office and work takes her to London and New York every year. Ma's favorite place in Shanghai is the Bund.
"It is so surreal that you feel you are in a cybercity like(Japanese manga story) Ghost in the Shell."
Film, literature and music are recurrent sources of reference and inspiration. Ma's Spring Summer 2017 collection was inspired by the Wim-Wenders film Wings of Desire and dedicated to her heroes'Oscar, Kurt and Lee' – Oscar Wilde, Kurt Cobain and Lee Alexander McQueen.
Famous names who have some of Ma's creations include Lady Gaga, Lana Del Ray, and Naomi Campbell. Ma has seen the Chinese fashion industry fl ex its muscles in recent years.
"Asian designers have had a strong presence at international fashion weeks for decades," she says, while explaining that the industry is changing.
"Beyond the 'Made in China' there is 'Designed in China'. Today, the new generation is given credit for being part of a wider movement to challenge old notions."
The writer is a freelancer.