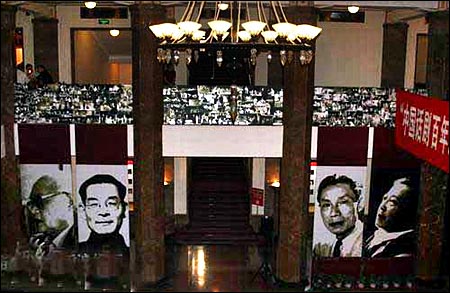 Part of a 20-year-old stage, a spotlight dating from 1955, and costumes from the Chinese version of Death of a Salesman, are just some of the exhibits bound to captivate visitors to Beijing's latest museum, which opened on June 12, 2007.
The Beijing People's Art Theater (BPAT) Museum, located on the fourth floor of the Capital Theater, No.22 on Wangfujing Street, is China's first museum dedicated to hua ju, or modern Chinese drama, as opposed to traditional sung opera.
Modern drama was introduced to the country from the west in the early 1900s.
"The museum was inaugurated to commemorate the 100th anniversary of modern Chinese drama, and to record aspects of the development of drama over the past century," said Chen Qiuhuai, curator of the museum, at the inauguration ceremony on Tuesday.
"When we look back, we find that, as time goes on, many veteran dramatic artists are leaving us, and souvenirs are disappearing with them. We felt that a space specially devoted to the history of modern drama in China was urgently needed," she said.
The museum, which occupies an area of 1,600 square meters, has about 700 photos, 400 paper documents and more than 1,000 other exhibits, including costumes and props. It will be a new temple of Chinese dramatic art and a platform for academic exchanges about drama, she said.
"Even though it was established by the BPAT, this museum is certainly not limited to one theater. Its ambition is to record the essence of modern Chinese drama," said 93-year-old Ouyang Shanzun, a veteran actor and former president of the BPAT.
"Modern Chinese drama already has a long history. Chinese plays like Lao She's Teahouse have been staged in other countries and have become classics. In the meantime, foreign plays like Death of a Salesman or The Caine Mutiny have been performed by Chinese actors," Ouyang said.
"Modern Chinese drama is now an integral part of Chinese culture. In my eyes, it has always been a particularly expressive form of art," said 65-year-old Wang Guangfu, an all-time drama fan.
"You don't see big scenes and stunts like those in movies, but you see genuine performing art. Forty years may have passed, but when I read the lines that were spoken by the best actors of their day, I can still hear their voices, and the power of their art comes surging up from the corridors of the past. I can almost feel them step onto the stage," he said.
Source:Xinhua News Agency