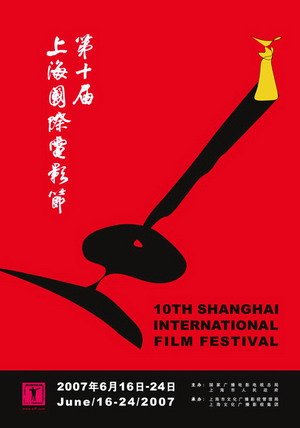 In June in Shanghai, the cinema takes center stage - and this year is no exception.

Tickets for the 10th Shanghai International Film Festival are selling like hotcakes.

Group ticket sales for the festival started last Thursday. On Saturday, sales opened to individuals at 21 theaters across the city, including the Shanghai Film Art Center, the Wanda International Cinema and Paradise Warner Cinema City.

"So far we have sold about three million yuan (US$391,875) worth of tickets, almost identical to the same period last year," said Wang Xiaojun, an official with the festival's organizing committee.

The Shanghai Film Art Center - the festival's main site - attracted hordes of movie buffs, some of whom came early to snap up tickets.

Liang Dejun, a local engineer, bought tickets for a few small-budget art movies like the family drama "Suspect" (Canada) and the romance "Talk to Her" (Spain) at the center. Liang said he has been attending movies at the festival for years.

According to Shao Zhenhua, a manager of the center, they had taken more than 1.05 million yuan worth of ticket sales. The most popular films among the 180 or so movies showing at the center have been "Perfume: The Story of A Murder" (Germany-France-Spain), "High Heels" (Spain) and Oscar-winning film "The Lives of Others" (Germany).

Officials from the Wanda International Cinema also said ticket sales are doing well, particularly such award-winning movies as the Japanese classic "Seven Samurai," and "All about My Mother" (Spain-France).

Peter Mueller, a movie fan from Germany who is on a Shanghai business trip, said he will study the schedule to choose some Japanese and Thai movies.

"I am enthusiastic about Asian films, some of which have striking visual artistry and an interesting storyline," Mueller said.

About 200 foreign and domestic pictures will be presented during the festival - which runs from June 16 until 24 - including recent productions and a retrospective exhibition of Japanese director Akira Kurosawa and Spanish film maker Pedro Almodovar.

A schedule of films to be screened during the festival can be found online at http://www.siff.com/Articleen/.