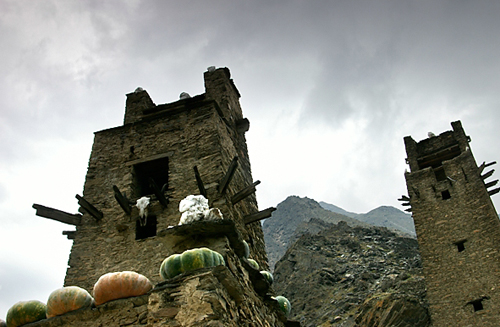 Taoping Village, located in Aba Tibetan-Qiang Autonomous Prefecture, 170 kilometers west of Chengdu , is the best-preserved village exclusively inhabited by Qiang ethnic group. Built in 111 BC, this ancient village has survived 2,000 years of erosion and stands well today. Its maze-like manner and durable architecture have earned it the moniker "the ancient castle in the East."
Labyrinthine arrangement
The village has eight gates and 31 interconnecting lanes leading to each household in a maze-like manner. Villagers say that during wartime periods these lanes provided a form of defense as they were used to move supplies and plan ambushes. The loopholes left in the walls along these lanes are evidence of the village's warlike history. As one senior villager recalled, "As long as there were sufficient food reserves, we could defend our village for years."
On a nearby mountain stand two nine-story buildings, Diaolou in Chinese. Standing 20-30 meters high averagely,Diaolou used to be of great military significance at times of war. A perfect combination of mechanics and aesthetics,Diaolou has for centuries stood firm though the region was frequently stricken by earthquakes.
Qiang house
The Qiang people built their homes from stone, earth and timber, judging all measurements by eye, rather than designing scientifically; yet all buildings have stood firm, straight and long. The Qiang houses usually have five stories. Livestock is kept on the first floor, and the living room, bedrooms and kitchen are on the second and the third. The fourth is used for storage and the fifth is a place of worship where white stones are arranged upon which sacrifices are offered.


| | | |
| --- | --- | --- |
| 1 | 2 | |