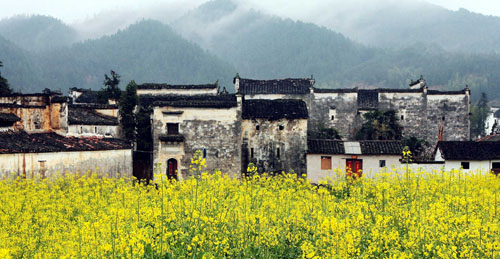 How to get there?
Please visite page 52-61 of

Wuyuan, on the boundary of three provinces in Jiangxi's northeastern corner, has a magnificent landscape.Wandering in the villages of Wuyuan County in spring offers refreshing views of hills covered in youcai flowers, green farmland, exuberant camphor trees, creeks and small rapids. Lingering on an old bridge as the soft rain bounces off gurgling streams, you can sail through time to a place of peace and tranquility.
Local Specialties:

Tea

Wuyuan Green Tea was a tribute to the imperial court in the Ming and Qing dynasties (1368-1911A.D.). The best brands are Dazhangshan and Tianyou.

Crafts

The Longwei Inkstone is regarded as one of the best in China.

Food

Stewed Pouch Red Carp; Steamed Pork with Rice Flour; and Jiangwan Snow Pear, known as the "King of Pears" in southern China.