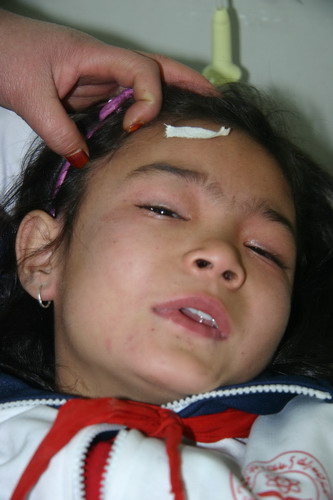 A student from Aksu No 5 Primary School receives medical treatment after she was injured in a stampede at the school on Monday.

[Photo/provided to China Daily]

URUMQI - At least 41 young students were injured, seven seriously, in a stampede on Monday at a primary school in Aksu city, the Xinjiang Uygur autonomous region, local health authorities said.

Related readings:


Students injured in stampede in Xinjiang 


No one to be punished from Cambodian stampede accident 


 Mourning ceremony held for Cambodian stampede victims

Zhang Yuping, director of the local medical emergency center, told China Daily that more than 170 students from the Aksu No 5 Primary School were rushed to hospital after the incident.

No deaths were reported, but local health authorities sent medical teams who specialize in head injuries, chest trauma and intensive care procedures to Aksu, Xinhua News Agency reported.
A staff member with the school's moral education office, who did not want to be named, said the students were going downstairs to the playground for after-class exercises when some lost their footing, triggering the noontime stampede.
Students were squeezed against the handrails, and some were forced by momentum to trod on others who had fallen on the stairs between the first and second floor of the main teaching building, he said. The steps on the stairs were about 1.5 meters wide, he added.
"It was an old school building. The steel bars of the handrails were bent under the force."
The building houses more than 1,800 students.
Zhang said the medical emergency center sent five ambulances that made 12 round trips to take the injured to hospital after the center received the first call for help at 12:09 pm.
Abudu Reyimu, the driver of the first ambulance to arrive at the scene, said when his team arrived at the school, "four students had already been carried out to the school gate".
"They were laid flat on the ground, because their condition seemed so severe."
"I heard cries", and there were emotional scenes, he said.
Ambulances that arrived later transported "students who seemed scared but with no obvious medical problem", he said.
The injured students are being treated at Aksu's No 1 People's Hospital.
Authorities have launched an investigation and ordered safety inspections to be carried out on schools.