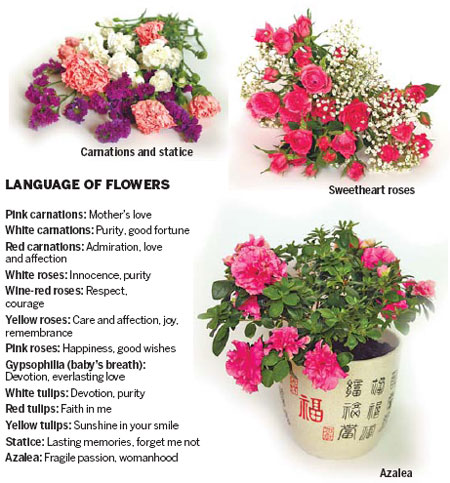 The relationship we have with our mothers is probably the longest in our life, having begun even before we were born. Pauline D Loh pays tribute to all mothers with a wish-list bouquet.
She was the first person to see you slimy, naked and bawling, but she loved you nevertheless even though you'd caused her hours of excruciating pain just moments before.
She's the one who forgave you your first transgressions as you tested the boundaries of her patience with toddler antics or teenage angst and she probably quickly cuffed you right back into place and guided you firmly onto the straight and narrow with her usual common sense.
Through your growing years, she's the one who gave you crystal clear, black-and- white markers that kept you on track in life even after you graduated to a world of varying shades of murky gray in adulthood. And, she's probably still the one you go running back to for nuggets of wisdom when living and loving get too tough or incomprehensible.
Mom - the woman who knows our deepest, darkest secrets, our quirks, our flaws and still think we are the most wonderful person in the world - how do you say thank you to a person like that?
Well, on one day every year, we try.
We send her flowers and chocolates (which she will insist is a waste of hard-earned money) as a gesture of appreciation, although we know it is a minuscule return in exchange for her lifelong dedication.
Having said that, I have yet to meet the mother who does not treasure her annual bouquet on Mother's Day and perhaps keep a blossom from the bunch pressed and preserved in a favorite book.
This year, let's put some thought into the gift, and try to express a little of what we feel through the language of flowers.
I would start with a bunch of white carnations for the pure, faithful and unconditional love she gives. I would add a few pink buds, for this color represents "mother's love". I would add a couple of sprays of purple statice, which says "forget-me-not", and then finish the bunch with a scattering of gypsophilia, the baby's breath that represents the gift from a child.
And as I weave the silver ribbon around the posy, I would add prayers for her good health, happiness for her silver years and peace and contentment for her retirement.
Or, I will keep it really simple and give her a bouquet of candy-pink sweetheart roses - for every little bud and blossom represents the smiles that had glowed on her face and that had been burned into my memory.
Again, I will add more gypsophilia, and remind her of their Chinese name, which means "a galaxy of stars". For that is what she has been, not just the sun or moon, but every celestial twinkle in the Milky Way that had lighted up my darkest nights.