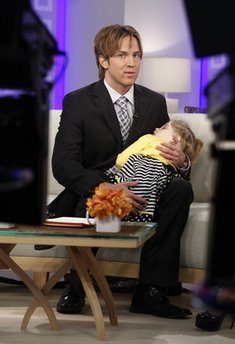 In this photo provided by NBC Universal, Larry Birkhead and his daughter Dannielynn Birkhead appear on NBC's 'Today' show to talk about life after Anna Nicole Smith, in New York, on Thursday, May 13, 2010.[Agencies]
NEW YORK – Anna Nicole Smith's former boyfriend is unloading 250 personal belongings from her estate at a Las Vegas auction.
The items Larry Birkhead is auctioning include outfits worn by the late model, paintings and a collection of Marilyn Monroe memorabilia.
Birkhead says it cost more than $100,000 to store Smith's things for three years so it makes sense to get rid of some. Proceeds will go to charity and a trust fund for the daughter Birkhead had with Smith, Dannielynn Birkhead.
Helping Birkhead with the auction is former Smith attorney and partner Howard K. Stern, the executor of her estate.
Julien's Auctions will run the sale June 26 at Planet Hollywood.
Smith was the 1993 Playboy Playmate of the Year. The Texas native became a clothing model before landing her own reality TV show. She died in 2007.