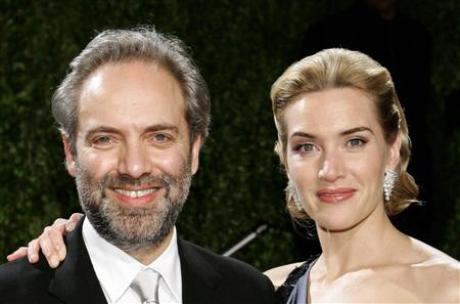 Oscar-winning couple Kate Winslet and her director husband Sam Mendes announced on Monday that they have separated after less than seven years of marriage.
"Kate and Sam are saddened to announce that they separated earlier this year," Keith Schilling of London law firm Schillings said in a statement.
"The split is entirely amicable and is by mutual agreement. Both parties are fully committed to the future joint parenting of their children. They ask that the media respect the privacy of the family," the statement added.
The marriage was the second for Winslet, 34, who won a best actress Oscar for her role in the 2008 Holocaust-themed movie "The Reader". She was divorced from her first husband, assistant director Jim Threapleton in 2001, after three years.
Winslet also won critical praise and a Golden Globe for "Revolutionary Road" in 2008, a heart-wrenching portrait of a failed 1950s marriage that was directed by Mendes.
Mendes, 44, who like Winslet is British, is well-known for both his stage and film work. He won a best director Oscar for his 1999 movie debut "American Beauty".
The announcement of the separation took Hollywood watchers by surprise as there were no published reports of trouble in their marriage. Yet, when Winslet appeared in Los Angeles for the March 7 Oscars, she was not accompanied by Mendes.
The pair married in 2003 and split their time between New York and England. They have one son together, and Winslet has a nine-year-old daughter, Mia, with Threapleton.
Winslet's big Hollywood breakthrough came in blockbuster "Titanic" in which she starred with Leonardo DiCaprio. She and DiCaprio reunited on screen in "Revolutionary Road."