Mark Owen helped by Robbie
Mark Owen is being helped by Robbie Williams in his battle to beat alcoholism.
The Take That star - who yesterday (11.03.10) confessed he has cheated on his wife Emma Ferguson with at least 10 women throughout the course of their long-term relationship - has confessed he's had issues with his drinking for years but is trying desperately to overcome his problem.
Former bandmate Robbie - who has been in rehab twice to tackle drink and drug addictions - has been in regular contact with his friend and has told him he can stay at his Los Angeles mansion if he needs to.
Mark - who has now also come clean about his problem with the rest of Take That, Gary Barlow, Jason Orange and Howard Donald - told The Sun newspaper: "I told the lads a few weeks ago that I am trying to deal with a drink problem. I spoke to Rob about it too. I admitted I had a drink problem I never knew I had. I'm glad I've told them, so they look after me a bit now. I still have the odd drink but it might have to turn to cold turkey eventually."
A source added: "Mark has confessed to having issues with alcohol and with his own substance abuse past, Robbie is the perfect person to offer him support."
Despite admitting he has an issue with alcohol, Mark doesn't want to use it as an "excuse" for his infidelities, which include a five-year affair with former lover, accounts manager Neva Hanley.
He said: "I've been living with the guilt. Maybe the drink was my way of dealing with it, I don't know. I want to make it absolutely clear I am not using the drink as an excuse. My drinking is another problem I have and it hasn't helped. But I'm not blaming everything on it."
Emma threw Mark out of their south London home after the 38-year-old pop star confessed to his infidelities, and she was photographed yesterday (11.03.10) without her wedding ring as Mark went back to the house for crisis talks.
The couple have two children, son Elwood, three, and 14-month-old daughter Willow Rose.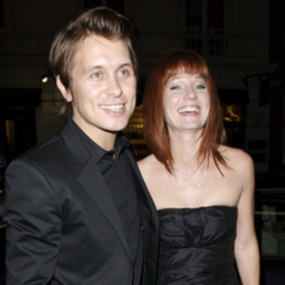 Mark Owen with wife Emma Ferguson