Nation
Google sued over copyright issue
2009-Dec-16 07:43:01
A Chinese female writer accusing Google China of copyright infringement has filed a lawsuit against the company in a Beijing court.
Mian Mian, a well-known Shanghai-based novelist, said the Haidian District People's Court is scheduled to hold a hearing on the case on Dec 29.
"Google earlier argued that they didn't violate copyright law as they only displayed a small amount of text of my book, but I think their move has seriously hurt Chinese writers' rights," Mian Mian told China Daily yesterday.
Mian said Google scanned her entire novel, titled Acid Lover, published by the Shanghai Joint Publishing Company, without notifying her or paying her for copyright permission.
Google China deleted Mian's Acid Lover from their website on Nov 15.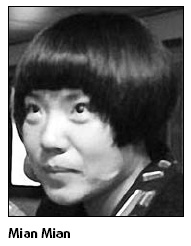 But she said a Google key-word search still brings up passages of her book.

"This is a brutal way to introduce my literary work, because the incoherent passages seen online ruin my story," she said.

"I also want to ask Google why they only show respect regarding copyright protection to famous American publishing houses," Mian Mian said.

Google only scanned the cover picture of another of Mian's novels, titled Candy, published by Little Brown Publishing House under Time Warner.

Mian asked Google to delete all texts about her book and make a public apology to her.

The author is also demanding 60,000 yuan ($8,785) for economic and mental compensation.

Sun Jingwei, Mian Mian's lawyer from the Beijing-based Yingke Law firm, said yesterday he has prepared evidence for the case, even though the book has been deleted.

"Mian is the first Chinese writer who accuses Google for copyright in the name of herself, and the case could encourage more Chinese writers to get involved in copyright protection," he said.

Late last month, the China Written Works Copyright Society (CWWCS), which protects Chinese writers' copyrights, said Google has scanned 18,000 books by 570 Chinese writers without authorization, for its library, Google Books, which is available only to Internet users in the US.

Google agreed on Nov 20 to provide a list of Chinese books it had scanned to publish in its digital library, but the company still refused to admit having "infringed" copyright laws.

Zhang Hongbo, deputy executive director-general of the CWWCS, said Mian Mian's lawyer informed him of the news a week ago.

"If Mian Mian wins this lawsuit, it helps our negotiations with Google," Zhang said, noting that an individual writer suing Google should not be confused with the official negotiation.

Chen Qirongspokesman for the Chinese Writers Association (CWA), said the writer's individual lawsuit does not contradict the official negotiation organized by CWA and CWWCS, but could work together to put more pressure on Google.

"The CWA and CWWCS is not doing enough to protect the writers' copyrights, which should be strengthened in future," he said.

He also said the CWA approves of and appreciates Mian Mian's lawsuit to safeguard her interests.

Google Books has faced copyright criticism across the world.

According to earlier reports of AFP, Google and US authors and publishers reached a settlement last year over a copyright infringement suit filed against Google in 2005.

Under the settlement, the Internet search giant agreed to pay $125 million to resolve outstanding claims and establish an independent "Book Rights Registry," which would provide revenue from sales and advertising to authors and publishers who agree to digitize their books, it reported.

(China Daily 12/16/2009 page5)

[Jump to ]

Nation | Biz | Comment | World | Celebrity | Odds | Sports | Travel | Health

m.chinadaily.com.cn
To subscribe to China Daily, call 010-64918763 or email to circu@chinadaily.com.cn