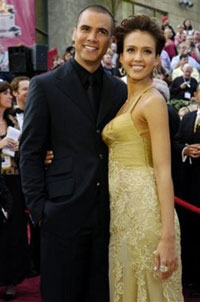 Actress Jessica Alba and boyfriend Cash Warren arrive for the 78th Academy Awards Sunday, March 5, 2006, in Los Angeles. Alba will be a presenter during the Oscar telecast.
Plunging back and necklines, miles of silk and a treasuretroveof diamonds will bathe the Oscars red carpet in old-style Hollywood glamour when the stars come out to play on Sunday.  
The world's most famous catwalk show, capable of launching new fashion trends overnight, will be marked this year by its eclectic style rather than any single theme, and will featurefigure-hugging gownsreminiscent ofTinseltowngolden age, fashion experts say.
With many of the 2006 hopefuls for cinema's top acting awards youthful, first-time nominees, and no shadows such as a fresh war threatening totone downthe ceremony as happened in 2003, the fashion mood will be sumptuous, party-like and varied.
"I'm sure we're going to see a return to the Hollywood glamour era, we're going to see more variety than we've seen in the past," said Patty Fox, fashion coordinator for the 78th Academy Awards.
Everything from multi-million-dollar diamond-encrusted jewels from Hollywood's favourite jeweller Harry Winston, totulleand princess-style evening dresses will rule the show that will be watched by up to one billion television viewers across the globe, Fox said.
"Our goals then were to return the glamour to Hollywood and engage the viewers' interest in what the stars were wearing," she says. Now it is big business.
The world's best-known fashion and jewellery designers flock to Hollywood ahead of the show, armed with scores of gowns, jewels and accessories to offer stars who turn up with their stylists to get outfitted.
Even Hollywood's men are not immune from the fashion pressure. Many will don stylish Armanituxedoswith waistcoats and accents of ivory that will be "reminiscent of the days when celluloid Gary Cooper prevailed," Fox said.

(Agencies)
露背晚装、低领礼服、丝锻长裙以及昂贵的钻石首饰……周日晚,随着众影星亮相奥斯卡,好莱坞旧有的辉煌将在奥斯卡的红毯上流熠星辉。
这场最负盛名的时装秀,可以在一夜间刮起一轮新的时尚潮。时尚专家表示,今年红毯走秀的特点,是走没有单一主题的折中路线,紧身长裙是主调,这将让人忆起好莱坞的黄金时代。
2006年度奥斯卡最佳演员候选人,很多是第一次获得提名的新秀,而且,本届奥斯卡不像2003年,不会出现由于战争(伊拉克战争)刚刚爆发而使晚会气氛沉闷的局面,今年的红毯时装秀将是一场盛大的聚会,场面奢华,多姿多彩。
第78届奥斯卡颁奖典礼服装指导大师帕蒂·福克斯说:"我肯定我们将见到好莱坞魅力年代的回归,我们会看到比以往更为绚丽多彩的服饰。"
福克斯说,届时,全球将有十亿电视观众收看这场红毯走秀,而价值连城、且颇受好莱坞影星青睐的哈里·温斯顿钻饰,以及薄纱质地的公主晚礼服将是红毯上的主角。
福克斯说:"我们的目标是要再现好莱坞过去的辉煌,把观众的注意力吸引到明星的穿着上。"这是一项伟大的事业。
早在时装秀之前,世界著名的服装和珠宝设计师就涌至好莱坞,他们给明星们带来大量的服装、珠宝以及首饰,明星们则和造型师一道研究如何装扮自己。
面对时尚,即使是好莱坞的男影星也不轻松,许多人将穿上时髦的阿玛尼燕尾服,衬以马甲和象牙白镶边,这将让人忆起属于加利·谷巴的影视时代。

(中国日报网站编译)