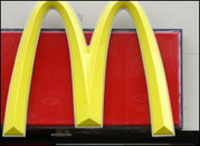 Fast-food giant McDonald's is being sued in the United States for failing to warn that... 
McDonald's Corp. faces at least three lawsuits claiming the fast-food giant misled the public after it acknowledged earlier this week itsfrench friescontain milk and wheat ingredients.
Debra Moffatt seeks unspecifieddamagesin a suit filed Friday in Chicago. Her attorney, Thomas Pakenas, said his client hasceliacdisease, which causesgastrointestinalsymptoms set off by eatinggluten, a protein found in wheat.
Jack Daly, McDonald's senior vice president, said in a statement the company had not reviewed thecaseyet and is testing its fries for gluten through a food allergy research program at the University of Nebraska.
Mark and Theresa Chimiak of Jupiter, Fla., sued Friday in Florida, claiming their 5-year-old daughter has an intolerance to gluten and became seriously ill after eating the fries. Nadia Sugich of Los Angeles sued Wednesday, saying she eats no animal products and would not have eaten the fries had she known they contained dairy ingredients.
McDonald's, based in Oak Brook, Ill., said Monday that wheat and dairy products are used to flavor its fries.
Before its acknowledgment Monday, the company had quietly added "Contains wheat and milk ingredients" to the french fries listing on its Web site.
(Agencies)
自本周早些时候,麦当劳公开承认其薯条中含有乳制品和小麦成分后,这家快餐店"大亨"面临至少三项起诉,均指责其误导公众。
芝加哥居民黛布拉·莫法特周五提出索赔要求,但未明确赔偿金额。据莫法特的律师托马斯·帕克纳斯说,他的当事人患有腹部疾病,食用麦麸(小麦中的一种蛋白质)会引起肠胃不适。"
麦当劳高级副总裁杰克·戴利在一份声明中表示,公司目前尚未对这起案例进行调查,但麦当劳薯条中的麦麸成分正在内布拉斯加州大学的一个食物过敏研究中心接受检测。
在周五,美国佛罗里达州朱庇特岛的马克和特雷莎·基米基也提出诉讼,称其5岁女儿对麸质食物过敏,吃麦当劳薯条后即病重。此外,洛杉矶居民纳迪亚·苏吉奇也起诉麦当劳,称自己是一个素食主义者,若知道薯条中含有乳制品成分,她是不会食用的。
位于伊利诺斯州橡树溪的麦当劳总部周一称,在薯条中加入小麦和乳制品成分是用来调味的。
麦当劳在周一公开承认此事之前已经悄悄地在它的网站上加了薯条中"含有小麦和乳制品成分"。

(中国日报网站编译)